ALLEN, Texas — A funeral service is being held tonight in the Dallas area for a couple and their 3-year-old son who were among the eight people killed in the Allen mall shooting.
We've learned the young mother, Cindy Cho, had ties to Houston. She graduated from Cypress Falls High School in the Cy-Fair Independent School District. Cindy was working as a dentist in the Dallas area and her husband, Kyu Cho, was an immigration attorney.
State Sen. John Whitmire said Cindy Cho's father is an elder at a Korean church in Houston.
"It is with great sorrow that I have learned that three of the victims of the mass shooting in Allen had ties to Houston," Whitmire tweeted. "A young Dallas couple Kyu and Cindy Cho and their 3-year-old son James were killed in that senseless mass shooting. Their 6-year-old son, William, survived but will have to spend the rest of his life without his family. A GoFundMe account has been set up for William."
As of Thursday morning, the account raised over $1.8M to help cover medical and funeral expenses and future needs of William. Phoenix Cardinals QB Kyler Murray, who went to Allen High School, donated $15,000.
Murray called the mass shooting "sickening" and asked, "When is this s--t gonna stop?"
William Cho 'recovering well'
On Wednesday, extended family members released a statement updating William's condition and thanking everyone for their support.
"Our hearts are broken for our beloved family members who are no longer with us. We are deeply grateful and sincerely appreciate the outpouring of support and prayers. William is recovering well.
"All of our attention is now focused on ensuring William leads a happy, healthy life with his extended family who love him dearly. We ask that you respect and honor our family's privacy in the coming days and weeks so that we may mourn and honor our loved ones' legacies and lives."
Family members said Kyu and Cindy took their sons to the outlet to swap out some clothes that William received for his birthday. The boy turned 6 four days before the shooting.
Prestonwood Christian Academy shared that William is a student at the school and in a video said it's providing counseling for students and staff.
"We're certainly heartbroken over the news of the shooting in Allen, Texas," Dr. Mike Goddard, the school's superintendent, said. "We're very family oriented and we rely on God during times like this."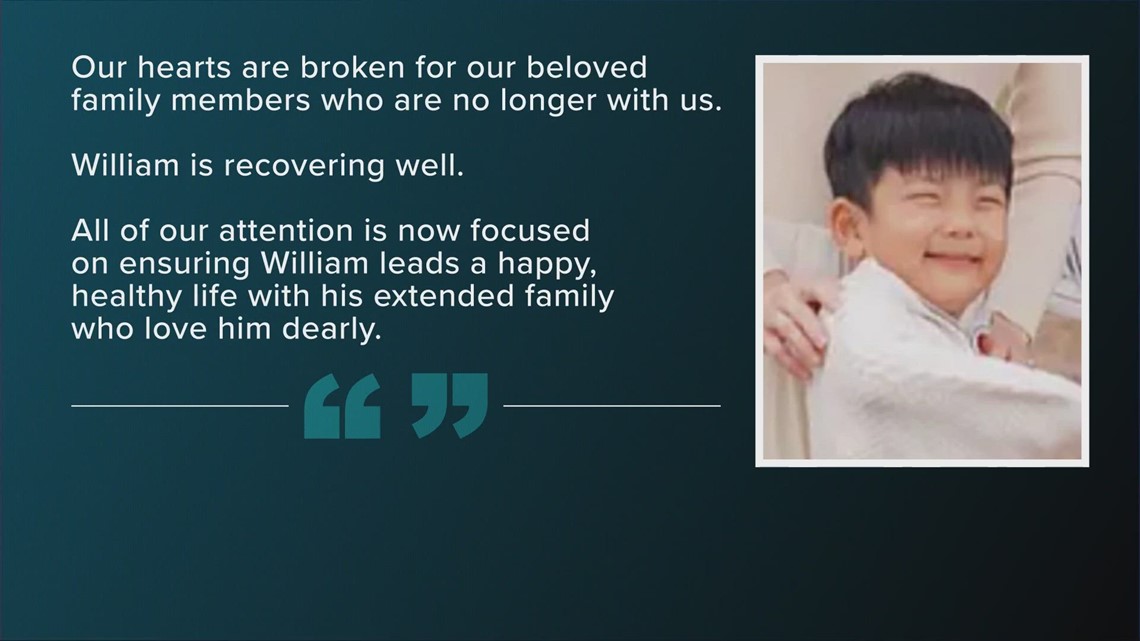 James Cho was sweet, cute and 'brilliant'
At a memorial set up outside the mall, Trinity Whitley told our sister station WFAA that she was James' day care teacher in McKinney.
"[James] was innocent, and he did nothing wrong," Whitley said. "He usually wore elephant bibs and shirts. He loved elephants, loved elephants."
The cross at the memorial with James' name has a stuffed elephant toy pinned on it.
"He was sweet and smart, and he was so cute," Whitley continued. "And he was a brilliant child. I've never actually met a 3-year-old that was that smart. He was three and he was writing his own name."
Whitley said James' mother, Cindy, was her dentist.
"His mom, she was so sweet, and she would always say thank you that [the day care staff] always takes care of her son."
Whitley brought a green balloon to add to the memorial, which was James' favorite color, she said.
"He was a super sweet kid and every day we're going to miss him. And there won't be a day we're not thinking about him," she added.
The other five victims who died have been identified and include sisters Daniela Mendoza, 11, and Sofia Mendoza, 8; Christian LaCour, 20; Aishwarya Thatikonda, 27; and Elio Cumana-Rivas, 32.
Six others remain hospitalized with various injuries from the shooting.