Terry and Chauna Thompson, who were indicted for murder by a Harris County grand jury Thursday, turned themselves into authorities Thursday night.
The Thompsons surrendered just before 10 p.m. to the Harris County Jail. They posted bond and have since been released.
Raw video: Terry, Chauna Thompson, indicted for murder, turn themselves in
Terry Thompson is the man seen on video holding Hernandez in a choke hold outside a Sheldon area Denny's restaurant. Chauna Thompson, a Harris County Sheriff's deputy, helped restrain the victim and didn't stop her husband from choking him.
The medical examiner ruled Hernandez, 24, died from strangulation and chest compression.
Thompson confronted Hernandez after seeing him urinating outside the restaurant. Witnesses said he beat and restrained Hernandez even after he was clearly unconscious. They said Hernandez was too drunk to defend himself against the much larger Thompson.
RAW: Video of John Hernandez being restrained byTerry Thompson WARNING: Video is disturbing)
A Denny's waitress was one of those witnesses.
"It's wrong, you know they shouldn't have killed the man. Nobody's life is worth taking for a mistake. We all make mistakes," Melissa Trammel told KHOU 11 News. "Me and my manager we begged this man. He was turning purple we told him to stop but he did not stop."
Related: Waitress recounts deadly beating outside Sheldon-area Denny's
Hernandez's wife and 3-year-old daughter also begged Thompson to stop but he and his wife ignored their pleas.
Related: Family prays for charges in deadly Denny's beating
"She was crying and telling (the man beating Hernandez) stop and he didn't even stop," Hernandez's wife said last week. "I told him, 'Please stop. Don't do that to him. He's drunk.' He wasn't in any position to fight. But, he didn't have any compassion. He was really angry."
A cell phone video released this week by attorneys for the Hernandez family sparked outrage.
"It's a very sad video because you're watching a man basically being killed," Attorney Jack Carroll said. "He was kicking his legs in a helpless fashion, and you can hear him gargling or gurgling, 'Stop, stop.'"
A grand jury found probable cause after hearing evidence for nearly eight hours. If convicted, the Thompsons five years to life in prison.
Harris County District Attorney Kim Ogg's office provided jurors testimony from 12 witnesses, videos of the fight, autopsy results and medical examiner findings.
"We believe that this grand jury true bill is a reflection of our community's belief that a crime occurred and that crime was murder," Ogg said.
The Thompson family lives in Crosby. The couple married in 2001, according to court records. Ten months prior, Chauna Thompson divorced her first husband.
They have children. Often, neighbors saw Terry Thompson exercising in his driveway or flipping tractor tires down his street.
"They've always waved at me," neighbor Darryl Delhomme said. "I've waved back. (They were) always friendly."
However, some next door kept their distance.
"They were all kind of the same way," Richard Shepherd said. "Whenever you would wave at them, they just kind of stick to themselves."
Now, neighbors wonder what will happen next.
"I just hope that everything comes to light," Marissa Shepherd said. "The video is pretty clear. You can see everything. This was a young kid (who died) with a little girl. It's sad all the way around."
Photos: Protesters call for justice for John Hernandez
Photos: Community activists and family rally at Justice for John Hernandez March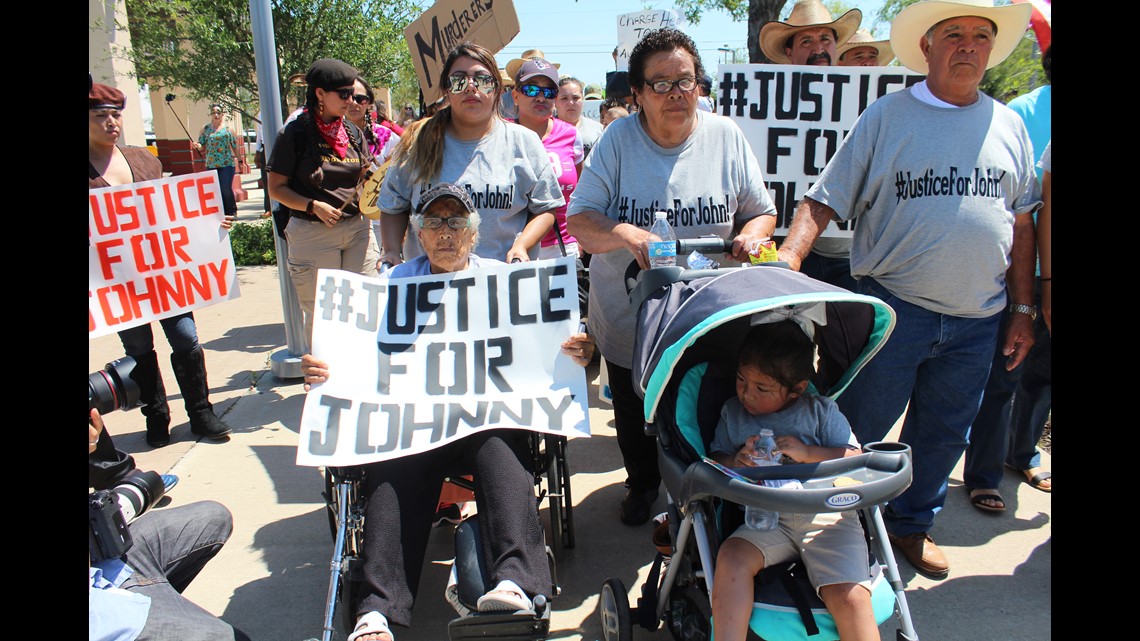 Related: Deputy, husband refuse to be interviewed in DA's investigation of Hernandez beating
Hundreds of supporters have marched through the streets of Houston since the May 28 beating, calling for justice for John. They demanded murder charges after the disturbing cell phone videos surfaced. Many felt Thompson was being protected because of his wife's job.
"To the public, I just want to the say that we've asked them to trust in the criminal justice process as we have from the beginning, and we ask that they continue to do that," Sheriff Gonzalez said. "It's still an ongoing process but we support the decision of the grand jury."
The Thompsons declined to testify before the grand jury, Ogg said. Chauna Thompson was pulled from patrol duty earlier this week and is now on administrative leave.
Bond for both has been set at $100,000.