ALVIN, Texas — The man attacked by a shark while swimming off Crystal Beach earlier this month is back in the hospital.
Blaine Shelton says he's being treated for flesh-eating bacteria related to the shark bite.
"I'd heard there was bacteria in the water, I just never treated it serious. But to tell you the truth, if you've got a scratch on your arm or your leg, I wouldn't get in that water," Shelton told us. "And if you do, bring some alcohol with you to clean it the second you get out. It's nothing to play with."
Shelton spoke with us in a video call from his hospital room at UTMB in Galveston. He has already lost some tissue around the infected wound.
"You see all that dried stuff right there?" Shelton asked. "That's what was dying."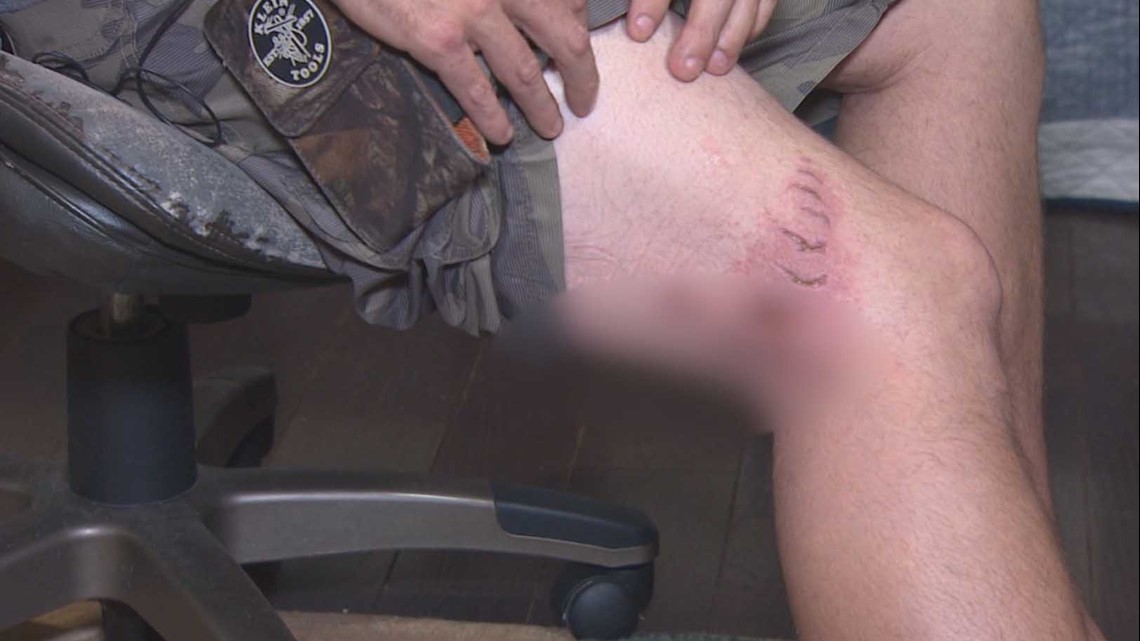 "I already saw the fin, and I knew it wasn't a porpoise," Shelton told KHOU 11 News reporter Matt Dougherty. "So I turn around to get out of there, and that's when he grabbed me by the leg."
He was able to swim to shore and a friend flagged down a deputy for help. An expert later told him it was likely a seven-foot bull shark.
"When I did hear that [my friend's daughter] saw him behind me is when I started going, 'Man, all it would've taken, if he would've grabbed me one more time, I might not have been able to swim and ,in which case, I'm fish bait.'"
Flesh-eating bacteria can be deadly, and it can lead to amputations.
"Thank God they're helping me with the pain because the other day when I came in I could hardly walk in here."
Shelton said the shark bite has become more expensive than he could have ever imagined.
"I honestly thought I'd go, get super-glued up and sent out the door," Shelton said.
The 42-year-old construction worker is expecting his medical bills to top at least $100,000, a high price to pay for what was supposed to be a fun day at the beach.