More than eight years later, on June 29, a good Samaritan found Farias in front of a Houston church about 25 minutes away from where he was last seen.
Farias' family said he was not talking and had cuts and bruises on his body when he was found.
"Rudy's family is excited," said Melissa Rangel with Texas Center for Missing. "They are over the moon, but they are also worried. Rudy is not doing well."
A week later, Houston police announced that Farias had not been missing for eight years after all. They said he came home the day after he was reported missing in 2015 but his mother, Janie Santana, continued to "deceive police" through the years.
The district attorney's office declined to press charges against Santana but HPD said the investigation will continue.
Rudy Farias timeline
His mother said Farias suffered from anxiety, depression and asthma and didn't have his inhaler when he left.
HPD later said they went to the home multiple times while investigating his disappearance and spoke with family, friends and neighbors.
Volunteers with Texas Equusearch also searched for Farias.
March 8, 2015: We now know that Farias returned to his home the day after he disappeared, Houston police said in a news conference eight years later.
We interviewed his mother who continued to claim that her son vanished and was still missing more than two years later.
Janie Santana said then that detectives warned family members that her son may have been abducted and sold into human trafficking.
"He has such a huge heart. He loves with all his heart," Santana told us. "So that's why we know he wouldn't just get up and go on his own. That's not him."
"It's just a nightmare that you want to wake up from," Santana said.
September 2018: Houston police said they got a call from family members, telling them that Farias was living behind a family member's home. Police searched, but didn't find him.
Dates unknown: HPD said patrol officers had interactions with Farias through the years but they didn't realize he was the missing teen because he gave them fake names. They didn't give specifics about what those encounters were and when they occurred.
June 29, 2023: At about 10 p.m., police said a man, who would later be identified as Farias, was found outside Immaculate Heart Church near 76th Street and Avenue K in southeast Houston. According to Farias' family, a good Samaritan found him unresponsive and called 911.
July 3, 2023: The family released the following statement.
"We want to thank the media and public for all their support. My son Rudy Farias IV was found on Thursday, June 29th, after being missing for eight years. Currently, we do not have any additional information on Rudy's case. What we do know is at the time of his recovery, a good Samaritan located him unresponsive and immediately called police and 911. My son Rudy is receiving the care he needs to overcome his trauma, but at this time, he is nonverbal and not able to communicate with us. We are asking for privacy during this difficult time but will share more details as Rudy continues to heal."
Santana said her son was in the hospital and released a photo of him in a hospital bed. Her sisters later said the photo was actually from 2012.
July 5, 2023: HPD met with Farias and Santana at a hotel.
Houston community activist Quanell X told the media that he spoke with Farias alone. He said the now 25-year-old man told him his mother forced him to go along with the charade and told him he'd go to prison if he didn't. Quanell X also said Farias told him and the investigator that his mom had been drugging and sexually abusing him.
HPD later said Farias did not tell them he'd been sexually abused when they interviewed him.
Santana agreed to speak with KHOU 11 News on Wednesday to give her side of the story but never showed up. This comes after new allegations were made by Quanell X, which police have not confirmed. Later Wednesday we found Santana but she sped away from our cameras.
That night, Farias' aunt said she hadn't seen him since the day he went missing. Sylvia Lopez said she even traveled out of state with Santana to help look for him.
"She had me out there in California thinking that they had found somebody that looked like Rudy in California," Lopez said. "And I went all the way with her."
July 6, 2023: A neighbor told KHOU 11 News that he spotted Santana at her house early Thursday but she left sometime after midnight.
At a news conference, police said that Farias hadn't been missing for eight years after all. They said he came home the day after he was reported missing in 2017 and he and his mother have been lying for eight years.
Investigators said Farias did not tell them that his mother sexually assaulted him but the investigation continues. Quanell X is standing by his claims and he wants Santana charged.
The DA's Office declined to accept charges on the false report allegation because they don't handle minor misdemeanor cases.
Below is a map of where Farias was first reported missing and where he was found: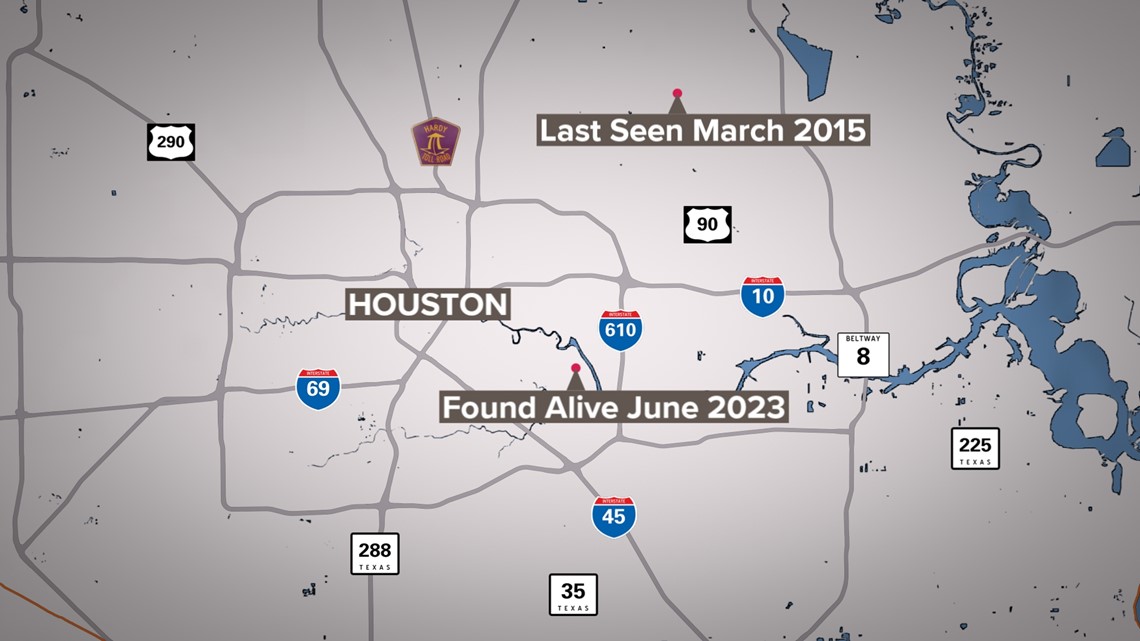 We profiled Farias' story in 2016, a year after he was reported missing. You can watch that report below.