HOUSTON — This was a full-circle day for retired Houston Police Officer Ronny Cortez and his wife Sheri as they watched their son graduate from the Police Academy.
Ronny and his partner were shot in the line of duty after confronting a burglary suspect in 2017. One bullet pierced his spine and left him paralyzed and in a wheelchair.
That passion for his job was passed on to Evan who is now answering his own calling four years later.
During an emotional moment at Wednesday's graduation ceremony, Evan's father proudly pinned his own HPD badge on his son.
"Can't believe he is wearing his daddy's badge. Truly turning a tragedy into triumph," Sheri tweeted.
She said her husband kept the badge a secret from her so she wouldn't cry. Of course, she did anyway. No doubt, she wasn't alone.
"What a great day...emotional day," she said.
When pinning the badge on his son, Ronny thought, "It's a moment you're supposed to be proud, but then yes you're awful afraid because of what could happen."
Given the price their family has already paid, did Ronny and Sheri ever try to dissuade Evan from becoming a police officer?
"Then the suspect beat us. That's the way we look at it," Sheri said. "The fact that Evan has gone in and is now using his dad's badge sends a signal that we did not lose here. We won."
Sheri had no idea their son would take his father's badge.
"She knows about everything that goes through this house, so I wanted to get a secret by her," Ronny said.
It worked. She was very surprised.
"The last time I'd seen that badge was when he was injured they gave it to me at the hospital. So that's the last time I'd seen that badge. It was pretty emotional for me to see," Sheri said.
Sheri has been a rock at her husband's side every day since the shooting -- from dark days and disappointments to every milestone along the way, they've faced them together.
Since then, the couple has helped countless other officers and their families, including those injured – or killed -- on the job.
In return, their family in blue has been there for them from the beginning with fundraisers, a donated van and endless emotional support.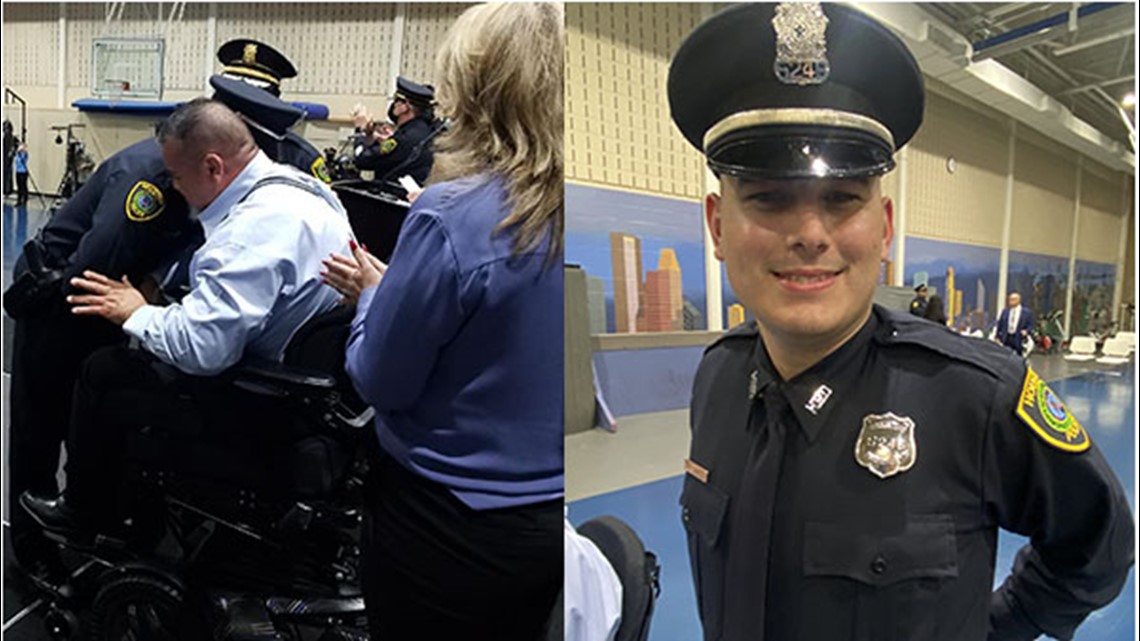 For his part, Ronny is bound and determined to walk again someday, and his positive attitude continues to inspire others – including Evan, as he follows his father's example of courage, faith and public service.