Police have now closed a case they opened last March that began with a disturbing discovery by a Houston Heights renter who found human remains inside the walls of his home.
The medical examiner finally identified the remains as 62-year-old Mary Cerruti, the woman who once lived at the home.
"My family even asked me about it when they saw me on the news that day I went out on (the case)," Detective Jason Fay said. "They asked me, even now, have you identified this person? I'm like no. I'm still waiting. But now I can finally say yeah we finally were able to identify this person."
While the remains have been identified, questions still linger about how Cerruti died.
Back then, she called the home her "little castle." But today, that tiny blue home is surrounded by a fortress of brick built by developers who Cerruti called "the bad guys."
"She definitely did not like the apartments being built around her. For her, it was an invasion of her space, her privacy," Cerruti's neighbor, Roxanne Davis said.
Inside her home, Cerruti lived alone with her eight cats, documenting, through thoughts and photos, the construction as it grew up and around her.
Until, one day, she was silent.
"It's sad that she came to an ending like that," Davis said. "As far as the police are concerned, it appears to be done."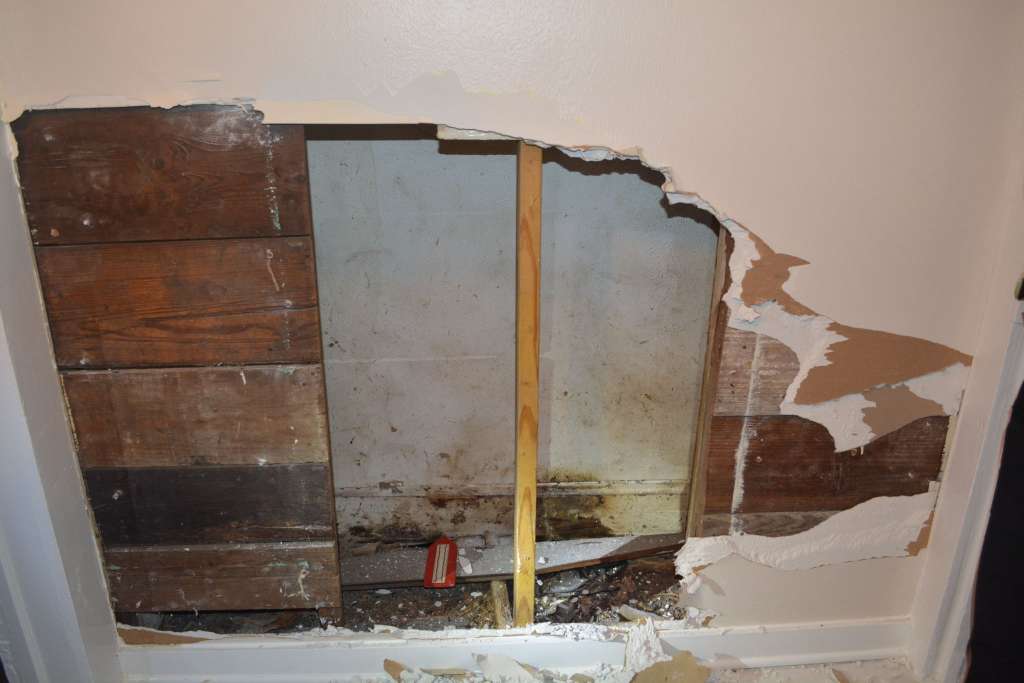 Detectives believe Cerruti went up to the attic for some reason, fell down through the floorboard and got trapped inside. Police found the attic door open when they conducted a welfare check after she went missing.
Time, decay and animals robbed anthropologists of critical evidence to determine how she died, police said. They found no signs of trauma or foul play in what bones remained.
Medical examiners ruled the cause of death undetermined, according to Detective Fay. However, he closed the case and labeled the death an accident, despite rumors suggesting someone killed Cerruti for her home.
"It would be a stretch in this case because at the end of the day no one bought the house," Detective Fay said. "If this really was that kind of idea of let's get rid of her, you would think that someone would have bought the property and tried to demolish it. Instead someone bought it and tried to rent it."
Davis, says she doesn't know how Cerruti's body ended up inside the walls of her own home.
"The gap in the boards appears to be maybe eight inches, and Mary was certainly very frail, but it's hard for me to believe that a person could step on a board, and their entire body would go down a crack that is two inches wider than a dollar bill," Davis said.
Davis just doesn't buy it.
"There were a couple hundred pairs of eyes on her house at all times, and anybody could look down and see that she was alone, she was elderly, she was frail and she was vulnerable, flat-out vulnerable," Davis said.
She says detectives closing the investigation is upsetting and irresponsible with so many questions still needing answers.
"Should it be done? No. They need to do some more investigation. They have some explaining to do," Davis said.
HCIFS positively identified the remains on Tuesday based on the biological profile of the skeletal remains, combined with contextual information, including location where the remains were found.
The biological profile developed is consistent with the description of Cerruti, a white female of small build, 61 years old in 2015 when she was reported missing by her neighbor.
It was also reported that Cerruti was missing a tooth in the front of her mouth several years prior to her disappearance. There was a relatively new crown on the right maxillary canine of the skull found.
Detective Fay said he hoped identifying the remains allows Cerruti's loved ones to lay her to rest and find closure even if questions remain.
If someone brings police evidence of foul play in her death, detectives will again open the case, he said.