HOUSTON – The funeral services for 7-year-old Jazmine Barnes is expected to be well-attended by loved ones, friends and strangers whose hearts have been captivated by the little girl at the center of the heartbreaking story.
The 7-year-old's services start at 10 a.m. with a public viewing then the homegoing at noon.
The services will be held at Community of Faith Church, located at 1024 Pinemont Drive, Houston. They were originally to be held at Green House International Church.
Photos: Community says final goodbye to Jazmine Barnes at funeral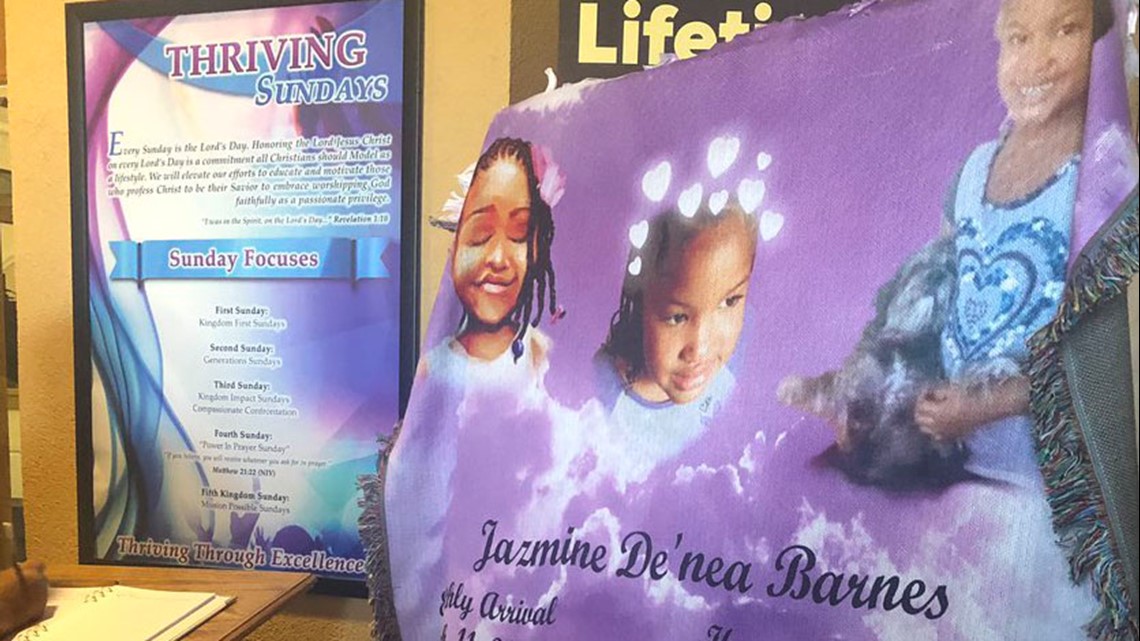 PUBLIC VIEWING
12:15 p.m. - Pastor James Dixon will address mass shootings, gang violence, hate crimes and sex-trafficking during the funeral.
11:45 a.m. - Just heartbreaking.
11:25 a.m. - Harris County Sheriff Ed Gonzalez arrived at Community of Faith Church for the funeral. He vowed that he would not rest until her killers were found.
11:15 a.m. - In the program for Jazmine Barnes' funeral service, it lists "Create a Safer Place for Me" and Oh How Precious" as two of the songs that will be sung.
11:10 a.m. - New Harris County Judge Lina Hidalgo thanked Sheriff Ed Gonzalez and his deputies for their work on the case during her first Commissioners Court meeting Tuesday morning.
9:40 a.m. - A beautiful purple custom blanket with some of the photos of Jazmine Barnes is on display as members of the community sign the guest book for the funeral.
9:35 a.m. - The message on Jazmine Barnes' caskets reads: "Jazmine 'Jazzy Fay' Barnes."
9:30 a.m. - Jazmine Barnes' casket arrives at Community of Faith Church.
9:20 a.m. - Official condolences will be made by Sheldon ISD Superintendent King R. Davis, Houston Mayor Sylvester Turner, Harris County Sheriff Ed Gonzalez and Congresswoman Sheila Jackson Lee.
9:10 a.m. - The Houston Texans sent one of the two arrangements on display at Community of Faith for the funeral of Jazmine Barnes.
RELATED: VERIFY: Sheriff addresses unanswered questions in Jazmine Barnes murder
RELATED: Sheriff explains twists in Jazmine Barnes murder case
RELATED: Suspect: Fight at club led to 'mistaken identity' shooting of Jazmine Barnes
RELATED: Sheila Jackson Lee defends calling Jazmine Barnes murder a hate crime
RELATED: Jazmine Barnes killing likely a case of mistaken identity, sheriff says
RELATED: Disparity between description, suspect draws attention in Jazmine Barnes case
RELATED: Man charged with capital murder in Jazmine Barnes shooting