Part 6 (See Parts 1, 2, 3, 4, 5 and 7 of our continuing investigation of nursing home abuse and neglect.)
Jessie Stagner's downward spiral began like so many others her age.
"She fell and broke her hip," said her son-in-law Jerry Tindel. "That was the beginning of the end."
Tindel doesn't blame the fall for her death. Instead, he blames the prescribed drug he says she had taken when she fell.
Jessie was in good physical health before her death at the age of 96, but had begun showing signs of dementia, Tindel said.
That's when she went to live in an Austin nursing home, which is where, according to Tindel, the doctor told him he began prescribing her Risperdal, an anti-psychotic – even though she didn't have a psychotic condition.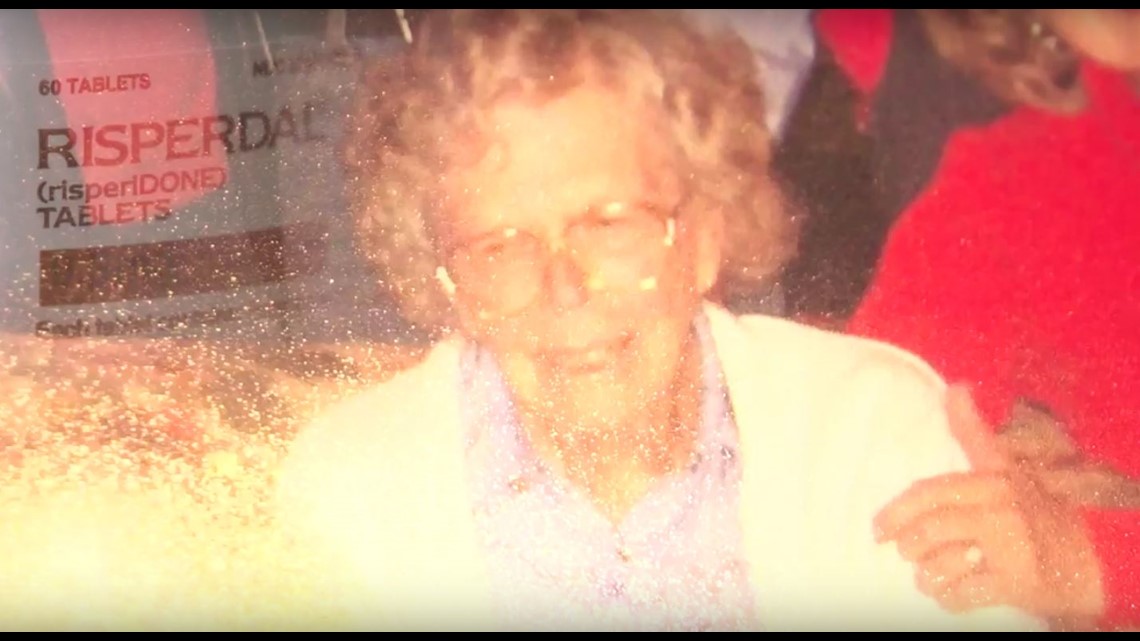 "They pretty much kept her on that," Tindel said. "It really immobilized her. She couldn't walk without someone holding her… She had lost her coordination."
Tindel noticed the drug changed Jessie's mental state.
"The substance was just gone," he said. "It's sad, really sad. She was a special, special lady."
What Tindel didn't know was that the U.S. Food and Drug Administration never approved Risperdal to treat symptoms of dementia. In fact, the FDA had issued a black box warning – its highest level – linking the drug to an "increased risk of death among elderly dementia patients."
Still, doctors in nursing homes across Texas continue to prescribe the drug to dementia patients like Jessie to calm them down.
"There are significant risks that are associated with that," said Dr. Daniel Pearson, head of psychiatry at Methodist Hospital in Dallas. "Increased risk of cardiac death, increased risk of falling, breaking a hip..."
That's exactly what Tindel says happened to Jessie.
"I don't think she would have fallen had she not been on Risperdal," he said. "She was so healthy and strong, I think she would've lived to 100, easy."
Despite the FDA's warning to stop using anti-psychotics for dementia patients, Jessie's nursing home still uses them. According to the facility's own records — more than 25 percent of the residents continue to take them for uses not approved by the FDA.
That's common in Texas. A WFAA analysis of federal nursing home data found that nine out of 10 Texas nursing homes do the same thing with Risperdal and other similar drugs – using powerful antipsychotics for reasons not approved by the FDA.
So, if the FDA says Risperdal is not safe for treating elderly dementia patients, then why are so many doctors using it for that?
The answers lie in two court settlements filed by government regulators against Risperdal maker Janssen Pharmaceuticals, a subsidiary of Johnson & Johnson.
'Off-label use'
The story begins in 1993. Risperdal had just gained FDA approval for use in treating schizophrenia and bipolar disorder. But that's a relatively small market. Dementia patients, however, comprise about half of nursing home residents.
Federal and state attorneys argued that Johnson & Johnson "developed a scheme to turn the drug into a blockbuster," court documents show. In testimony, the attorneys claimed Johnson & Johnson used Texas as the "model state" to promote the drug "locally and nationally."
The goal, according to federal and Texas attorneys: Get doctors to prescribe Risperdal over other drugs and for conditions – like dementia – for which it was not FDA-approved. It's known as "off-label use."
"An off-label use of a drug is not illegal," said Michael Elliott, a former assistant U.S. attorney who specialized in health care fraud. "What is inappropriate is for a drug company to market that drug for off-label uses."
Texas court records and exhibits show Johnson & Johnson recruited influential doctors like Steven Shon, then medical director of the now defunct Texas Department of Mental Health & Mental Retardation. Texas Attorney General attorneys alleged Johnson & Johnson "made a series of illegal payments to Dr. Shon that effectively turned him into a salesman for Risperdal," court documents show.
Dr. Shon testified in the case that the money did not influence him.
The company also paid lucrative fees to a major pharmacy provider to promote the drug in nursing homes, court documents show.
Despite the FDA's warning that using Risperdal to treat elderly dementia patients was dangerous, business plans in federal court filings show Johnson & Johnson created a sales force they called "ElderCare."
The alleged objective? Target dementia patients, federal court records show.
From the late 1990's to 2004, sales reps made thousands of calls promoting the drug "as safe and effective" for treating "behavior problems" in elderly dementia patients, court documents show.
Profits soar
As a result, court exhibits show, domestic sales of Risperdal increased from $892 million to $2 billion per year.
According to Johnson & Johnson's own market research, as much as "75 percent of the prescriptions for Risperdal were for off-label uses."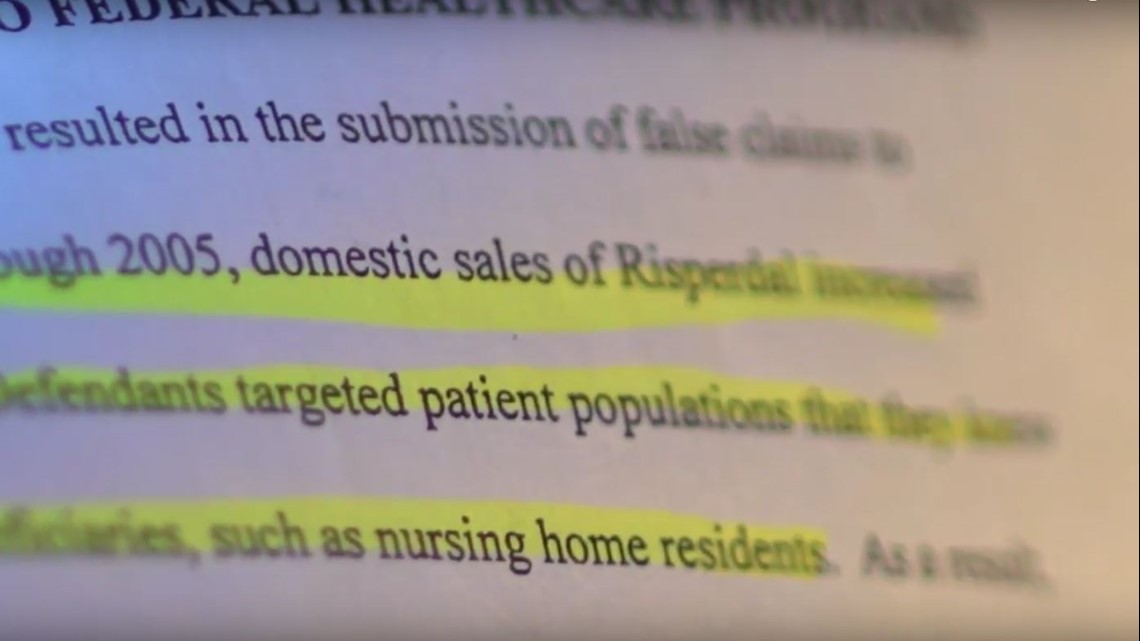 Eventually, the company got caught. Federal prosecutors sued and in 2013 Johnson & Johnson agreed to settle civil and criminal litigation. No doctor or Johnson & Johnson employee was criminally charged.
In a statement, the company tells News 8 that it has "robust compliance programs that have been continually strengthened" and that those programs reflect "the company's commitment to ensuring integrity in the delivery of essential medicines to patients."
As part of the federal settlement in Pennsylvania, the company paid a total of $2.2 billion to settle accusations that it improperly promoted Risperdal. It was the largest U.S. settlement involving marketing of antipsychotic drugs to older dementia patients, and the third largest health care fraud settlement in U.S. history.
"It's an astronomical sum of money," said Elliott, the former federal prosecutor now in private practice. "But when we're talking about the profit margins for Johnson & Johnson on that specific drug, you could really see it as just a cost of doing business."
The massive settlement hasn't changed the way many doctors are still prescribing the drug.
For that, Tindel says, his family paid the ultimate price.
"We need to figure out a way to stop it," he said.
Take action
If you have a family member in a nursing home, doctors say you need to do your homework.
Find out what prescriptions they're on and why. Research the side effects.
If the nursing home won't give you a list of your loved one's prescriptions, click on the legal form below, fill it out and give it to the facility. The law says they have 48 hours to comply.