HOUSTON — Hurricane Michael will be a historic hurricane by nearly every measure. Michael as of 10 a.m. Wednesday is on final approach to the Florida panhandle with Panama City being ground zero.
Here's the very latest from the National Hurricane Center as of 10 a.m. CST:
Winds: 150 mph sustained with gusts of 180 mph.
Pressure: 923 millibars (unofficially 919 mb)
Moving: NNE 14 mph
Joe Raedle/Getty Images
This hurricane is unprecedented and we mean that.
Never before, in recorded history, has a category four hurricane hit the United States in October.
Never before--in recorded history going back to 1851-- has a category four or five hurricane ever hit the Florida panhandle.
As of this entry, Michael's pressure of 923 millibars is extremely low and if it were to make landfall with that pressure or lower, it will rank as the 5th strongest landfalling hurricane in the United States on record.
Per the latest hurricane recon observations, the pressure, unofficially, may have dropped even further to 919 -- which would rank as the 3rd strongest hurricane to ever strike, just ahead of Katrina.
Hurricane warnings are up for a huge swath of the southeast. While it's expected to see hurricane warnings up for the coast of Florida, what's not common is how far inland they're in effect.
Hurricane warnings (pink) go inland all the way north of Dublin, GA -- or 250 miles inland! To put that in perspective, if those hurricane warnings were in effect for southeast Texas, it would not only include the entire Houston area but would stretch all the way to Dallas!
Tropical Storm Warnings (blue) stretch from Mobile, Alabama to the outter banks of North Carolina!
Storm surge, by far the deadliest part of any hurricane, is already inundating the coast well ahead of the eye's arrival. Storm surge in this area is expected to rise upwards of 20 feet in some locations.
The hurricane hunters will continue to fly the storm all the way up to landfall. Regardless, there's absolutely no difference in the expected damage regardless if it remains category 4 or 5. The end result will be total and complete devastation.
PHOTOS: Florida Panhandle braces for Hurricane Michael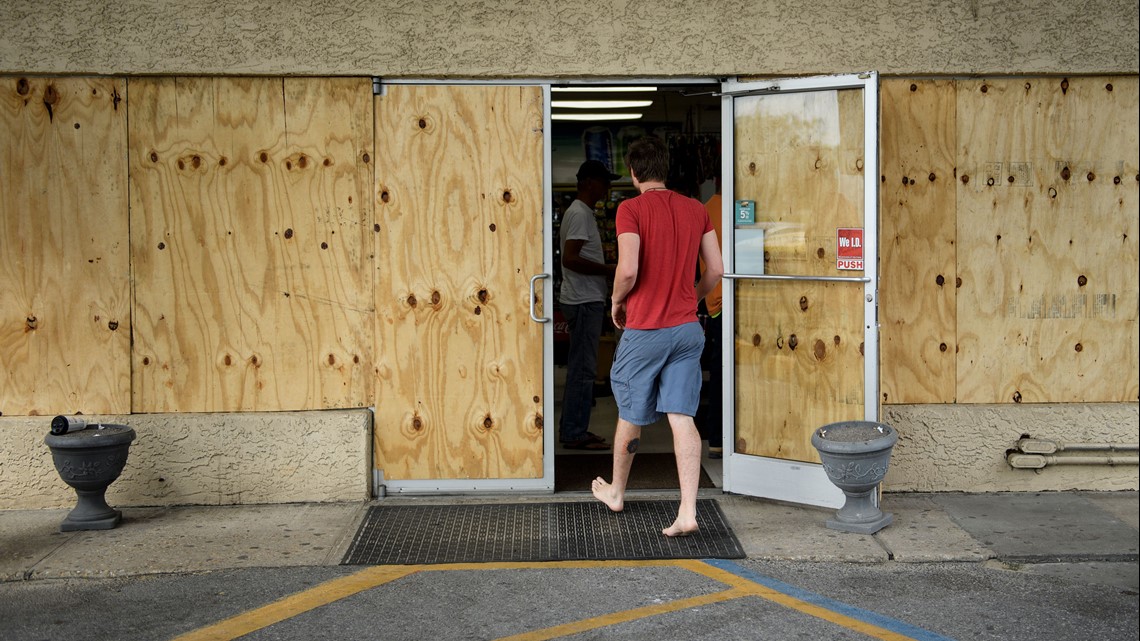 There's good news and bad news though.
The good news and only saving grace is that this part of the panhandle is very sparsely populated. Just to the east of the expected landfall location is the Apalachicola National Forest.
Secondly, many of the resort towns like Destin, Fort Walton Beach will be spared minus some cosmetic tree and signage damage.
As for Panama City, the expected ground zero landfall spot, many of the high rise apartments and hotels are built to withstand even the strongest hurricanes so those structures -- minus lots of broken windows and roof damage -- should be salvageable.
The bad news that's about all that will be saved. Most wooden structures including homes, restaurants and other tourist spots will likely be decimated, if not by the wind then by the surge. Very little will remain of those structures.
The other bad news is that Florida and Georgia are home to many modular and mobile homes. They don't have a chance of surviving this storm. I hope everybody in those type homes left the area. Also the tree damage will be tremendous. Millions of trees, if not tens of millions, could be brought down from Florida to the Carolinas.
Thursday morning will be a very different world for some areas of the Florida Panhandle and southwest Georgia.