HOUSTON — The Houston Police Department released video Thursday morning showing an armed robbery at a cell phone store. It's the fourth video HPD has released of cell phone store robberies in the last two weeks.
The most recent video was from a robbery on May 10 at 1:40 p.m. It's a business along South Kirkwood north of Westheimer. The video shows three guys rush in, jump the counter and hold up the employee at gunpoint. You can see that video in the window above.
According to police, they were demanding money from the cash register and cell phones from the back office.
One of the suspects grabbed the cash, while the other two took cell phones.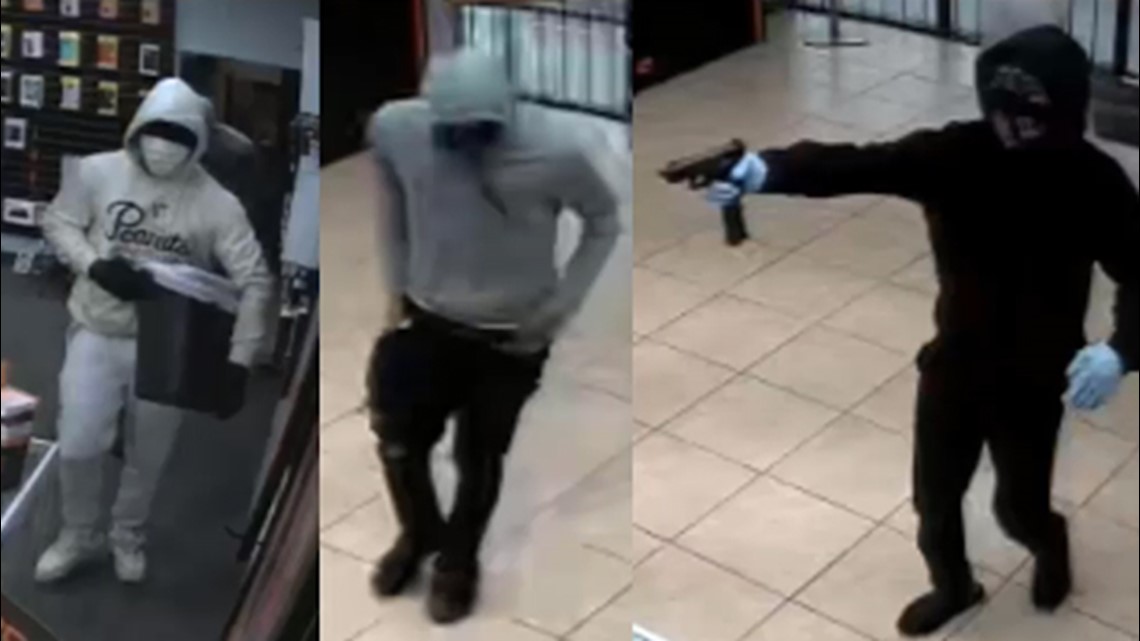 About an hour before Houston police released the video from South Kirkwood, they tweeted video from another robbery at a cell phone store on May 20. In that case one person walked into the cell phone store along West Mount Houston near I-45 and at first, acted like a customer. The guy then pulled out a gun and demanded money from the cash register. The employee handed over the money and the suspect took off.
In another video Houston police tweeted, that same cell phone store on West Mount Houston was robbed at gunpoint two days later on May 22. In that case, police say the store employee tried to talk to the suspect, and the suspect got frustrated and fired a shot into a wall. The employee then handed over the money and the robber took off.
Reporter Jason Miles spoke to the cell phone store employee in this video. Watch for his report coming up on KHOU 11 News Thursday afternoon.
On Wednesday, Houston police released a different video showing a cell phone store robbery, this time along Harrisburg near Lockwood. In that case, the suspect pulled a knife out and demanded money. The employee handed over the money and the suspect took off on a bicycle.
Please contact Crime Stoppers of Houston DIRECTLY if you have any information related to any of these cases. Information leading to the charging and/or arrest of any felony suspects may result in a cash payment up to $5,000. Tipsters MUST contact Crime Stoppers DIRECTLY to remain anonymous and to be considered for a cash payment by calling 713-222-TIPS (8477), submitting an online tip at www.crime-stoppers.org or through the Crime Stoppers mobile app.