Family of John Hernandez, the man killed outside a Denny's restaurant near Sheldon, again asked for justice during a vigil Wednesday night outside the Harris County courthouse.
Their signs spoke loudest. Big, bold letters screamed "Justice for Johnny" Hernandez. The second rally in Hernandez's name crowded with at least one hundred people saw more tears than talk Wednesday evening.
Hernandez's widow, mother of his 3-year-old daughter, simply cradled his framed photo and cried. Relatives questioned whether investigators truly care.
"I hope they do what they say they're going to do," said Melissa Hernandez, Johnny's cousin. "Confidence is something hard to give. Trust is something hard to give."
WARNING: The video contains graphic and violent images.
WATCH: New video released connection with fatal beating
Still, Harris County Sheriff Ed Gonzalez asked for both. In the wake of video released showing Hernandez restrained until he stopped breathing in the arms of a Harris County Sheriff Deputy's husband, prosecutors acknowledged "a bad decision" made by investigators, who responded to reports that Hernandez assaulted the other man.
"Homicide did not report to the scene," said Tom Berg, first assistant to Harris County District Attorney Kim Ogg. "Obviously, in hindsight that was a bad decision because it is a homicide. We can't address why that happened. It's something we have to live with."
Exactly why deputies did not immediately call for homicide investigators is under investigation, Berg said.
Ultimately, a grand jury expected to meet this week will decide if the deputy's husband involved in the scuffle faces criminal charges.
Community leaders and family members marched through downtown Houston on Wednesday seeking justice in Hernandez's death.
March organizers want an immediate arrest of the off-duty deputy and her husband, an independent investigation, and no bail.
#JusticeforJohnny protesters are marching from Guadalupe Plaza to Criminal Justice Center. (More info: https://t.co/emQTDvkUK7) #KHOU11 pic.twitter.com/MEP7dNADH2

— Brandi Smith (@BrandiKHOU) June 7, 2017
"The community is calling for justice and are frustrated with the delayed response," said Cesar Espinosa, FIEL Executive Director. "We are aiding the family in making sure that this case does not go unnoticed."
Photos: Community activists and family rally at Justice for John Hernandez March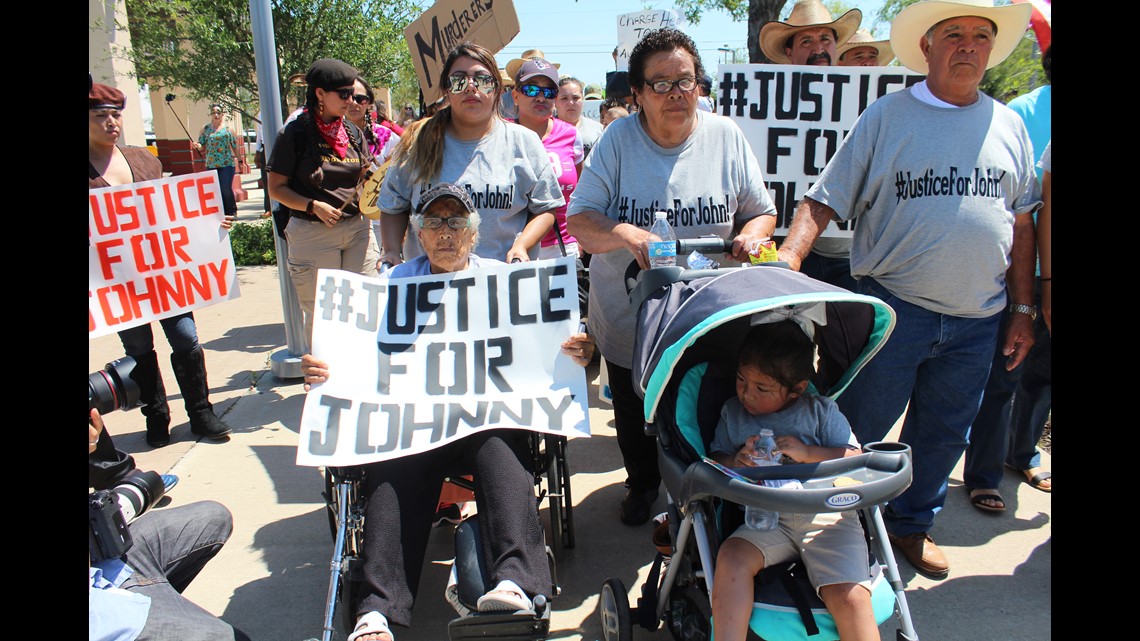 PHOTOS: Justice for John Hernandez March
Motivated by uncertainty with the case, family, strangers and activists lit candles hoping it lights a fire under those who decide what happens next.
"People see this," Ashton Woods said. We're not afraid anymore."
RELATED: Deadly Denny's beating case heads to grand jury, deputy pulled from patrol duty