HOUSTON — The Final Four in Houston has come and gone, and by all accounts, it was a success. Tens of thousands of people came downtown for big-name concerts, Fan Fest and other activities.
As for the action on the court, UConn topped San Diego State to win the NCAA basketball national championship -- the school's second title won in H-Town.
Connecticut Gov. Ned Lamont was in town with the Huskies and while he was thrilled the state's closest thing to a professional sports team won, didn't have very nice things to say about the host city. On Connecticut radio station WPLR, Lamont was asked what he did while he was in Houston.
"After winning the semifinal, you walk around downtown Houston, which is butt ugly, not much there," he said before the radio hosts jumped in.
"You know that's going to be tweeted and viral," one of them said. "Get ready to hear from Houston!"
Houston Mayor Sylvester Turner tweeted, "Governor Ned Lamont, Connecticut, calls Houston "butt ugly." For his team to win is admirable, but his comment is indicative of a loser. St"
Harris County Judge Lina Hidalgo also chimed in, inviting Connecticut's governor back to town.
"Hi @NedLamont, I'm sure we got some wires crossed about how incredible Houston is," Hidalgo tweeted. "I'd love to show you some of my favorite spots in our lovely Downtown, including fabulous restaurants, historic buildings & massive murals by international artists. Consider this a standing invite!"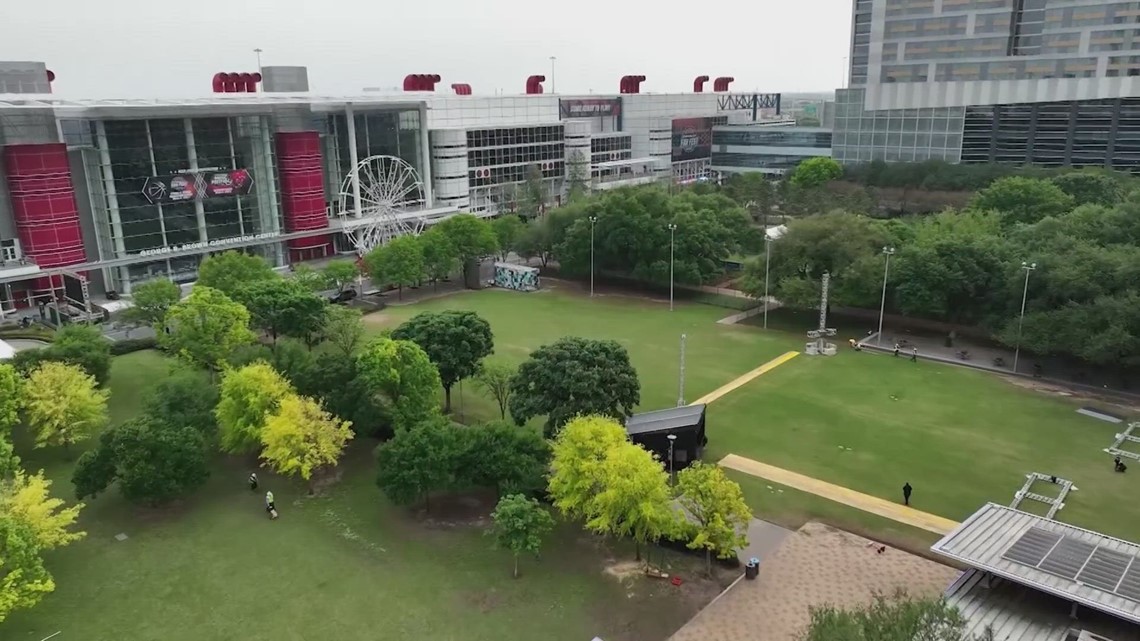 Official statement from Mayor Turner's office:
"I wonder how Governor Lamont would feel if someone made a similar comment about one of his cities in Connecticut? And when was the last time Connecticut hosted an NCAA Final Four? The UCONN Huskies won, and they should be commended. As for the Governor's comments, they didn't reflect the best of his state. By the way, Houston downtown is terrific, and we are getting ready to host the college football championship in January! Take that!!!"
Statement from Dr. James Dixon, II, chairman of Harris County Sports and Convention Corporation
"As Chairman of Harris County Sports and Convention Corp and proud Houstonian, I take great offense to derogatory comments about Houston by Connecticut Governor Ned Lamont. Lamont called Houston "butt ugly…not much there" in an interview following the impressive basketball victories and NCAA Championship. I actually cheered for the Huskies-Congrats! However, I believe the Governor's comments were of poor taste, extremely subjective, and insulting to one of the most diverse regions in the country. We are the fourth largest city in the U.S. In fact, Houston and our immediate region have over 5 million people — compared to barely over 3 million in the entire state of Connecticut. Additionally, when one Googles the downtown area of Hartford, Connecticut, and places Houston's downtown beside it… Well, let's say, the Governor should have been thoroughly impressed by the dynamics of world class business, corporate, residential, entertainment, medical center, sports venues, museums, restaurants, hotels and recreation, all within minutes of NRG Park and Stadium! From what we could see, Husky fans enjoyed so much of our city's hospitality. Our dynamic personality and diverse culture is exemplified by the fact that, within 12 hours our incredibly astute NRG Park team transitioned the entire park from the world's largest rodeo event into a world class Final Four venue! "Governor, please return to Houston for an informative and inspiring tour so we can show you all the rich elements of our community that you missed! We love to show Houston to the world." We're already great and greater is on the way!
We reached out to Lamont's office to ask about the comments. We'll let you know if we hear back. In the meantime, you can reach him through Twitter or his office.