HOUSTON – Thousands of guests including, Barack and Michelle Obama, Bill and Hillary Clinton and Melania Trump attended the funeral of Barbara P. Bush Saturday afternoon.
Jim McGrath, the post-White House spokesman for George H.W. Bush and Barbara Bush, shared eight photos on his Twitter Sunday morning showing a few moments from the funeral and burial site.
Photos: Bush family shares pictures from funeral of former First Lady Barbara P. Bush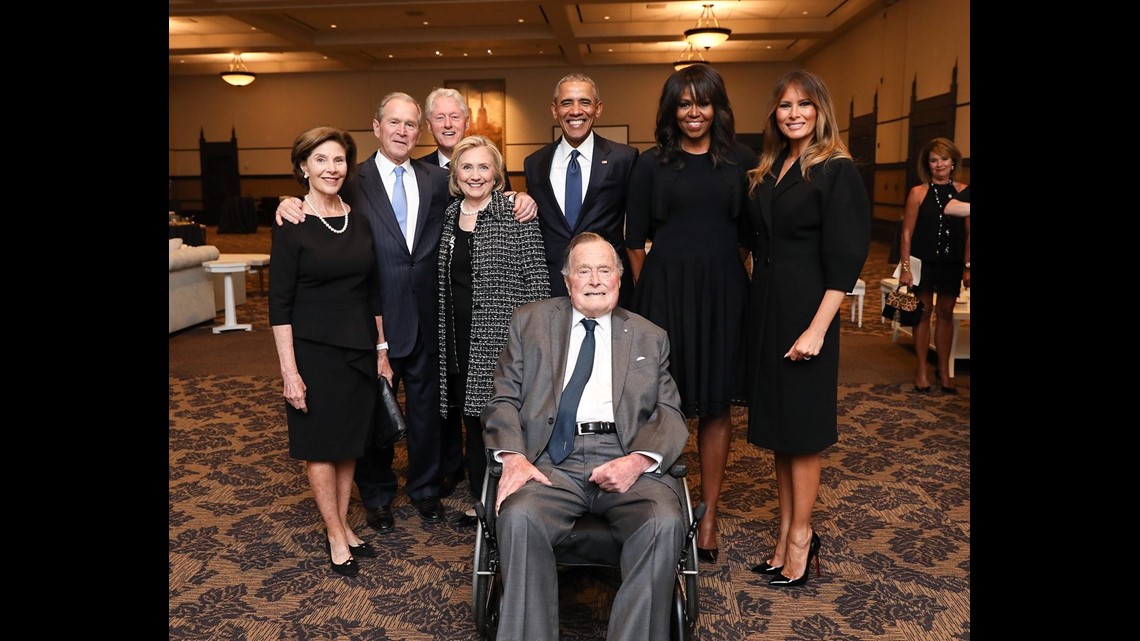 The funeral was held in Houston at St. Martin's Episcopal Church. Mrs. Bush son Jeb Bush, longtime friend Susan Baker and historian Jon Meacham delivered eulogies at the invitation- only funeral service.
"Barbara Bush filled our lives with laughter and joy, and in the case of her family, she was our teacher, our role model on how to live of life with purpose and meaning," Jeb Bush said.
"She was smart, strong and sometimes feisty. The world saw that and like we did, they admired and loved her for it, said Baker.
The crowd at the funeral also included familiar faces like Mattress Mack, actor Chuck Norris and Congresswoman Gabrielle Giffords and her husband, former astronaut Scott Kelly.
WATCH: Full funeral service for Barbara P. Bush
BLOG: Former first lady Barbara Bush laid to rest
The former first lady was laid to rest in College Station at the George H.W. Bush Presidential Library and Museum. Thousands stood along George Bush Drive as the funeral procession for Bush made its way to her final resting place.
Many made the trip from Houston to College Station to support the woman who has given so much to the United States of America.
"We wanted to be as close as possible to her," said Amy Davis.
"The family has given a lot," said Jerry Guidry. "So this is a very small way where we can come back and maybe honor them by way of being out here."
READ: Hundreds pack College Station streets to say goodbye to Barbara Bush
READ: Celebrating the remarkable life of Barbara Pierce Bush
Bush died Tuesday at her Houston home at age 92 after a battle with COPD and congestive heart failure.