HOUSTON – Due to overwhelming response, Build-A-Bear stores across the country were forced to close down lines for their Pay Your Age Day, the company announced on its website Thursday.
Earlier Thursday morning, the store announced that local authorities at various locations were requiring them to limit the lines and crowds due to safety concerns.
At Memorial City Mall, the huge turnout for the promotion caught just about everyone off guard. Hundreds lined up for hours to save money on the popular stuffed animals. A line a mile-long wrapped down and around dozens of stores, both inside and out.
PHOTOS: Hundreds line up at Memorial City Mall for Build-A-Bear event
Photos: Hundreds flock to Memorial City Mall for Build-A-Bear 'Pay Your Age' day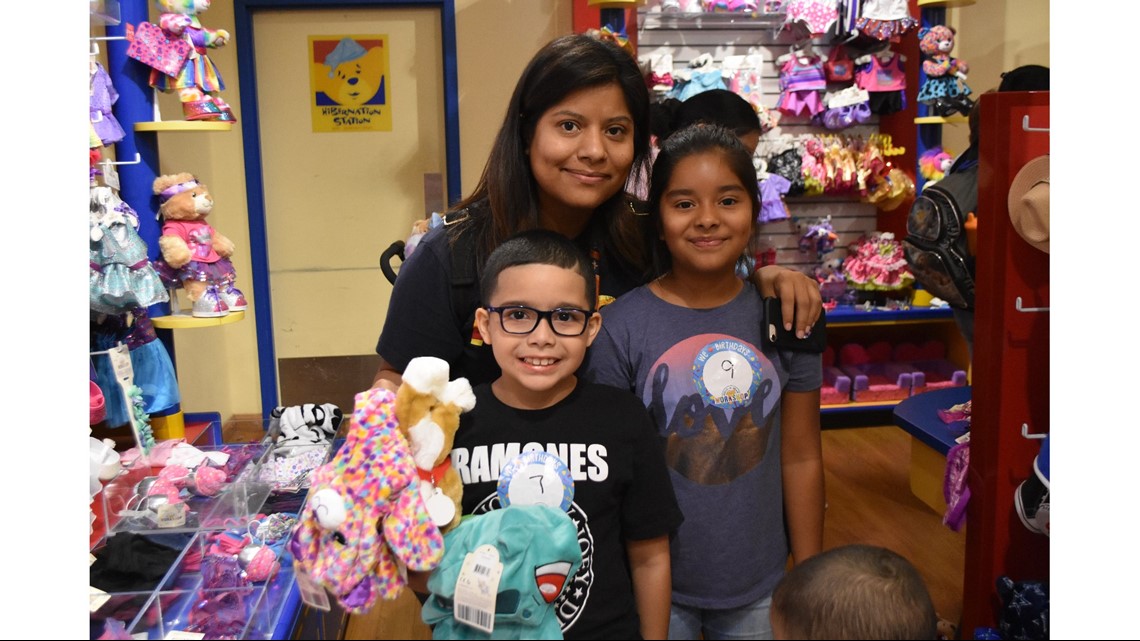 "I'm happy I'm on vacation because we had to be at the mall early, because I knew there was going to be a line," Natasha Smith said.
Natasha Smith made it to the front of the line, but she didn't mind the wait. Her four kids each got their own stuffed animal.
Saving her over $100, which is money she says is well worth waiting for.
"Because who could beat the price. He might pick out a $40 bear and get it for a dollar," Smith said.
She waited three hours, but some kids said they waited way longer.
PHOTOS: Overwhelming turnout at Build-A-Bear stores nationwide
PHOTOS: Overwhelming turnout at Build-A-Bear stores for 'Pay Your Age' day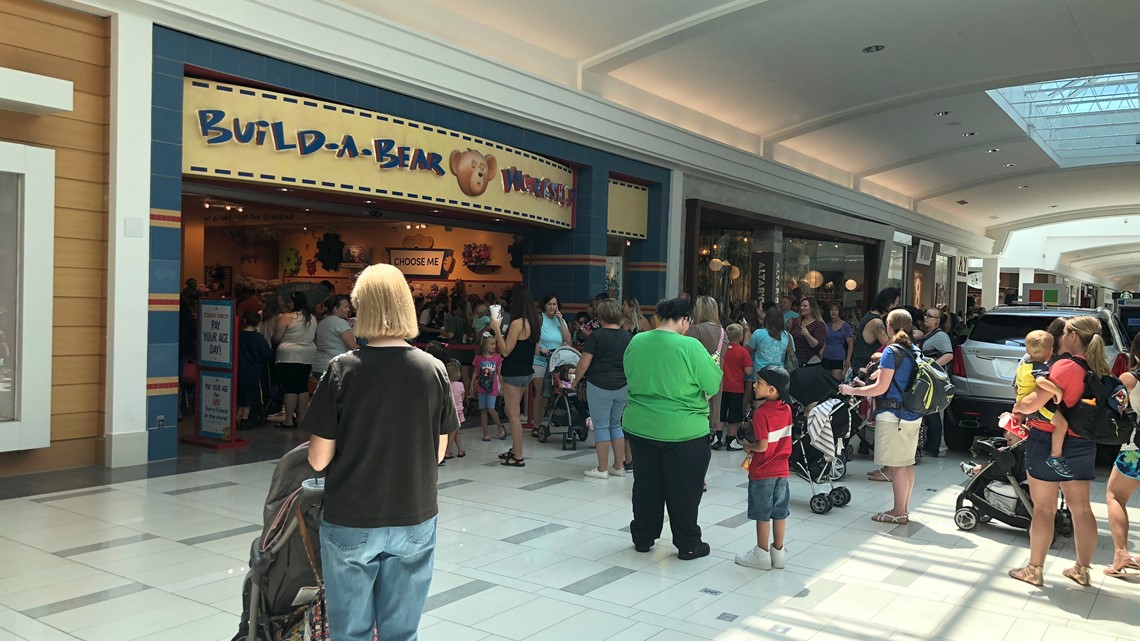 "Seven hours," 7-year-old Haylie Robertson said.
"14 hours," 6-year-old Ethaniel Ortega said.
"100 hours," 9-year-old Jacob Storton told us.
Ok, we might have to put our Verify team on that claim.
"I wanted a Pokemon but my mom says I cant get one because I'm not always going to love Pokemon," Jacob said. "But I will."
RELATED: KHOU 11 News photojournalist turns Build-A-Bear disappointment into a big smile
But 6-year-old Ethaniel wasn't so sure going in.
"I don't know but I'm going to pick. It's going to be a question mark," Ethaniel said.
They all got up early to stand around for hours, but Smith says she'd do it again.
"Because my kids have a smile on their face. That's what's important," Smith said.
Unfortunately, not everyone is getting a bear Thursday. People who were waiting outside were given a $15 off coupon to come back, but they won't get the 'pay your age' discount.
JOIN THE CONVERSATION: Did you wait in lines for the Pay Your Age event?
Lines were long at other malls in the Houston area.
In Katy, customers were being given vouchers for $15 off their next Build-A-Bear.
Here is a look from a viewer of the crowds at Baybrook Mall.
On Monday, the store announced the event in a press release in which customers in-store will pay the dollar amount of their age to stuff their own plush toy.
The offer was only valid for Build-A-Bear's Bonus Club members, but customers could sign up online ahead of time or in-store at the time of purchase.