Bring Them Home: The stories behind the photos
<p>It's every parent's nightmare: Their precious children vanish – never to be seen again. It happens all too often in Houston and all over the country. For every missing child, there is a family missing them.</p>
It's every parent's nightmare: Their precious children vanish – never to be seen again. It happens all too often in Houston and around the country.
For every missing child, there is a family missing them.
Wednesday, May 25, is National Missing Children's Day so we've teamed up with our sister stations nationwide to help bring attention to this heartbreaking issue and bring these children home. President Ronald Reagan chose May 25th because that's the date in 1979 that 6-year-old New Yorker Ethan Patz disappeared on his way to school. Ethan became the first missing child featured on a milk carton. He was never found.
Dozens of Houston-area families have lived through similar horror stories, haunted by unanswered questions. A few of them shared their stories with us.
Ali Lowitzer was a Spring High School student, amateur artist and sometime singer.
"Her voice was awesome," remembered Joann Lowitzer, Ali's mom. "I just miss her."
Her daughter disappeared without a trace on April 26, 2010.
Ali, who was 16 at the time, had called her mom on the phone to ask if she could walk to her job at the Burger Barn to pick up her paycheck.
"And she begged and begged. I gave in and told her she could walk to work," Lowitzer said. "That was the worst decision of my life."
Ali was seen getting off the school bus around 2:45 that afternoon. She never made it to the Burger Barn to pick up her check. Police tried to trace her cell phone with no luck. She was added to the ever-growing list of missing children.
Amber Cammack is a private investigator who works to reunite missing children with their families.
"Everybody should know that you're not untouchable," Cammack warned. "Your child, your loved one can go missing at any time."
Joann Lowitzer is determined to make sure her daughter is not forgotten. A $25,000 reward is on the table for information leading to Ali.
"Another year of missing holidays. Another year of missing birthdays," Lowitzer said. "It's the not knowing that's the worst part. You don't know if she's dead or if she's alive."
"I know she's crying for me," Mark Hamilton said. "It's been almost a month.
His 16-year-old daughter Alecia left to visit with friends one April night and never came home.
"I want no parent to go through what I have felt and am still feeling," Hamilton said.
Hamilton said Alecia loves her horse and grandparents and would never abandon them by choice.
"I know my daughter has to be held against her will or worse."
He fears she may have been lured away by someone preying on young girls.
"I don't know what they're doing to her mind. I don't know what they're doing to her body."
Over the past month, Alecia has been spotted several times near some of the motels along FM 1960. And while the sightings haven't led to anything so far, they give her dad reason to hope.
"I go every day searching for my daughter until I drop from exhaustion. I cry myself to sleep. I wake up crying. I find my new hope and I head out to search for her again."
Angel Garcia, the founder of 1st Priority Search and Recovery, works undercover to try and rescue kids from Houston's burgeoning sex trade. He agreed to talk if we hid his face.
"All these kids are to them is money," Garcia said. "And if you try to bring them back home, they will hurt you."
But Mark Hamilton is on a mission.
"And I will not quit searching until I have you home."
Rudy Farias was walking his two dogs near Tidwell in north Houston last March when he vanished. The dogs were later found, along with Rudy's inhaler.
"He hasn't checked his Facebook. He hasn't checked emails. He hasn't logged onto his Xbox. Just nothing," said Janie Santana, Rudy's mom.
It's been that way for more than a year. No word. No sign of the 17-year-old student.
Texas Eqqusearch helped look for him, but they found nothing either.
"He has such a huge heart. He loves with all his heart," Santana said. "So that's why we know he wouldn't just get up and go on his own. That's not him."
Detectives have warned family members that Rudy may have been abducted and sold for human drug trafficking.
"It's just a nightmare that you want to wake up from," Santana said.
Like so many other parents of missing kids, the answers can be scarier than the questions. But they still long for answers.
"That's what's killing me inside," Santana said.
It's been more than three decades since Cynthia Hunt's life was turned upside down.
"I cries at night sometimes thinking about them."
Pamela was 5 and Michael was 6 when they disappeared in the winter of 1985.
They had asked their mom something that seemed so innocent at the time.
"They wanted to walk home from school and I told them okay, they can walk."
It wasn't a first for Cynthia's kids. They had taken the short walk home from school before. But on that cold January afternoon, they never quite made it.
Witnesses last saw the siblings in the back of a car driven by a strange man. Houston police launched an investigation. While early leads pointed to a possible domestic abduction, the case has never been solved.
"It feels hurt. I've seen a lot of kids come up missing. I always said, 'I hope I will never have to go through that,'" Hunt said. "Then I did have to go through it."
If alive, Michael and Pamela would be in their mid-30s by now. But to their mom, they will forever seem frozen in time.
"I still see them as those two little kids. My two little kids," Hunt said. "They liked to talk, have fun and play."
"You missed a lot?" reporter Rucks Russell asked.
"Yes. A whole lot. All their life… Been through a 30-year-storm."
"I want to see my kids before I die," she said. "I love my kids."
For Tim Miller, the agonizing answers came 17 months after his daughter Laura disappeared.
"I'll never forget that day," Miller said. "September 10th, 1984."
Laura's mom had dropped her off at a convenience store where she planned to use the pay phone to call her boyfriend, then walk to their League City home. She never made it.
Tim Miller said it was one of the worst days of his life.
"Went to the police the next morning and reported Laura missing."
Investigators initially told Miller his daughter had probably just run away. He had his doubts and continued to hound the cops.
"And so I went to them the next week and the next month and it turned into 17 months."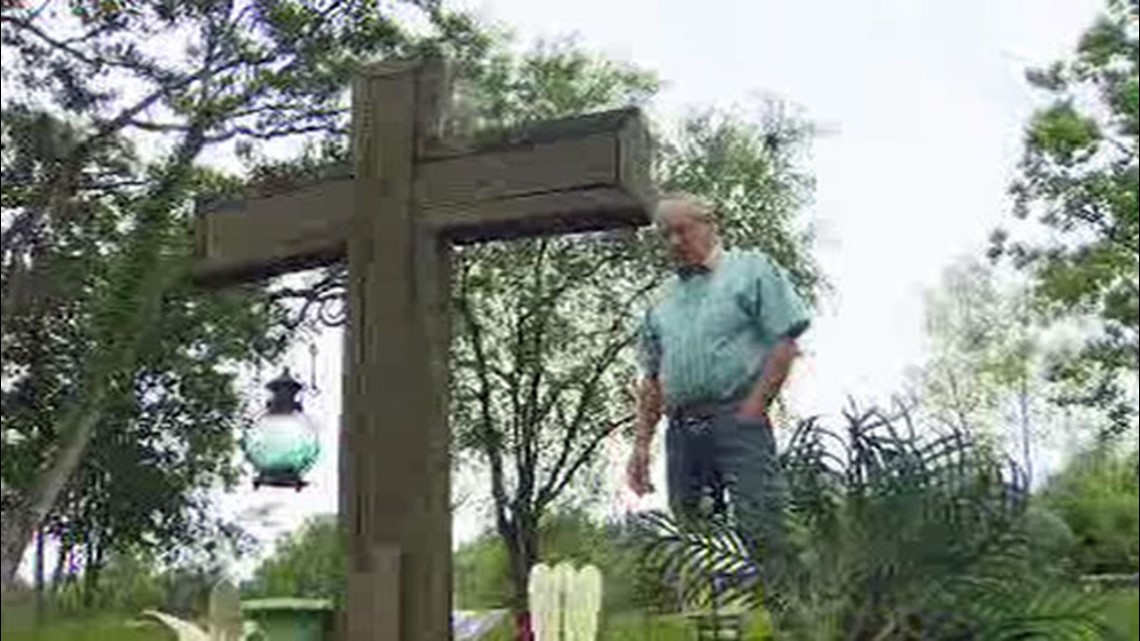 That's when Laura's remains were found on Calder Road, an area that would eventually be dubbed the Killing Fields. The bodies of three more young women were also dumped there. Their killer was never found.
"I felt like the most worthless father that ever walked the face of the earth because she was only found two miles from my house," Miller said. "At least I knew. At least I knew."
Over the next several years, Miller would make daily trips to the cross he put up in Laura's memory. Until the day would arrive when visiting the site where Laura's body had been found was no longer enough, and he knew that he had to do more."
"I said it's time for me to say goodbye. I have to put my life back together."
A life he has dedicated to helping other families of the missing find closure. Miller founded Texas Equusearch 16 years ago. Together with his army of volunteers, they have recovered the remains of over 200 deceased victims while helping hundreds more come home alive.
"Even if we find them deceased and bring them home, families can have that closure and be given the same opportunity that I was given to at least have that grieving process."
Equusearch now gets calls for help from all over the world.
"What do you think Laura would say to you today?" reporter Rucks Russell asked.
"I think that Laura would say, 'Dad, thanks for taking that last call. Dad, keep that phone by your side because someone else is going to need you."