The lawsuit was filed Monday with the 44th Civil District Court in Dallas County.
"Jill's death was horrific and easily preventable," said the family's lawyer Rob Crain Lewis Brogdon, LLP. "This hotel has a history of flooding as it sits in a low-lying area next to a river."
Jill Renick, 48, was an Omni Hotel employee and slept at the hotel the night Harvey floodwaters took over Houston. of August 26, 2017.
Throughout the night of August 26 into the morning of August 27, Crain states the Omni Houston Hotel management knew the Buffalo Bayou had exceeded its banks and was flooding the property.
The lawsuit says Renick was called by the front desk to come downstairs to the basement. At that time, the basement had already begun to flood.
Renick took the service elevator to get downstairs and was trapped inside while water was coming in.
The suit continues, "What is known is that Jill managed to open, at least partially, the elevator door and exit the elevator into the flooding basement. Individuals on the first-floor report they could hear Jill screaming for help and beating on the inside of the elevator. At 5:44:29 AM, Jill is seen in the video coming from the area of the service elevator and toward the entrance to the Black Swan nightclub located in the basement, undoubtedly looking for a way out. Jill is seen again at 5:44:47 AM struggling against the flow of water and ambulating back in the direction of the service elevator. The video ends at 5:45:26 AM. Jill is not seen alive again."
Photos: Thousands rescued after Harvey dumps record rainfall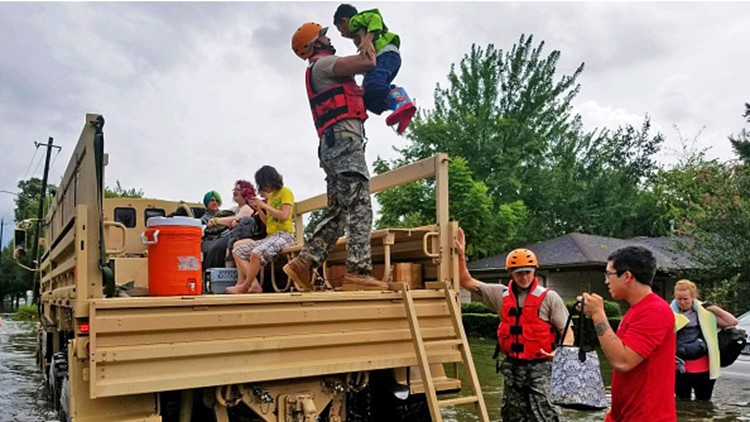 Her body was recovered 11 days later.
The lawsuit says the hotel should've done more to plan for such an emergency.
The suit also names Otis elevator as a defendant, siting the absence of flood sensors on the hotel's elevators.