Authorities say four Houston drivers were found dead in their vehicles during historic flooding on Monday. A fifth victim died in Waller County.
Near the 610-59 split, Rajiv Singh described the early morning distress call he received from his wife Sunita. He had no idea at the time that she was in one of two vehicles had become stranded in rising water in the 610-59 underpass.
RELATED: Husband remembers wife who died
Photos: Residents flee floodwaters in Greenspoint
Friends of the other victim said he was a married father in his 30s who also placed a phone call from his car telling a friend that he was trapped in rising water. A friend said the man had a broken arm and wasn't able to open his car door because of the water pressure.Another victim was found in a submerged 18-wheeler cab on the N. Beltway 8 frontage road near the Hardy Toll Road. Harris County Precinct Sgt. Herbert Martinez says crews monitoring the high water on the road saw the man drive directly into the water. He says it's possible the driver may have suffered some kind of medical emergency.Houston authorities say a contract employee of the city was also found dead in his or her vehicle on Imperial Valley, but that death is not yet confirmed to be weather related.Royal ISD in Waller County reports that one of its teachers died in the rising flood waters.
We confirm that RJHS teacher, Charles Odum, passed away in rising flood waters. We have no more info @ this time. Prayers to his family.

— Royal ISD (@RoyalISD) April 18, 2016
Elsewhere, numerous residents were rescued by good Samaritans after their apartments in the Greenspoint area were flooded.Dozens of horses also had to be rescued from high water in the Cypress area.
Slideshow: KHOU viewers' weather photos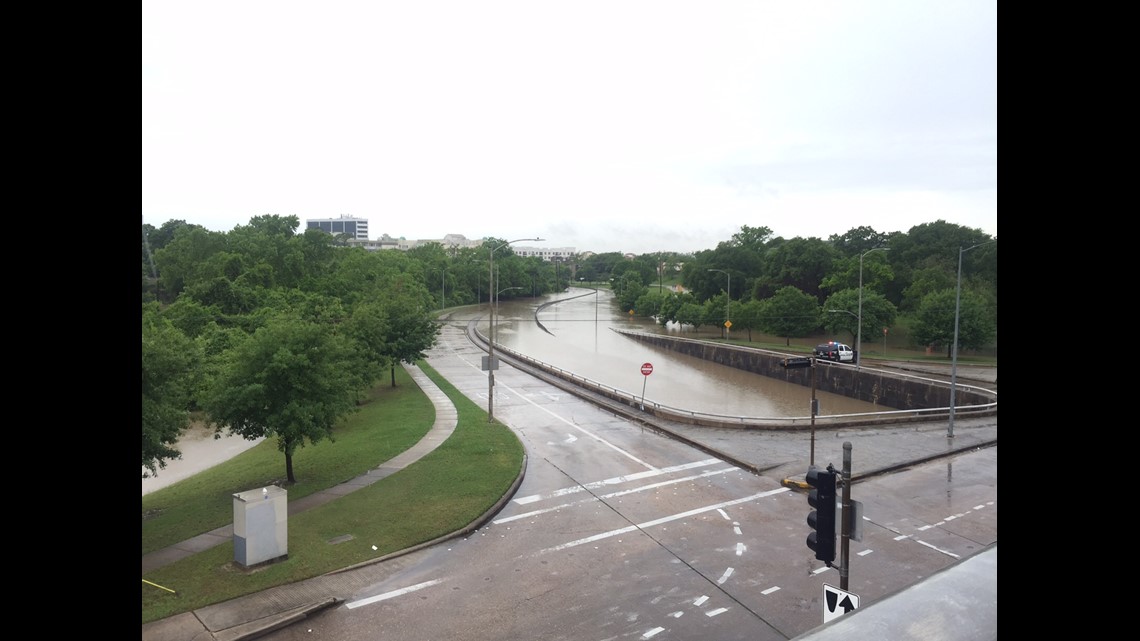 Monday was one of the rainiest single days ever recorded in Houston, with nearly 10 inches of rain reported at the city's official weather observing location at the airport as of mid-afternoon.Hundreds of homes and many major roads were flooded out in the Houston area, forcing schools, governments and businesses to close and causing power outages for thousands of residents.Many areas reported over a foot of rain. One spot near Huffmeister and Highway 6 unofficially recorded as much as 20 inches.Nearly 900 water rescues were performed in the city of Houston alone, and 1,222 total in the metro area, according to Harris County officials.
Photos: Aerial flooding views from Air 11
The National Weather Service called it a "historic rainfall event" for the region.The weather service said flooding was ongoing and warned residents to stay out of the floodwater, noting the risk of drowning along with potential encounters with "chemicals, ants and snakes."Parts of northwest Harris County and the nearby communities saw rates of 2 to 4 inches of rain per hour.Hundreds of flights at both Houston airports were canceled or delayed.Several school districts and many government buildings in the Houston area were closed Monday.The storms were part of a wide weather system that left warnings and watches through Tuesday morning for Austin, San Antonio, Dallas, Fort Worth, and as far east as Texarkana.
Texas Gov. Greg Abbott says some taxpayers affected by severe rain and flooding will qualify for an extension to file their federal tax returns that were due at midnight.Abbott said Monday that his office had been in contact with the IRS about pushing the tax filing deadline for those in areas inundated by heavy downpours. More than a foot of rain dumped on parts of Houston and knocked out power to thousands of residents.WEATHER: Watch the latest forecast, view radar(The Associated Press & USA Today contributed to this report.)