HOUSTON – Facebook photos led animal rights activists to a brutally battered dog suffering in an abandoned Southeast Houston property.
Rob Acuῆa says he began his search after seeing a photo on Facebook of a helpless dog crossing the road near the Park Texas Apartments. Most of the buildings had long been abandoned, so he knew there was a good chance Gus was hiding in the shadows somewhere close.
Hours would pass before Rob and friends found themselves at a steel gate. The smell was almost overwhelming, but as it turns out, that smell was Gus running in their direction.
"We were in disbelief. We really weren't prepared to find him," Acuῆa said.
As an animal rights activist, Rob has seen some of the most graphic abuse cases out there. All those paled in comparison to what he saw when he approached Gus.
The dog had been in the neighborhood with a shoestring wrapped around his neck so tight, it became embedded in his skin.
Rob asked around and neighbors claim they had seen Gus walking the streets for over a year with the same swelling and signs of abuse.
"This is torture, the very definition of it," Acuῆa said.
I'm not sure anyone would disagree when you look at Gus and realize just how asymmetrical his head is from the rest of his body. That as it turns out was only the beginning of health issues for Gus.
X-ray photos of his body show at least 25 pellet wounds, with some pellets still lodged in him.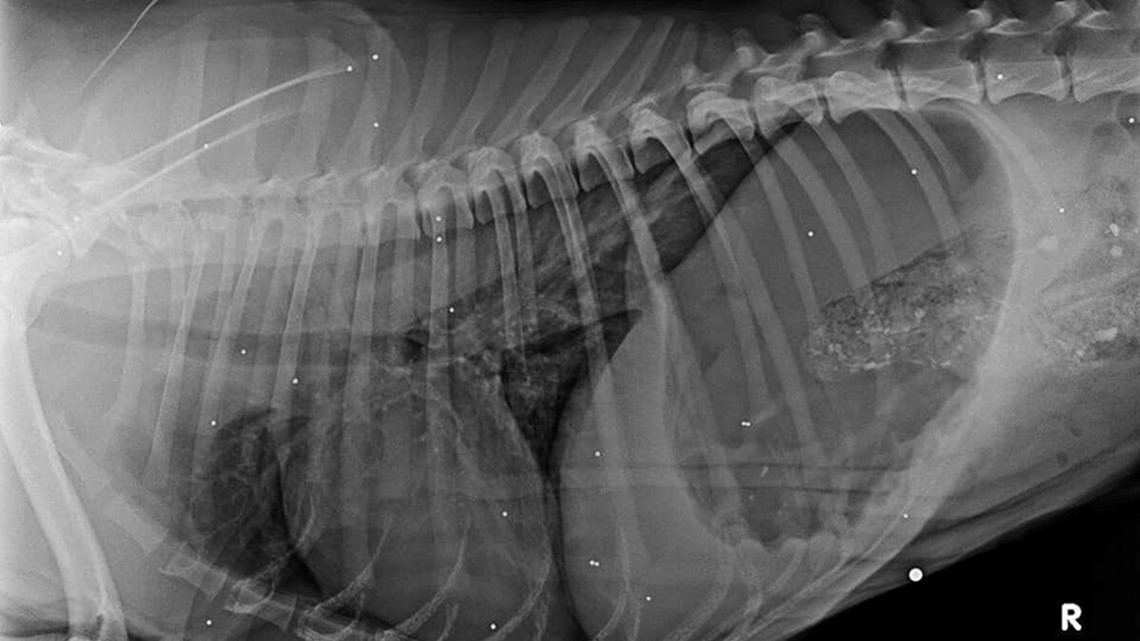 At Vergi pet hospital off Katy Freeway, a bandaged Gus emerged from surgery, just over 24 hours after being rescued. Heavily sedated, Gus walked with caution.
Anna Barbosa with K911 agreed to take him in, but says cases like these happen far too often.
"For however long, nobody did anything for him and he got to that condition," Barbosa said.
Simply spreading the word brought Gus out of the shadows and into a place he could eventually call home. Barbosa hopes others take note.
"Ask for suggestions. Who can I go to? Where can I go? We are always offering help," Barbosa said.
Gus is being monitored closely by a Texas A&M clinic for further testing. There a specialist dealing in soft tissue damage is expected to look closer at the injuries leading to his head.
Houston K-911 Rescue needs help with Gus's medical bills.
Donations are tax deductible.