HOUSTON -- Who can forget Gus? The stray dog found in Houston with terrible injuries.
Thanks to good people, he's now doing much better and is leaving the care of veterinarians at Texas A&M. He's not yet 100 percent healed, so he remains with a foster family for now.
PHOTOS: Latest photos of Gus as he continues recovery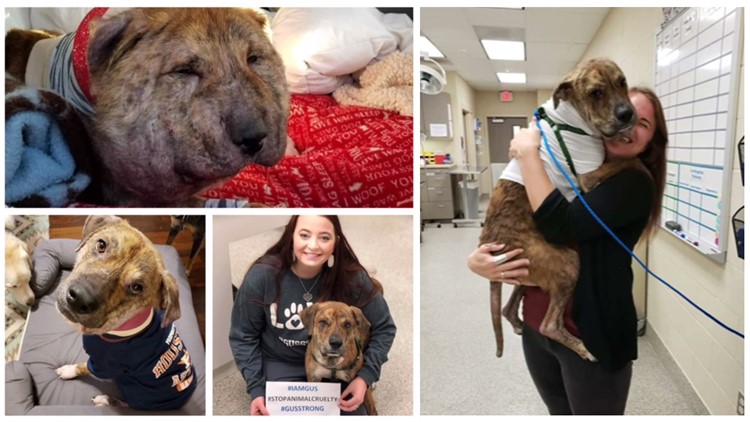 The rescue group who saved him, Houston K-911 Rescue, is hosting the #IamGus walk on Saturday morning at Eleanor Tinsley Park. The walk intends to bring awareness to all the strays out there who still suffer just like Gus did.
Walk details from the rescue group:
Please help us in bringing awareness to the stray/animal cruelty problems in Houston!
As many of you know Gus was a stray dog rescued off of the cruel streets of Houston with a shoestring embedded in his neck. It was also discovered that Gus was shot over 25 times with a pellet gun and has multiple fractures in his hind end. Gus has caught the eye of the nation and with that we want to catch the attention of our City Leaders and residents. There are many other "Gus'" on the streets that suffer just like he did.
Please join us for a walk in Houston, TX on Saturday, October 20th to bring awareness to the animal cruelty problem. This walk will begin at Allen Parkway at 9:30am.
Please bring a sign/poster featuring one or even a couple pictures of animals that you were unable to save. Make sure to add "#IAMGUS"
Although many of us would like to bring our pups, we are discouraging this. We don't want to put any extra stress on pups given the size of the crowd or putting those pups in danger having multiple dogs arrive. This event is for the those fur babies humans to take action.
If you are part of a rescue, we encourage you to wear your rescues shirt. If you do not have a rescue shirt or are not affiliated with a rescue we encourage you to wear a purple or orange shirt which are the awareness colors for animal cruelty. And of course if you have a Gus Shirt please wear it!