The image was of a man kneeling over his aging Sheltie, doting on a dog he'd brought to the park in a baby stroller. In a Facebook post now shared more than 385,000 times, people wanted to know more about the photo, the man in the picture and the story of his dog.
Well, his name is Maximilian, Max to those who know him, and he lives in a 10th floor apartment across the street from Discovery Green.
'He's part of our family," said Edie Mayo who cares for 16-year-old Max, along with her husband Troy Griffin.
"He's my best friend," said Mayo, who has had Max since he was 3 weeks old. "He's taught me life lessons that I will never forget."
She said Max once warned her of an approaching tornado at her former home near Lake Livingston.
"For a 16-year-old dog he's pretty healthy," Mayo said.
In human years, that makes Max about 112.
A few years ago, high-blood pressure led to a torn retina leaving him blind in one eye. A cataract, considered non-surgical given his advanced age, clouds his other eye. Max has arthritis and is on medications for both of his conditions. But he lives a penthouse-like existence in his own toy-laden corner of the apartment with a family who refuses to give up on him.
"But I don't think you should just turn your back on someone just because they're elderly," Mayo said. "I think they deserve our love and our care and our attention. And there is so much we can learn from them even as they get older."
"Never do I get the feeling that he's sad or depressed. He seems happy to be with us, to be loved, and we feel the same way getting love from him."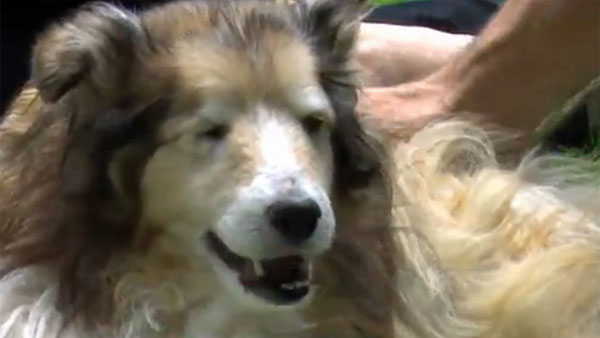 "I think we should do for him what we would do for our parents, or our children," said Griffin.
Which is why twice a day, Edie and Troy load Max into a baby stroller, make the trek across the street to Discovery Green, and watch their 112-year-old friend come alive.
"When we take him outside, you can tell he's having a good time. You can tell he's just enjoying himself. And if we can do that for him, why not," said Griffin.
"And he loves being out there, meeting people, especially female dogs laughed Mayo. "He loves the little poodles."
So when you see Maximilian the Sheltie in his stroller, or roaming his turf in the park, his parents hope you see more than just an aging dog. They hope you see a family, doing what a family should do.
"It's all about dignity and respect," Troy Griffin said.
"And how not to give up," added Edie Mayo.
"And it's not just for him it's how you treat everybody. And he's no different. He's part of the family," Griffin said.
"And that's why when I say Max has taught me so many life lessons, that's one of them," said Mayo.
A lesson that maybe every dog does have his day. But why not, with a loving family at your side, enjoy as many of those dog days as you can.