HOUSTON – People driving on Grant Road today in Cypress were happy to see the SPCA at a particular property.
Officials say they removed 34 rabbits, 27 donkeys, four horses, four cats, three dogs, and one mule, due to serious signs of abuse and neglect.
"These animals have not been taken care of. They're sitting out here in the heat. They don't have any water. They just look horrible," says passer-by and Cypress resident LeeAnne Anderson.
Constable Alan Rosen with Pct. 1 says some of the animals looked emaciated. In the driveway, there was a miniature horse, chained to a pole and with little shade in the scorching heat.
Constable Rosen says authorities first started to investigate living conditions here, back in October of 2017. The investigation started after agencies received numerous complaints by people in the area about how the animals appeared.
At that point, officials say the homeowner was warned to repair damaged hooves on some of the animals.
"They deserve to be watered, fed, sheltered, and cared for medically," says Constable Rosen.
Photos: Houston SPCA, Pct. 1 rescue dozens of neglected equine, rabbits in Cypress
Photos: Houston SPCA, Pct. 1 rescue dozens of neglected equine, rabbits in Cypress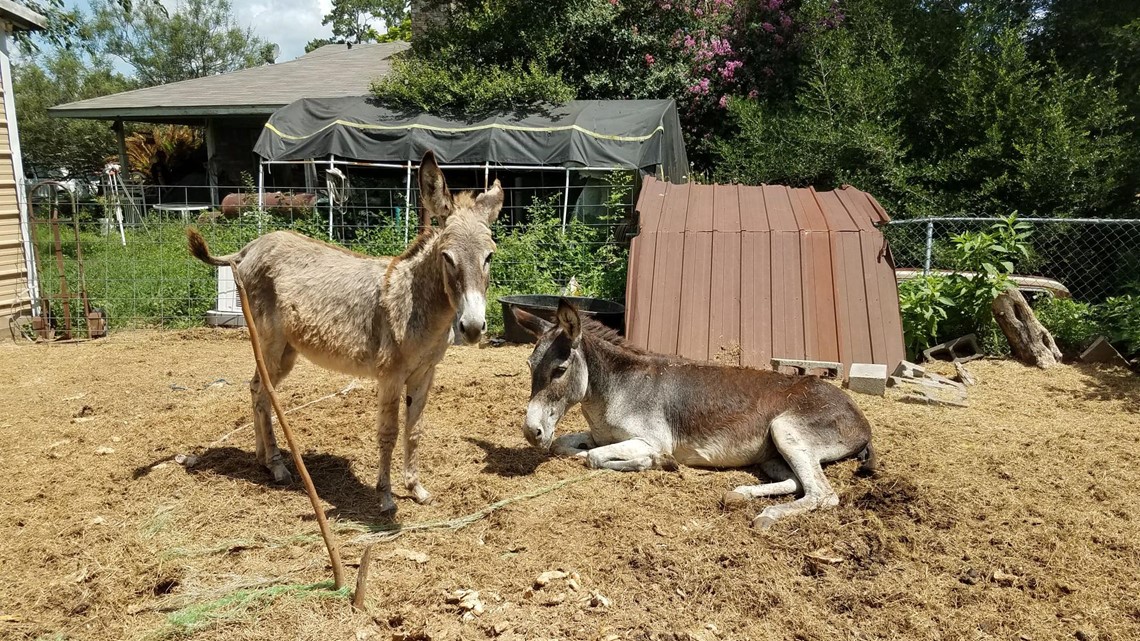 KHOU reporter Jessica Borg asked property owner Shirley Martinez, "Are these unhealthy living conditions for the animals?", to which Martinez replied, "No."
Martinez says she's lived on the six acres for 40 years. She currently resides on the property with her significant other, her son and his family.
When Borg asked Martinez how she felt about having the animals seized, Martinez said she was "pissed off." Martinez says she is an animal lover, and makes a living off of them.
"I sell donkeys and rabbits. I sell to meat markets for the rabbits," Martinez claims.
The constable, however, said, "We have no evidence that she's selling them."
Martinez also claims that she's working with the Somalian government to care for special breeds. Harris County officials say there's no proof of that, either.
"Some of the words she's using, description and stories she's giving us… my office also does mental health operations for the county, and I think she's going through some distress, there," says Constable Rosen. He says his office has offered to help her.
The SPCA says they'd appreciate donations to help these animals. It needs grooming supplies, saddle blankets, halters, and cotton lead ropes. If you can help, please contact the Houston SPCA.
RAW VIDEO: Dozens of neglected animals rescued by Houston SPCA, Pct. 1 in Cypress