This story is part of KHOU 11 Investigates' series "Unforgivable." Parts may contain graphic descriptions of sexual assault. If you or a loved one have experienced sexual abuse, get help through the free and confidential National Sexual Assault Hotline (1-800-656-HOPE).
All it takes is the passing scent of a certain cologne for John Doe to be transported back to his days as a 12-year-old altar boy.
For Doe, now 56, the vivid smell of the priest he accused of raping him has never faded.
"This was 40 years ago this happened, and, I still, I can be walking around and I get a (whiff) of it, and it takes me right back to that same day," Doe said, asking for anonymity because his children still don't know what happened.
Doe was an altar boy at St. Charles Borromeo Church in north Houston in the mid-1970s. The priest he served, whose scent he said is engrained in his memory, was Rev. Terence "Terry" Brinkman.
Brinkman is now the current pastor at St. John the Evangelist Church in Baytown, despite the allegation and a 2010 lawsuit from John Doe. The Archdiocese of Galveston-Houston said it was a case of mistaken identity, but John Doe said he remembers everything — the black pants, the sweater he said Keller always wore, the collar and, most importantly, his face.
"As a child, you never forget that face, that look of an animal. That was an animal looking at you. The eyes, you don't forget that," he said.
'Pureness' destroyed
Doe believed serving as an altar boy was the epitome of purity and "almost godliness." He welcomed the opportunity to assist with Mass, weddings and funerals. It was an opportunity to feel closer to God, a feeling he described as "like you are somebody with the Lord. In that moment in time, you know you're in a higher elevation … you feel the pureness."
But in a dressing room behind the sacred altar he loved, John Doe said he was sodomized by Brinkman. He called the attacks premeditated.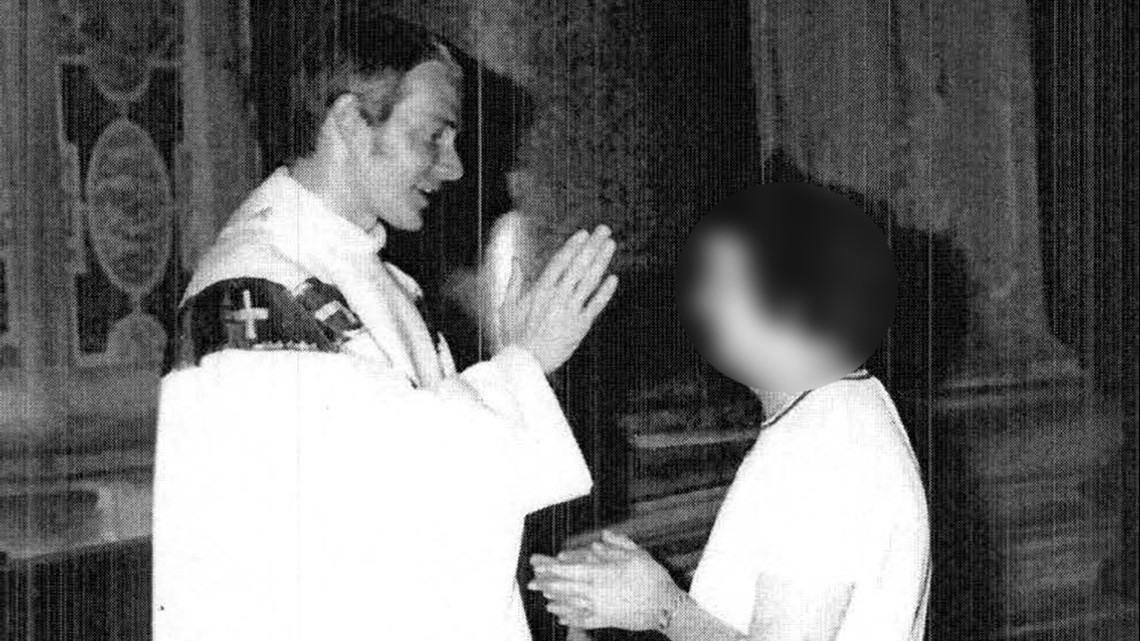 "He used chloroform to come from behind me and put me out. … I can't really remember besides me just waking up for a second or two," Doe said. "But that second or two … I looked back and could see that it was him. I could see that he had his shirt unbuttoned, his trousers were off and he had me straddled from behind."
Doe said he remembers one point when he was coming to and Brinkman "just went ahead and hit me again with the chloroform and I was out." He said he woke up half naked outside in a courtyard between the church and its now-shuttered elementary school.
It was summer, so no one was around to find him.
"When I woke up, my shorts and my underwear were down by my ankles," he said. "And what was so bad about this is my bicycle that I had rode to church in, he placed it right there next to me."
Dazed, in pain and bleeding, Doe said he rode home and didn't tell anyone what happened. He had trouble making sense of it all.
Later, he said Brinkman tried it again and came up behind him as he was dressing for 6:15 a.m. Mass.
"He started coming down, fondling my chest area, all the way down to my stomach and started working his way down to my trousers," Doe said. "I exploded. I said some very bad obscenities and I ran out to the side door."
'They knew about it'
Another priest walked by to investigate who was yelling, and Doe told him, "This man here is trying to molest me."
That's the last time he said he ever saw Brinkman.
"He was gone. Not a week or two, not a day or two, but he was gone that day," Doe said.
He took the sudden departure as proof that the archdiocesan hierarchy knew about the abuse.
In court pleadings, Brinkman acknowledged being reassigned to St. Francis of Assisi in June 1976, but he called the move a "normal transfer" to a "temporary assignment." Brinkman was moved to three different churches that year, according to his assignment history.
He served a dozen different parishes in his career before landing at St. John the Evangelist in Baytown in 2008, where he's remained for the last decade.
After burying the abuse for decades, Doe sued Brinkman and the Archdiocese in 2010. Under oath, Brinkman denied ever molesting children, writing in court documents, "I have not engaged in inappropriate behavior with a child."
A judge eventually threw out the case because of the statute of limitations, which required child molestation lawsuits to be filed no later than five years after the survivor turned 18. The law was amended in 2015 to 15 years.
Doe said he didn't expect much to come from the lawsuit.
"I knew it wasn't going to go that far. When you take on the Catholic Church … they have ways of pushing things under the rug," Doe said. "They knew about it. They still know about it and they still don't do anything about it. It's never going to change."
New hope
In November, the Montgomery County District Attorney's Office seized Brinkman's personnel file during a search of the archdiocese's secret archives amid an investigation into another priest. That gives Doe hope that authorities might examine his case.
Even with that hope, he doesn't expect Brinkman's name to appear on a list of "credibly accused" priests the archdiocese said it will release by the end of the month. He blamed the archdiocese and Cardinal Daniel DiNardo for not doing more.
"As a priest, you know, you're the shepherd. You're supposed to be the shepherd … protecting the flock, protecting the sheep," he said. "How do you let a wolf into the flock?"
Brinkman has never faced any other abuse claims, the archdiocese said in a December statement. An archdiocesan review board recommended that Brinkman continue to serve in active ministry at St. John the Evangelist, where he's still a priest today.
In a statement, the archdiocese said Doe refused to address his allegations before the review board and "provided a physical description of the priest that allegedly abused him that does not match Father Brinkman."
Doe called that nonsense. He said his memories are still fresh.
"It's welded in your mind," he said of Brinkman's face, his "reeking cologne" and the painful memories that destroyed his love of the Catholic Church.
Now Doe, who used to proudly serve as an altar boy, soaking up the "pureness" and "holiness," rarely attends Mass, but his spirituality is still strong. He cannot fathom forgiving Brinkman, except under one condition.
"If he comes clean and tells his story – the way it should be — then I will forgive him," he said. If he doesn't, "unforgivable, never… But I know that one day, he'll have to answer to the man above, and that will be justice then."