The tiny trailer with its battered blinds is parked outside a carwash.
For weeks, Laura Cortes, her mom and three siblings called the trailer home. Their house in Pasadena flooded.
"We were already planning on moving to a bigger house, trying to find a bigger house for us," Cortes said.
Instead, her family of five crowded into the camper, so cramped they could barely turn around inside. Their personal space might as well have washed away in the flood, which also claimed nearly all of the family's belongings.
"It's really, really crowded," Cortes said of the temporary home.
Some of the most moving images of Hurricane Harvey were of children in the arms of rescuers, pulled from the flooding that swallowed the city. But now, cramped quarters is the new normal that echoes through the halls of many Houston-area schools. They are Harvey's homeless students. A KHOU 11 Investigates survey of area school districts uncovered 22,208 students still considered homeless due to the August hurricane.
In Pasadena, Ronyiha Coleman looks toward her shoes as she walks down the hall of Fred Roberts Middle School.
"What would make me smile is having a home," Coleman said. "I'm not fine because I'm living in a hotel and I don't have nowhere to go. I lost all my clothes...and I only have two shorts and a shirt."
They are stories Emily Cruz calls heartbreaking. The Pasadena ISD guidance counselor worries about the impact Harvey will have on her students' futures.
The storm left 2,063 students homeless in Pasadena ISD.
"I think the main thing, I worry about them losing hope that, 'Will we be able to rebuild?'" Cruz said. "Can we get back on our feet? Will things ever be the same?"
They are questions schools all across the Houston area are struggling to answer.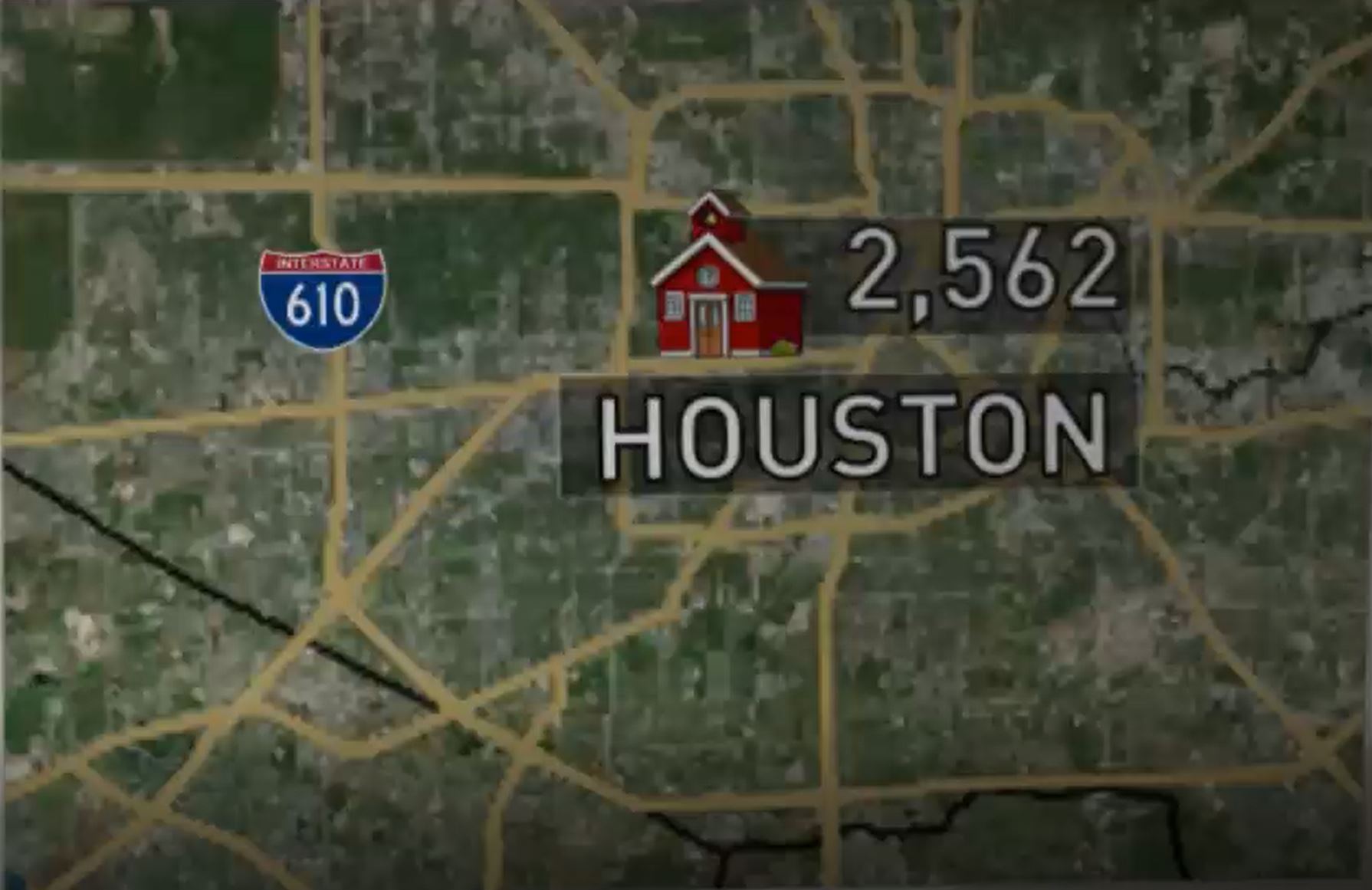 In Katy ISD, Harvey left 2,734 homeless. The flood waters also left 2,562 students homeless in Houston ISD. And smaller districts like Huffman, Danbury and Sheldon reported more than 5 percent of student populations were displaced by the hurricane. In Dickinson ISD, one out of every 10 students is now homeless because of Harvey.
They are giant numbers that worry child advocate Dr. Bob Sanborn.
"This is something that could indeed affect this whole generation," said Sanborn, President and CEO of Children at Risk. "This Harvey generation of kids are going to be kids that struggle just a little bit more."
Sanborn says that's because losing a home – even temporarily – can be traumatic to kids, disrupt their normal routines and cause stress. They are the feelings that Coleman, a fifth grader, deals with daily.
"I have attitudes with teachers," Coleman said. "Because they tell me to do this, but I'm focused on something else, not what they're talking about."
What's the something else she is focused on?
"The storm," Coleman said.
It's a side of Ronyiha her mother, Celeta Harris, barely recognizes. She said she's seen real changes in her kids as a result of the storm.
"Especially my girls," she said.
But Harris refuses to let her kids use Harvey as an excuse.
"As a mother, I want to see my kids get somewhere in life," Harris said. "Not let this storm hold us back. We have to be able to function and move forward."
It's why Sanborn says now is the time to act. He's worried if the so-called Harvey kids fall behind, they may never fully catch up.
"It is absolutely a defining moment for the children," Sanborn said. "If we don't do something to reach out, to return their life to normal and to deal with the trauma that they've suffered, we're not going to have the same kids that we thought we were going to have a couple of months ago."
At Pasadena, that means extra outreach to affected families – everything from supply drives to additional tutoring.
"We want them to stay on track," Cruz said. "So to write them off or to say like, 'Hey, know what? This year doesn't count.' We'd be doing them a disservice."
Determined to keep her kids on track, the Cortes' mother just moved into a new home. With Laura's grades already slipping, her mom knew it was time to get her son and daughters out of the trailer. She believes it will be a better life for her family. But the extra space and refrigerator to show off good grades comes at a price.
Xiomara Cortes, Laura's younger sister, tried to gulp down the tears, but when she was asked about her new home, she broke down crying.
"I don't want to change schools," she said. "I want to stay in my old school."
The family's new home is an hour away from their old home in Pasadena, meaning more uncertainty for these Harvey kids – no longer homeless, but still very unsettled.