#TwoYearsIsTooLong | Retired FBI agents find evidence Jason Landry may have been a crime victim
Landry is the Texas State student who disappeared near Luling on Dec. 13, 2020, on his way home to Missouri City for Christmas break. The reward is now $20,000.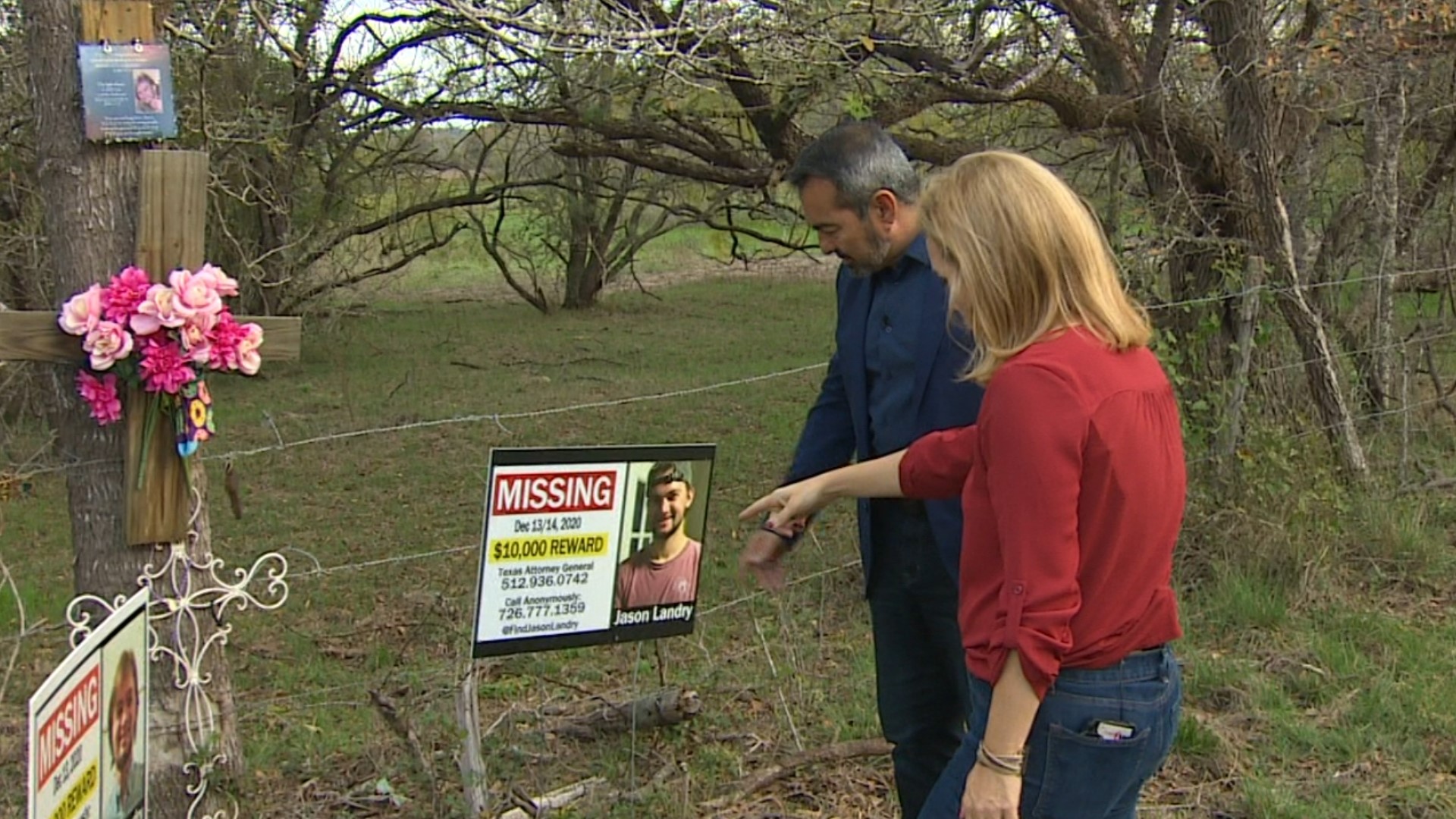 It was the night of Dec. 13, 2020, when Texas State student Jason Landry loaded up his car and headed home to the Houston area to spend time with his family for the holidays.
Jason's parents in Missouri City were looking forward to having all of their adult children home for Christmas. They never dreamed their lives were about to be turned upside down.
A state trooper made the call no parent wants to get. Jason's wrecked car and some belongings had been found.
"We're working on trying to locate him and I fear that he may be on some type of substance," the trooper told Jason's mother. "Reason being is because I did find some narcotics in his backpack."
His father, Kent Landry, immediately drove to the rural area where the car crashed. While searching for signs of his son, Kent found his clothes still lying in the middle of the road.
"It just feels like your child is discarded, because they treat everything with this investigation with such indifference. You don't even secure the evidence, whatever it might be?" Kent told KHOU 11 after two years and no answers. "You don't secure the car and the crash scene for further investigation? You don't even do the basics – that is your job."
While the local sheriff's office believes Jason walked away from the car on his own and "no crime occurred," a retired FBI agent and his team of investigators strongly disagree. KHOU 11 reporter Grace White spoke with the agent, the sheriff's office lead investigator and Jason's dad.
Chapter 1
:
'Preparing our hearts for the worst'
Since Jason vanished, countless searches by law enforcement, family members and complete strangers have failed to turn up any new clues into what happened to the 21-year-old.
"They have searched -- dog teams, on foot, horses, ATVs, planes, helicopters, drones -- forever," Kent Landry, told KHOU 11 in a recent interview.
Searchers drained a pond and part of a river near the crash scene.
False alarms, conspiracy theories and tips from well-meaning armchair detectives have gotten the family's hopes up time and again, only to be let down.
Kent said they don't believe their son is alive, but they are still determined to find out what happened that night.
"We have been preparing our hearts for the worst, for a long long time," Kent said. "We're not going to give up praying. We are not going to give up hoping until we know the truth and our child comes home."
Until then, the only thing that gives the attorney turned pastor peace is his faith and the belief that he will see Jason again.
"We are going to spend all of eternity together, he just got there before me," Kent said.
Chapter 2
:
'Important piece of the puzzle'
Abel Peña, who's been investigating crimes for 27 years, said there were multiple red flags and they believe Jason's clothes and other belongings in the middle of the road could have been staged.
"I think the biggest red flags, for us initially, were the clothes just being laid where they were placed," Peña told KHOU 11. "The more we examined it, the more we ran it by some of our team, we all agreed that it appeared like it was staged."
He said witnesses have also raised doubts about whether Jason was actually behind the wheel of the vehicle when it crashed.
"Somebody else could have been driving his vehicle or perhaps he was forced off the road," Peña said.
Jason's cellphone showed he was using the navigator app Waze for the trip home to Missouri City but switched to Snapchat in Luling near the intersection of Austin Street and Magnolia Avenue. It was that intersection where Jason's cell phone activity stopped.
"This area is just a busy area, there is drug activity that takes place behind here and we have discovered this criminal element that is in this area," Peña said.
Instead of turning right on Magnolia to get to I-10, Jason's vehicle traveled four miles until Austin turned into Salt Flat Road -- a pitch dark, gravel, dirt road -- before crashing.
"Traveling four miles is just unusual. For him to travel four miles and not realize he was lost, if he was driving the vehicle," Peña said. "If you go back to that intersection, I think that's a very important piece of the puzzle."
Like Jason's family, Peña believes the Caldwell County Sheriff's Office may have rushed to judgment by assuming Jason was high and having "an internal crisis."
"There are a lot of college kids that smoke, that get high," Peña said. "I don't believe he was high enough that he would have gone into any kind of episode where he would have removed his clothes, especially in the conditions, it was very cold that night."
Peña said critical evidence inside Jason's vehicle, including DNA, hair and fibers, could have been missed because the DPS trooper had it towed right away. The CCSO didn't take custody of the vehicle until five days later.
"I don't want to be too critical of law enforcement, I believe there were some missteps at the beginning," Peña said. "They probably should have preserved the area there, and left the vehicle there and brought in some professionals to process the exterior entry of the vehicle for prints."
Caldwell County Sheriff's Capt. Jeff Ferry is the lead investigator on the case.
"Are there things as a criminal investigator I wish had been done differently – 100%," Ferry said. "I would almost guarantee that with hindsight, that officer, that trooper would likely not do the same thing again."
Peña passed his findings along to the Texas Attorney General's Office. They have a cold case unit working on Jason's case.
Chapter 3
:
Evidence released
"Some of his underwear's got blood on it – but I didn't see anyone," a DPS trooper said.
"Probably some college kid," the trooper told the firefighter who discovered the crash scene. "Yep, that's what I was thinking," the firefighter responded.
"It seems to me that they're saying, 'Well, this is just a stupid college kid who does stupid college kid stuff, like smoke marijuana," Kent said after hearing the recordings. "So what? He doesn't need to be found? We don't need to work hard to find him?
"I can't tell you the image as a parent of your child, standing naked in a road, in the middle of nowhere standing in the freezing cold, you spend a lot of sleepless hours thinking about that," Kent said. "And you just want someone to have been there to help your child."
The evidence CCSO released included videos, messages and Snapchats Jason shared with his friends the night he disappeared. There were images and talk of marijuana, as well as some personal dialogue.
"When we look at the totality of things, it really paints a picture on almost an internal crisis that Jason is dealing with," Capt. Ferry said when the evidence was released.
"I do believe the most likely scenario is that Jason is deceased and he is just out there and we have not located his remains yet," Ferry said. "We have to go in the direction the evidence takes us, whether we like it or not, and in this instance, no doubt this is a tragedy, but it's not a crime."
Chapter 4
:
'Each holiday gets harder'
While most Houstonians are busy enjoying the hustle and bustle of the holiday season, for Jason's family, it's a reminder of how much time has passed without answers.
"That is beyond frustrating to be sitting here talking about my son – to be here 721 days later and here we are. Do we have any more answers?" Kent said. "Each day just goes on and on and on and each holiday gets harder and harder to celebrate without those answers."
Kent believes the Caldwell County Sheriff's Office is partly to blame because of the way they handled the case. Kent thinks they made up their minds from the beginning that Jason left on his own and wasn't a crime victim so they didn't put in a lot of time or effort to find out what happened.
"And that's the part that's frustrating, from the very beginning, that law enforcement has treated this case with indifference, arrogance, frankly maliciousness," Kent told us. "They saw his clothes laying there in the middle of the road and didn't even bother to pick it up. If you literally think there is some college student naked in 30-degree weather, with 20-degree knot winds, shouldn't you at least search for him? But you just rode along, shining your light on the road and that lackadaisical, indifferent attitude..."
For them, this time of year will always be tough.
"For someone who is missing a loved one, the season isn't the same as it is for everyone else, it doesn't feel the same," Kent said. "We still have presents for Jason."
As millions of other college students across the country make that trip home for the holiday break, Kent hopes no other parent gets that devastating phone call.
"Frankly, I pray all the college students come home, because mine didn't."
Chapter 5
:
Jason Landry timeline
Dec. 13, 2020, 10:55 p.m. - Jason left his apartment in San Marcos with the intent to travel to his parents' home in Missouri City. He punched their address in the Waze app on his phone before leaving.
Dec. 13, 11:07 p.m. - Jason continued to drive south on Highway 80 entering Caldwell County.
Dec. 13, 11:15 p.m. - He passed over SH130 on Highway 80.
Dec. 13, 11:31 p.m. - Kent said his son got a SnapChat from a friend. His digital footprint ends there.
Dec. 14, 12:31 a.m. - Jason's wrecked vehicle was found abandoned in the 2300 block of Salt Flat Road by a volunteer firefighter on his way home from work. The lights were on, the keys were in the ignition and the front passenger side door was locked. It was a single-vehicle collision, most likely from over-correcting on the gravel road, spinning off the roadway and crashing the rear-end into a tree, the sheriff's office said.
The approximate 67-minute window between the last data footprint from Jason and the discovery of the crash scene is what investigators focused on.
Troopers who responded to the crash scene found Jason's backpack, ball cap, toiletries and a tumbler with a dead pet fish in it about 900 feet away. They said the backpack contained a small amount of marijuana, a laptop and gaming equipment.
The next morning, Jason's father went to the scene and also found his son's clothing -- shirt, shorts, socks, underwear, sandals and a wristwatch -- in the roadway about 900 feet from the crash scene.
On Tuesday, a vigil to remember Jason will be held at 6:30 p.m.
The reward offered for tips that lead to Jason is now $20,000.