HOUSTON — Books are flying off school library shelves at a fast pace. It is not because students are reading them. Some school districts are removing them from circulation.
KHOU 11 Investigates has been keeping an eye on the books being banned from the 10 largest Houston-area school districts. We noticed many more books were banned this school year.
Overall, 67 books were banned from Greater Houston school libraries in the 2022-2023 school year, as of April. That is nearly three times the 26 books banned last year. Conroe ISD banned 59 books, more than any other district. Last school year, that district did not ban any books.
Classics, memoirs, and graphic novels have become titles of contention at several area school board meetings. The most recent, in Conroe ISD, was on May 16. Citizens took turns voicing their concerns over book bans.
"I don't know why these books are in the schools. Makes no sense to me," Tina Orbble said.
Conroe ISD librarian Amber Sullivan asked board members to consider all students.
"I am infuriated and appalled that I have to remind members of the board that not all of our 71,000 students are white, straight and Christian," Sullivan said.
And speaker Jackie Ruggeri said she'd asked the board before to "remove inappropriate books."
"I find myself here once again but this time demanding that you stand up, quit worrying about what's politically correct or woke, and for the very sake of the children you are supposed to be responsible for educating and protecting, do what is right," Ruggeri said before reading an excerpt from "Tricks" by Ellen Hopkins.
That book was among 15 bans prompted, in part, by an unsigned informal complaint, which listed 35 books. A group of parents who call themselves "Mama Bears" claimed responsibility for the list at several board meetings.
One of them is Misty Odenweller who submitted five formal requests herself, all for the popular "A Court of Thorns and Roses" fantasy series.
The entire series -- five books -- was banned in September. And Odenweller and two other "Mama Bears" were then elected as a school board member in November.
When KHOU 11 Investigative Reporter Cheryl Mercedes attempted to talk to Odenweller about the complaints at a school board meeting, she dodged the questions.
"No comment," Odenweller said.
Conroe ISD was not the only district to ban books this school year, but other school districts banned fewer titles when you compare this school year to the last.
Katy ISD banned five this year, compared to 10 last year. Cypress-Fairbanks ISD banned two this year, 11 last year. Clear Creek banned one this year, three last year.
Those are far less than Conroe ISD's 59, where three books – "L8r G8r," "The Tortilla Curtain" and "TTYL" – were "weeded," essentially retired for lack of interest. But the majority banned there, 56, came after internal reviews decided they "didn't meet selection criteria". The books ranged from LGBTQ novels and those criticized for sexual content, including "A Court of Thorns and Roses" series, and "The Handmaid's Tale," both the classic novel and graphic novel.
The increasing book bans are a problem that has charged retired Conroe ISD librarian, Marjie Podzielinski.
"I'm about to go up there and challenge them (Mama Bears). I find it sad that 59 books are gone out this year. What if it's 59 next year, and 59 the next year, soon your library's just dwindled down," Podzielinski said.
Podzielinski said the books go through a thorough screening process before they reach school libraries, removing them for "selection criteria" defeats the purpose.
"These librarians are trained in how to select materials for the library. It's not like they just go and say, 'Oh, I think I want this book or that book.' They, first of all, have to know the state standards for the State of Texas," Podzielinski said.
She says that some of the materials that have been banned from school library shelves are legitimate teaching tools.
"Not every student who comes to the library will read that book. But if you have one or two students, you want to have something that you can hand to them and say, 'Hey, I really understand. I really care about your situation,'" Podzielinski said.
Podzielinski said removing books from school library circulation puts students at a disadvantage.
"The minute you pull one of those books, there are 71,000 students in Conroe ISD, that means they're shutting down 71,000 students. Pretty soon it defeats your purpose because you do not have a wide variety of books. You're getting a very narrow selection, and kids are only going to be brought up with one view," she said. "We're really hurting our students when we say no, we don't want these books on the shelf."
Overall, book bans across the largest Houston-area school districts soared this year, but only in one district, Conroe. Although other districts saw bans drop, the number of challenges more than doubled. And like Conroe ISD, many of the complaints came from a handful of people, part of organized efforts.
Districts saw 240 book challenges this school year to 148 titles, compared to 91 challenges last school year. Half of all districts saw upticks in challenges, with Conroe, Cy-Fair and Humble ISDs seeing the biggest upticks.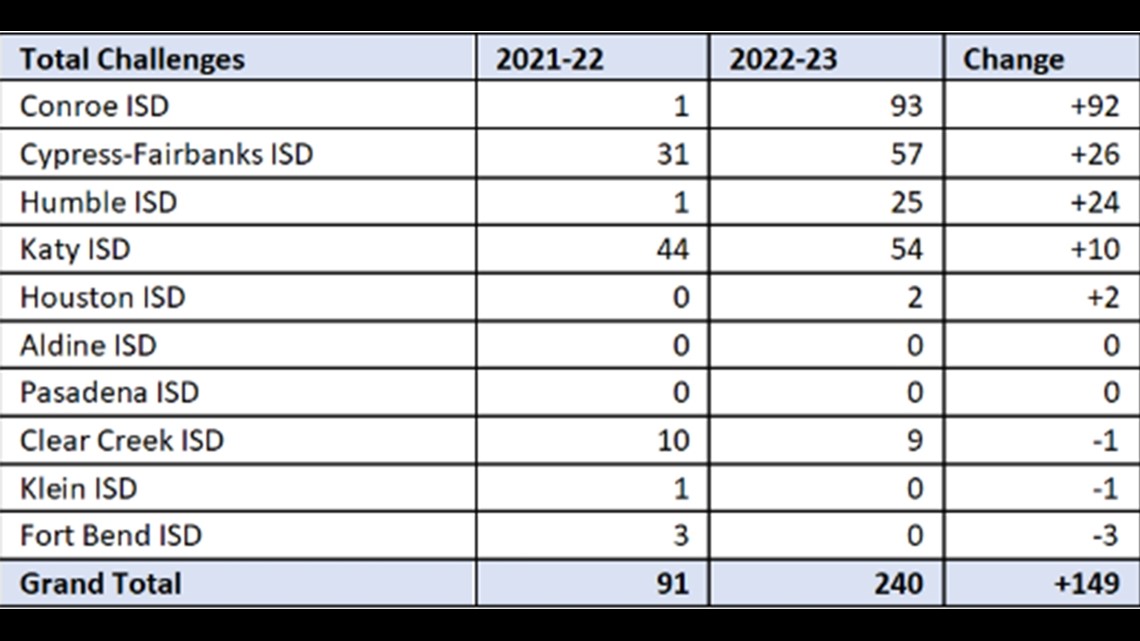 In Humble ISD, 23 of its 25 complaints all came from the same person – a member of Mass Resistance Texas, a group that the Southern Poverty Law Center considers an anti-LGBT hate group. In two of the complaints – both against LGBT books –the member wrote, "burn it" when asked what should be done with the book.
Cy-Fair ISD saw an uptick partially because it now requires requests for reconsideration to be filed for each individual school that has the book. It received 57 campus complaints for 13 books. The majority of those complaints, 46, came from members of the conservative Texas Civic Alliance, including 28 from the wife of a newly-elected CFISD board member.
Four of the ten districts we surveyed said they did not get any complaints or review or ban books this year -- Fort Bend, Klein, Aldine and Pasadena ISDs. In addition, Humble and Houston ISD received complaints but didn't remove any of those books as of April.