New water worries plaguing Austin lakes
<p>Lake Austin was once threatened by an invasive species. It is now threatened by the solution and it's already cost you half a million dollars.</p>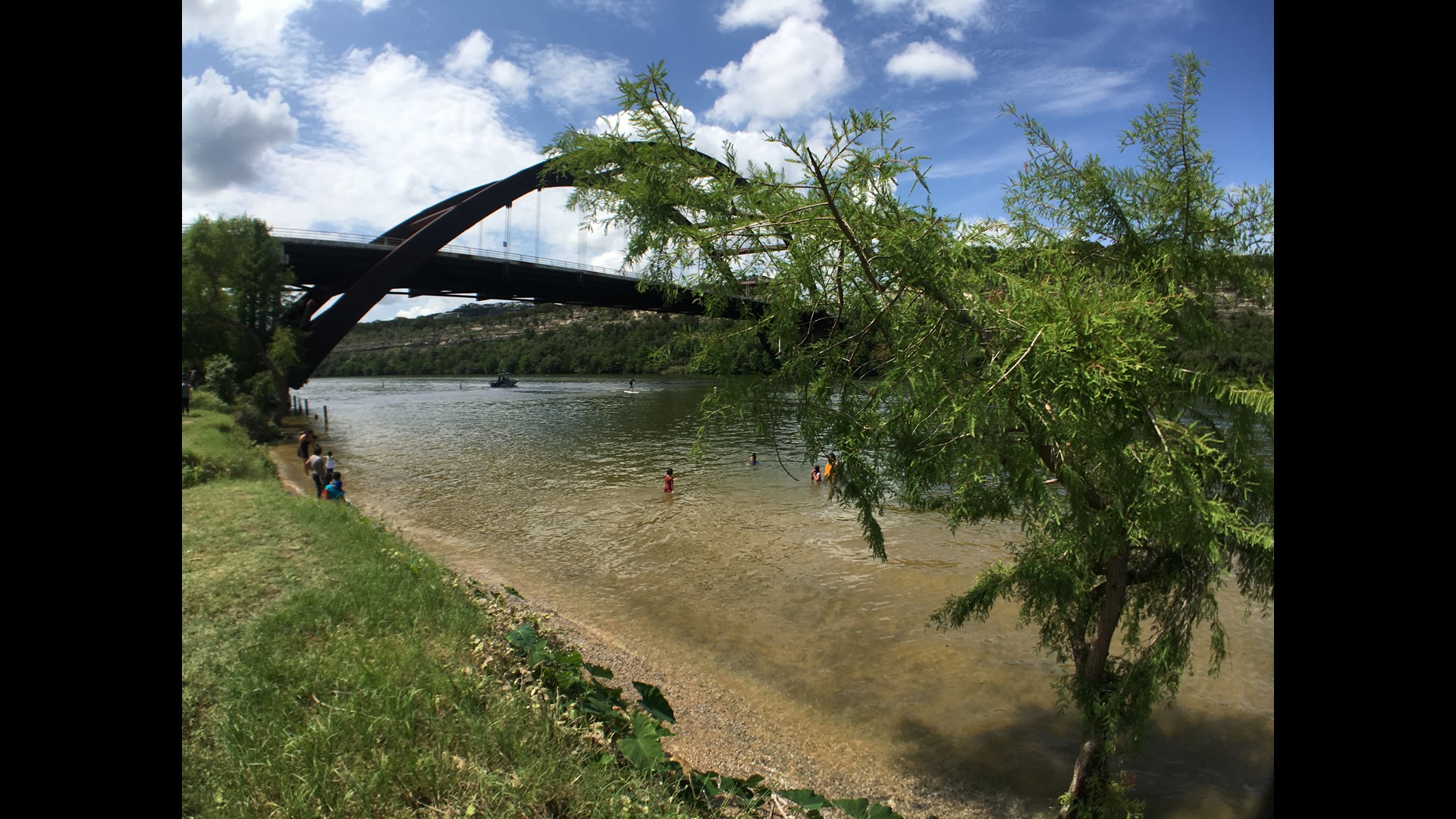 Austin depends on the Colorado River. It is the source of our drinking water and outdoor recreational activity.
But what was once being threatened by an invasive species is now being threatened by the solution. And it has already cost you half a million dollars.
The City of Austin, like so much of the state, is fighting a constant battle to keep out invasive species -- creatures that are not native to Texas. This map shows where all the invasive plants, animals and insects have been spotted in the area.
They can easily take over native plants and animals. One of those invasive plant species, hydrilla, nearly did.
What does hydrilla look like?
The KVUE Defenders first started covering this story in 2009.
Eight years later, we're seeing man's solutions create an even bigger set of problems.
"This was one of the top fishing lakes in the country," John Ward said.
For years, Ward has organized fishing tournaments across Austin.
"At one point Lake Austin was ranked in the top 10 by Bassmaster as one of the best fishing lakes in the U.S. You could come out here catch fish 8, 9, 10 pounds -- there were some 14 pound-fish caught," he said.
Award-worthy fish from a lake known for crystal clear water.
"You could see every rock," he said. "It was like an aquarium. It was really something to see."
The problem
Now, it's a different story.
"Now when you get a lot of traffic you're lucky to see it a foot," Ward said. "We'll be fortunate to actually catch (a fish) here. Now there's no vegetation at all anywhere in the lake."
According to the state, there is no plant life anywhere in Lake Austin.
That's thanks to triploid grass carp. Since 2003 the City of Austin, with permission from the state, dumped thousands of sterile grass carp into the lake to eat the invasive plant, hydrilla.
Why the carp? The following graph provided by a biologist with the City of Austin shows the vegetation coverage in Lake Austin. The x-axis represents time while the y-axis represents the area of Lake Austin where aquatic plant beds were observed and the number of grass carp stocked at a given time. The open circles represent hydrilla, which started making an appearance in 1999 and spiked several times in the years leading up to 2014.
Brent Bellinger, Austin's biologist, gave KVUE's Terri Gruca this graph, which shows the presence of hydrilla in Lake Austin over the years. Hydrilla is the line with open circles, labeled as H. verticillata. (Photo: Brent Bellinger with the City of Austin)
The grass carp effort started small then ballooned after the drought. In a 10-year period, 48,369 grass carp were dumped into Lake Austin. Austinites paid $250,000 for them.
The Defenders asked: Are you disappointed?
"Yeah. I think everyone is across the board. I think the state's disappointed, I think the city is disappointed, I think LCRA (Lower Colorado River Authority) is disappointed. I don't think any of the governing bodies had this in mind," Ward said.
"We never wanted to stock this many," said Marcos DeJesus.
Marcos DeJesus with Texas Parks and Wildlife warned this might happen.
"If you look at our reports, we cautioned that this could happen. It's happened before to other water bodies around the nation and in Texas," DeJesus said.
But fears of flooding and risks for skiers and swimmers convinced others more action was needed.
"It's one of those risk rewards," said Brent Bellinger, Ph.D., a biologist with the City of Austin. He inherited the problem three years ago.
"Do you jeopardize having homeowners flood because the hydrilla is backing up the water too much? Do you compromise the dam because a large mass of hydrilla has been dislodged? Those were all things taken into consideration," he said.
The hydrilla also poses a risk for skiers and swimmers who can get caught up in the plant.
The new fix?
As the city's biologist, Bellinger now spends his days trying to find the fix by planting native plants in pens along the shoreline.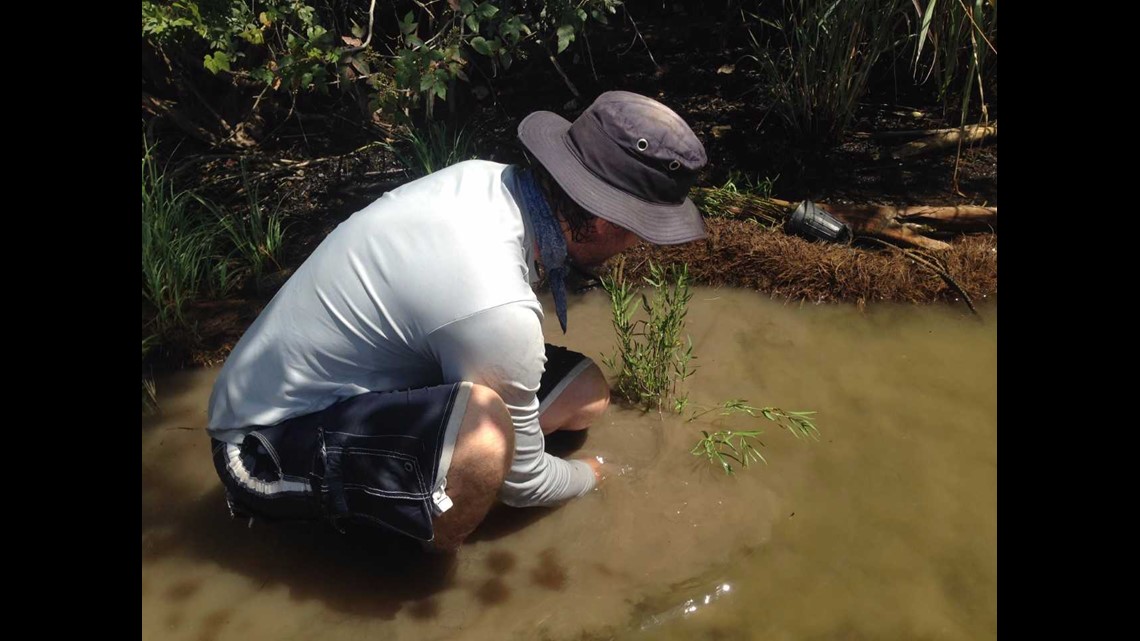 "Inside of those we planted 36 small little containers that had one water celery plant in them each. We had them evenly spread around the pen and by the end of the summer they were completely filled," Dr. Bellinger said.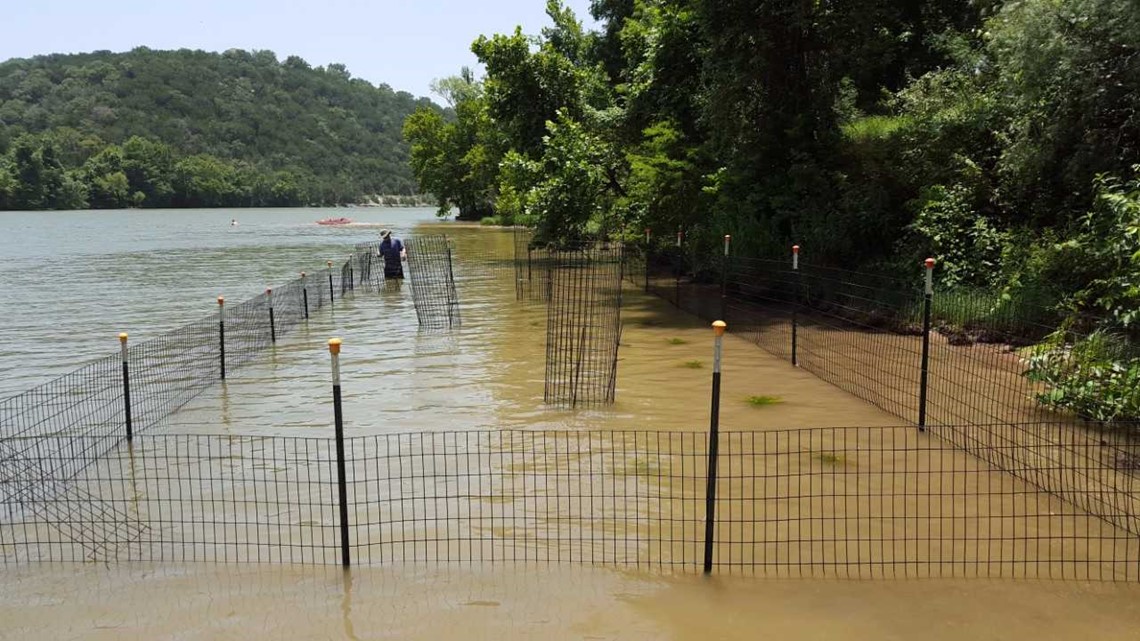 The city spent another $250,000 on these plants with the hope that one day they will spread throughout Lake Austin.
"Trying to get native vegetation back is priority number one," said Bellinger. "For fish habitat, for water clarity, for shoreline protection. We're working on that. It's unfortunate ecologically and biologically that all the vegetation has been knocked out."
So how long before the lake is back to its former glory?
"There's the gotcha question," Bellinger said. "Who knows?"
The grass carp can live for ten years. Texas Parks and Wildlife just estimated the number of carp left in Lake Austin.
"We're somewhere between 5,000 and 8,000 fish in the lake," said DeJesus.
Ideally, the state would like to see about one-third of that. The state lifted the ban on fishing carp last September with the hopes that people will fish them out.
But the toll is becoming more apparent. Once majestic trees that lined the shore are now falling into the lake due to a lack of vegetation.
"Big trees that have been there forever," Ward said. "One tree that I really like to fish around has fallen into the lake. It's just a sad reminder of what used to be here."
Lake Austin continues to change.
"It's not even listed as a top fishing destination lake anymore," Ward said.
He no longer hosts bass fishing tournaments in Lake Austin.
"No one wanted to come fish this lake anymore because the fishery just declined drastically in a few years," he said. "If they said this was going to be the end result they wouldn't have done it. So everyone involved in the process is disappointed."
Whether you've used it for recreation or enjoyed its beauty, Lake Austin is a vital part of our community and is our water source. Half a million of your taxpayer dollars have gone to it and what happens from here is anyone's guess.
PHOTOS: New water worries plaguing Austin Lakes
Effects on Lady Bird Lake
Another big concern?
The invasive carp is ending up in Lady Bird Lake.
During a fish collection exercise in March 2016 done in conjunction with the Texas Memorial Museum of the University of Texas at Austin, numerous grass carp were seen in Barton Springs Creek. The state believes those carp ended up downstream during flooding in 2015 and 2016.
Lady Bird Lake has always had minimal vegetation because water flushes through it very quickly. Surveys continue to monitor grass carp and hydrilla in both lakes.
The newest survey is due out in a few weeks.