Harris County Precinct 2 Constable Christopher Diaz is facing some tough ethical questions regarding his use of clothing donations intended for victims of Hurricane Harvey.
KHOU 11 Investigates confirmed that at least 10 boxes of dry-fit shirts donated to a Harris County church after the storm were printed with the constable's name and badge. Instead of going to hurricane victims or volunteer workers, Diaz personally tossed many of the shirts to the crowd at the Jacinto City St. Patrick's Day Parade.
"It looks opportunistic, it looks like the campaign is taking advantage of a situation," said Brandon Rottinghaus, a political science professor at the University of Houston. "It makes it look like they were taking something that was designed for people who needed it and using it for a campaign, politically-related purpose."
Diaz said a member of his command staff, Lt. Kimberly Bellotte, had the idea to print the shirts.
"(Lt. Bellotte) is over my community outreach, she came to me and said that we could use these for community outreach, and I said fine," Diaz said.
The constable did confirm he approved of the shirt design. On the front, there is the official Christopher Diaz Harris County Precinct 2 badge. On the back, "TEAM DIAZ" is printed in large type, above the logos of a church and two local trade unions that were doing hurricane recovery work.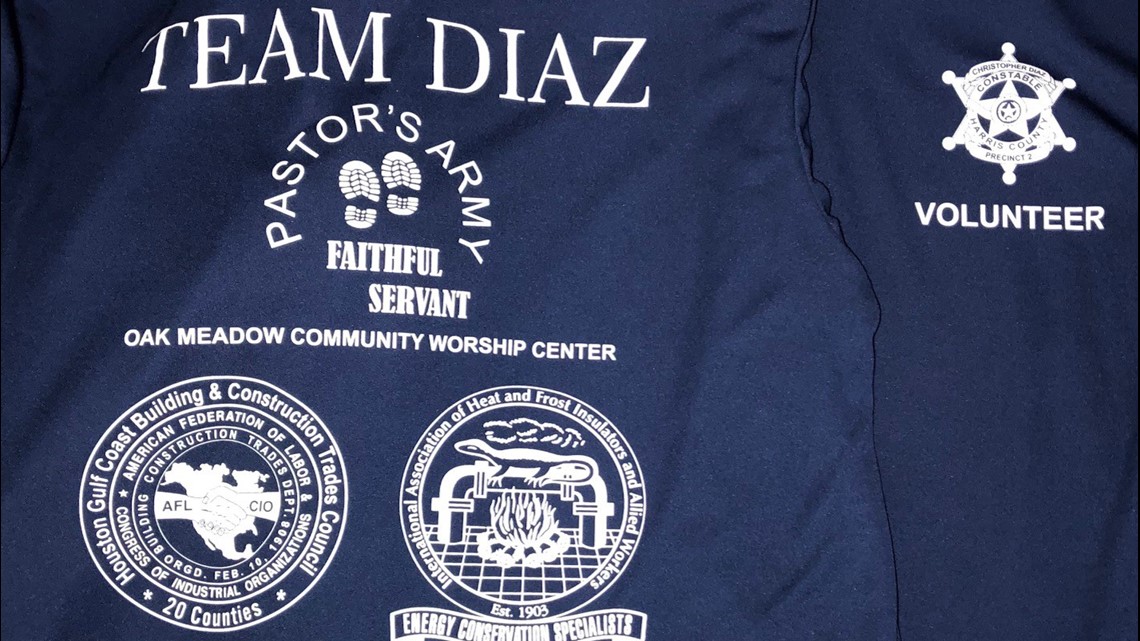 "It looks to me like political advertising, and to me, if it looks like an armadillo and walks like an armadillo, then it's an armadillo," Rottinghaus said.
Diaz maintained there was no political gain from either the name recognition on the shirts or handing them out to potential voters at a local parade.
"I didn't look at it as a political benefit," Diaz said. "I look at it as community outreach."
KHOU 11 Investigates learned that the constable's office used some county time in getting the shirts made with Diaz's name. The union attorney for Lt. Bellotte acknowledged that she sent a uniformed deputy on county time to drop the boxes of shirts off at the printer.
The printing company is in Jersey Village, some 30 miles from Precinct 2 Constable headquarters in Pasadena.
Burt Springer, general counsel for the Coalition of Police and Sheriffs, said there was nothing wrong with the errand.
"Rather than say, 'Is it proper?' I think the question is, 'Is it improper?' And the answer is no, it is not," Springer said. "This was a charitable event kind of sponsored and handled by Precinct 2."
Springer said the printing costs were shared by Bellotte herself and a local trade union that has supported Precinct 2 activities in the past.
"The attitude of my client was, she was just trying to do the right thing," Springer said.
Whether or not the issue is proper is a question that could be answered by the Texas Ethics Commission. Diaz said he has asked his attorney to ask the state agency for guidance.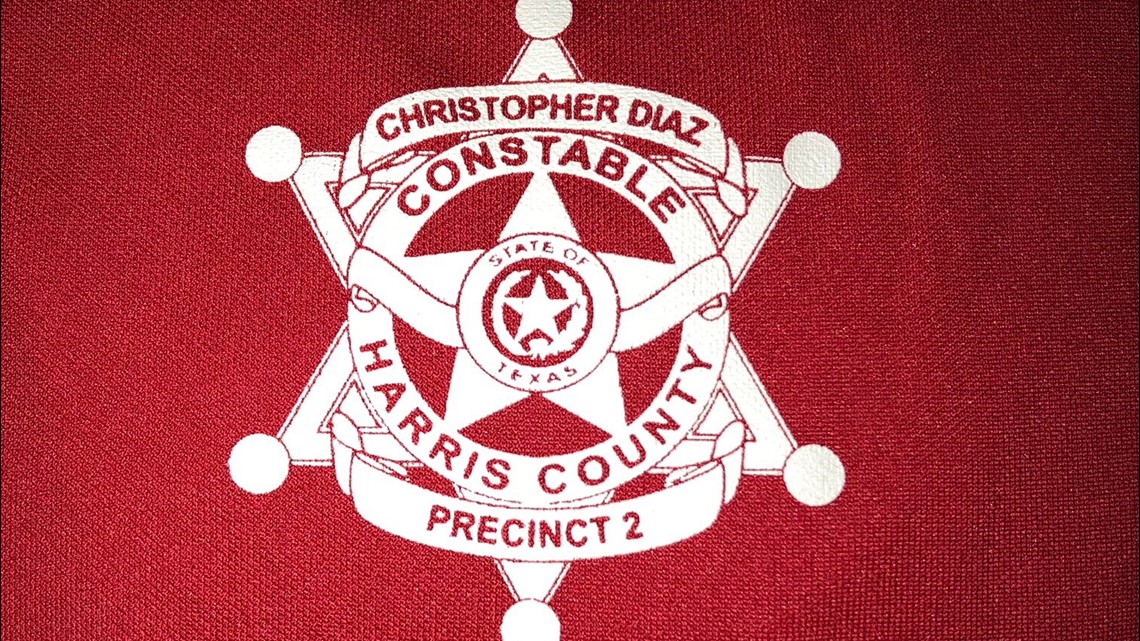 If the Ethics Commission defines the shirt printing as political advertising, the law requires the value of the shirts to be disclosed on campaign finance reports. In his latest filing, Diaz did not list the shirts or printing as an in-kind campaign contribution.
When asked if he would do anything differently in hindsight, Diaz said:
"You know, maybe we could. At a time like that when there's devastation, you know, you just have to make split decisions and do the best you can. … Sometimes when you're under a challenge and you have to make decisions, you just have to go with it."