HOUSTON — Let's start with some good news!
Texas hasn't seen a measles case in more than a month. The last one was reported to the Texas Department of Health Services on April 5th, bringing the total to 15 cases across Texas so far this year.
But when it comes to the vaccinations, more children are not getting immunized.
The state health department just released a map showing the percentage of students in K-12 grades with an exemption for vaccines.
The darker the color, the more kids who are not vaccinated.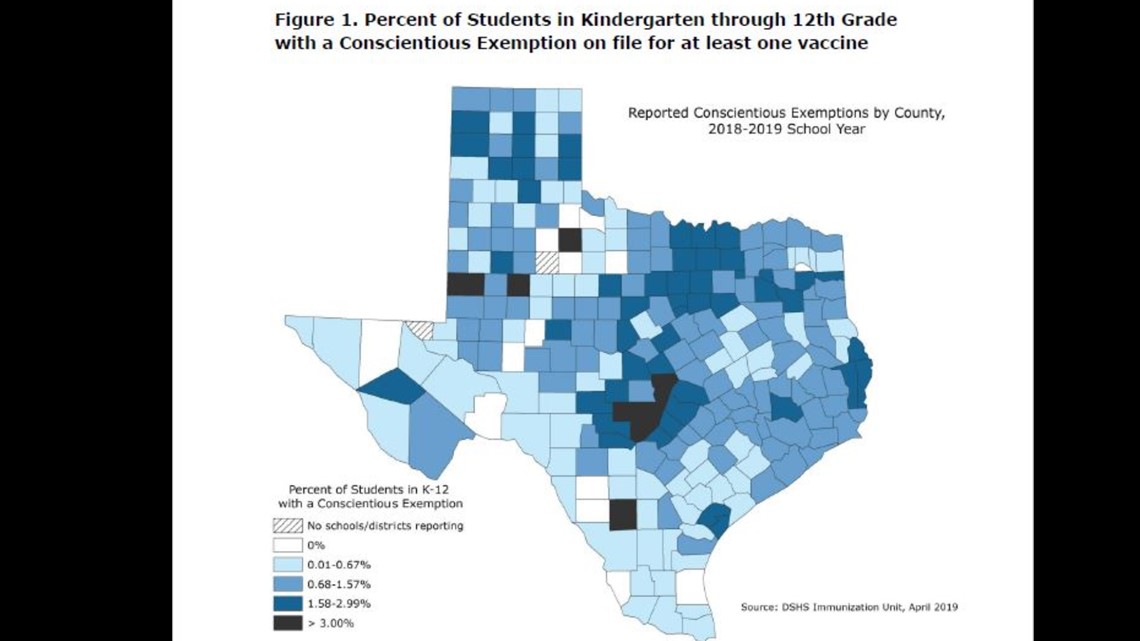 In 2008, 12,633 Texas students weren't vaccinated under a conscientious exemption because the parent declined vaccinations for reasons of conscience or religious beliefs.
A decade later for the 2018-2019 school year, the state says it's jumped to 64,176 students having a conscious exemption for at least one vaccine.
Medical experts say social media has helped to spread false information about vaccines.
To the point Facebook, Instagram, Pinterest and YouTube are all cracking down on messages from groups advocating against vaccinations.
You can also find the state's vaccination data online:
For more about Immunization Exemptions for reasons of conscience, click here.
For more about vaccination coverage levels in Texas Schools, click here.
For more about conscientious exemption data broken down by county and school district, click here.