WASHINGTON — This article contains ongoing U.S. and international updates on the COVID-19 pandemic and its effects. Here are some key updates for Thursday, April 30, 2020. You can find more details by scrolling through the story.
Delta, American and Frontier airlines join JetBlue in requiring passengers to wear masks.

U.S. intelligence agencies have concluded that the new coronavirus was "not manmade or genetically modified"

More than 3.8 million laid-off workers applied for unemployment benefits last week


South Korea has reported four more cases of the coronavirus over the past 24 hours

Climate activist Greta Thunberg's foundation donated $100K to fight COVID-19

From Wednesday's blog

: Trump hopes to hold 'massive rallies' soon; talks reopening US with industry leaders
There were more than 1,046,000 confirmed cases of COVID-19 in the United States around 1:30 p.m. EDT Thursday, according to Johns Hopkins University. The U.S. death toll is more than 61,000, while over 124,000 people have recovered. Beyond 6 million tests for COVID-19 have been performed in the U.S.
Worldwide, there have been more than 3.2 million cases with 229,000 deaths and 1 million recoveries.
For most people, the coronavirus causes mild or moderate symptoms, such as fever and cough that clear up in two to three weeks. For some, especially older adults and people with existing health problems, it can cause more severe illness, including pneumonia.
More airlines to require face masks for passengers
American, Delta and Frontier airlines announced Thursday they will start requiring passengers to wear masks on flights. They join JetBlue, which was the first to adopt the policy earlier this week.
Delta and JetBlue passengers will be required to wear them starting May 4. Frontier passengers must start on May 8 and American passengers will be required to wear them starting May 11.
Exceptions are being made for very young children and people with conditions that prohibit them from wearing masks.
Alaska, Southwest and United airlines have not made masks a requirement for passengers, but United is providing them on request starting May 4.
Turkey sends 2nd consignment of medical supplies to US

A second Turkish military plane took off from an air base near Ankara carrying more medical aid to the United States which has been hit hard by the coronavirus pandemic. The cargo plane was on Thursday carrying a second consignment of personal protective equipment, including masks, hazmat suits and disinfectants.
Turkey also dispatched a planeload of medical supplies on Tuesday. Separately, a Turkish military plane carrying medical supplies, including masks and disinfectants, also left for South Africa late Wednesday, according to the state-run Anadolu Agency. Turkish officials say the country has donated medical supplies to a total of 55 countries, including Britain, Italy and Spain.
Trump predicts 'spectacular' rebound as economy plunges

President Donald Trump said he's anticipating a major economic rebound in the coming months and a "spectacular" 2021. While economists are warning of serious long-term damage as the country plunges into recession because of the coronavirus, Trump is predicting a strong fourth quarter thanks to pent-up demand.
He says, "I think we can actually surpass where we were," while allowing he was relying on his gut. Trump's comments Thursday are the latest sign that he is trying to turn the page on the virus, even as the nation's death toll continues to climb and jobless claims rise.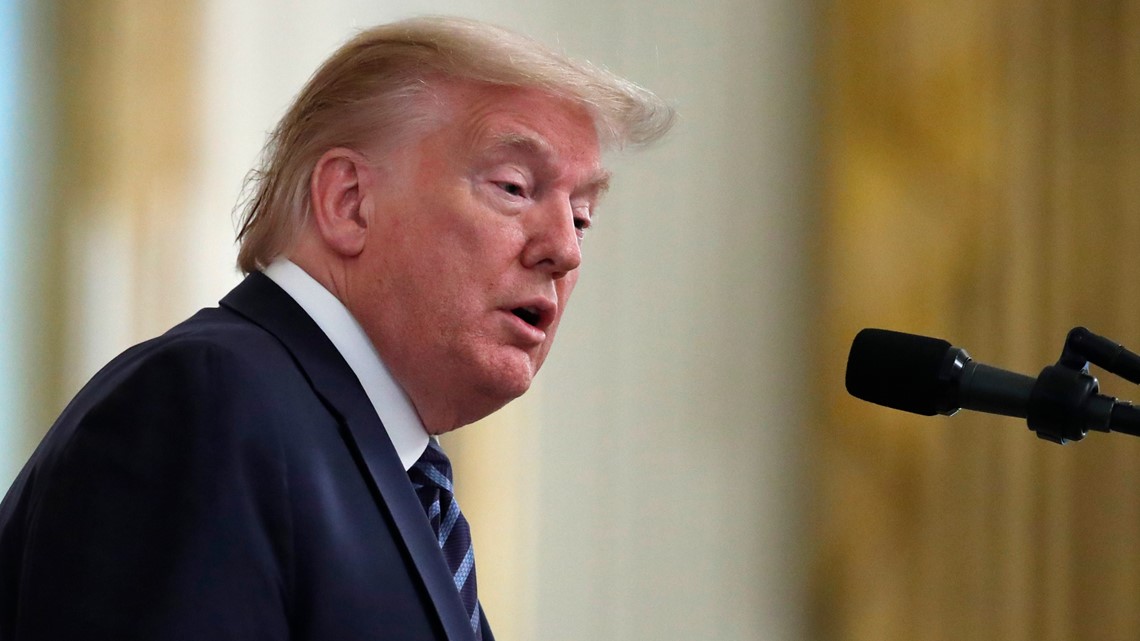 Pandemic driving Mexico deeper into recession
Mexico is plunging deeper into a recession that predated the pandemic.
The country's statistical agency says economic activity dropped 1.6% in the first quarter compared to the final three months of 2019. It was the fifth consecutive quarter of economic contraction and the biggest since 2009.
A report released Thursday said gross domestic product for the first quarter was 2.4% below the first quarter of 2019. The country's economy has been slowing since mid-2018.
Mexican President Andrés Manuel López Obrador has said he does not want the country to take on more debt during the pandemic. He has been criticized by the business sector for not doing enough to keep the economy afloat.
Fauci expects quick approval of new virus drug
The nation's top infectious diseases expert says he expects the U.S. Food and Drug Administration to quickly approve a new experimental drug that showed promising signs in treating patients with COVID-19.
Anthony Fauci tells NBC's "Today" show Thursday that he anticipates the go-ahead for the emergency use of Remdesivir to happen "really quickly."
He says he spoke with FDA Commissioner Stephen Hahn on Wednesday, and while Hahn had yet to make a final decision, "I would project that we're going to be seeing that reasonably soon." The drug was shown in a major study to shorten recovery time of hospitalized patients.
Fauci said the drug's manufacturer has committed to scaling production of the drug as quickly as possible as the world hunts for an effective treatment and ultimately a vaccine.
US intel: Coronavirus not manmade, still studying lab theory
U.S. intelligence agencies have concluded that the new coronavirus was "not manmade or genetically modified." But they say they're still examining whether the origins of the pandemic trace to contact with infected animals or an accident at a Chinese lab.
The statement came Thursday from the Office of the Director of National Intelligence, the clearinghouse for the web of U.S. spy agencies.
It comes as President Donald Trump and his allies have touted the as-yet-unproven theory that an infectious disease lab in Wuhan, the epicenter of the Chinese outbreak, was the source of the global pandemic that has killed more than 220,000 worldwide.
3.8 million workers laid off last week
More than 3.8 million laid-off workers applied for unemployment benefits last week as the U.S. economy slid further into a crisis that is becoming the most devastating since the 1930s.
Roughly 30.3 million people have now filed for jobless aid in the six weeks since the coronavirus outbreak began forcing millions of employers to close their doors and slash their workforces.
That is more people than live in the New York and Chicago metropolitan areas combined, and it's by far the worst string of layoffs on record. It adds up to more than one in six American workers.
Official expects higher death toll in Germany
The head of Germany's disease control center says he expects the actual number of deaths in the country from the new coronavirus to be higher than those currently reported.
Lothar Wieler of the Robert Koch Institute told reporters Thursday that early figures from two of Germany's 16 states — Berlin and Hesse — indicate that the number of people dying is higher than average for the time of year.
In other countries, this so-called excess mortality has been higher than the reported COVID-19 death toll, indicating some deaths from the pandemic are going undetected, though it is unclear whether these result directly from infection or other factors, such as health system overload.
Wieler said his agency "is working on the assumption that more people likely died of (COVID-19) than have been officially reported." He said the wide range of complications now linked to the disease could be one explanation.
South Korea reports four new coronavirus cases, lowest in about two months
South Korea has reported four more cases of the coronavirus over the past 24 hours, the first time that its daily jump has marked below five in about two months.
The Koreas Centers for Disease Control and Prevention said in a statement Thursday that the additional figures took the country's total to 10,765 with 247 deaths. It says 9,059 of them have recovered and been released from quarantine.
It says the four new cases are all imported ones and that there were no newly reported cases of local infections.
Local media said it's the first time for South Korea to have no daily increase of local infections since Feb. 15.
South Korea's caseload has been slowing in recent weeks after it recorded hundreds of new cases every day between late February and early March.
South Korea has subsequently relaxed some of its social distancing guidelines. It expected to ease up on more restrictions in coming days if its caseload maintains a downward trend.
Greta Thunberg's foundation donates $100K to fight coronavirus
Climate activist Greta Thunberg is launching a campaign with a Danish foundation to help finance the U.N. childrens' agency's emergency program to fight the coronavirus pandemic.
Thunberg said in a statement that "like the climate crisis, the coronavirus pandemic is a child-rights crisis" that will affect youngsters now and in the long-term, especially the most vulnerable.
She urged people everywhere "to step up and join me in support of UNICEF's vital work to save children's lives, to protect health and continue education."
The campaign is being launched with $100,000 from the Greta Thunberg Foundation and $100,000 from Denmark's Human Act Foundation.
NYPD called after overwhelmed funeral home stores bodies on ice in rented trucks
Police were called to a Brooklyn neighborhood Wednesday after a funeral home overwhelmed by the coronavirus resorted to storing dozens of bodies on ice in rented trucks, and a passerby complained about the smell, officials said.
Investigators who responded to a 911 call found that the home had rented four trucks to hold about 50 corpses, according to a law enforcement official. No criminal charges were brought and the official, who was not authorized to speak publicly about the investigation, spoke to The Associated Press on condition of anonymity.
The Andrew T. Cleckley Funeral Home was cited for failing to control the odors. The home was able to obtain a larger, refrigerated truck later in the day, the official said.
New York City funeral homes have struggled as at least 18,000 people have died in the city since late March.
The NYPD notified the state Department of Health, which oversees funeral homes, about the situation at the Andrew T. Cleckley Funeral Home. It did not respond to an email seeking comment.