The county's scale indicates this threat level advises residents to "Stay Home, Work Safe — unless vaccinated."
Judge Hidalgo asked residents to continue to wear their masks in public and for those who are unvaccinated to please stay home. She added unvaccinated people should socially distance and avoid medium to large gatherings.
"If they keep increasing at this rate, this could be the worst wave of COVID we've had in our community," the county judge said.
Judge Hidalgo said the COVID positivity rate has tripled to 15 percent over three weeks.
Houston Mayor Sylvester Turner said the Texas Medical Center hospitals admitted more than 300 new COVID patients in the last 24 hours. Houston's public health authority said that's a 500 percent increase from a month ago.
Dr. David Persse also said in that same timeframe, the community's seen a 2,500 percent jump in new cases.
"As we started this conference at 1 o'clock in the afternoon, the Houston Fire Department, which has 104 ambulances, 26 of them were in hospital emergency departments waiting to offload patients," Dr. Persse said. "Four of them have been there for more than two hours. An ambulance that's in the emergency department waiting to offload a patient is not available to take the next 911 call."
Judge Hidalgo explained the average age of COVID patients is 20 years younger than before. They are starting to see patients in their 30s and 40s.
There are currently 89 cases amongst municipal workers, the mayor said. There are also currently 68 Houston police officers and 40 Houston firefighters with COVID.
County cannot issue a stay-at-home order or mask mandate
Judge Hidalgo made another plea for people to get vaccinated.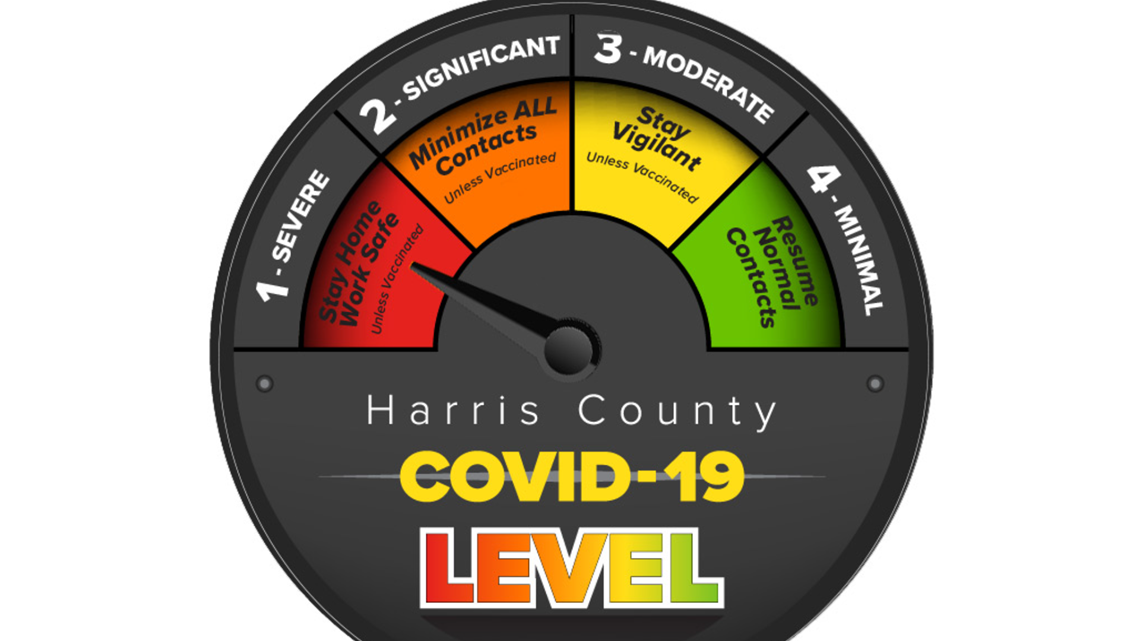 There are certain metrics local leaders look at when determining the threat level. You can see those here and learn what they mean.
Healthcare system is near 'breaking point'
Dr. David Persse says the healthcare system in nearing a "breaking point" as cases continue to surge.
He said the Texas Medical Center admitted more than 300 COVID patients in one day. He explained that they have seen a 500 percent increase in COVID patients since a month ago.
Dr. Persse said the cases they are seeing now are almost entirely of the Delta variant.
Judge Hidalgo encouraged residents not to use emergency rooms for routine medical care and to seek virtual options first.
Houston's public health authority said at the start of this press conference, one out of every four HFD ambulances were waiting to offload patients at full emergency rooms.
"This weekend, we transferred a patient from the Houston area…do not fall out of your chairs…to North Dakota!" Dr. Persse said.
Dr. Persse said between 85 to 95 percent of covid patients in local hospitals are unvaccinated.
Statement from William (Bill) F. McKeon, CEO of Texas Medical Center:
"Now is the time for Houston and its residents to act quickly and decisively to address the serious COVID-19 risk resulting from the spread of the Delta variant.
"We are experiencing the initial devastation of the 4th wave of the COVID-19 pandemic; this is a critical moment in our ongoing response. Hospitalizations across the Texas Medical Center are escalating at a pace we have not observed since the highest COVID-19 peak in summer 2020. Among patients hospitalized with COVID-19, a majority are younger and unvaccinated. Our healthcare teams remain prepared for the task at hand, yet we are simultaneously facing a nursing shortage in the region while asking a great deal from professionals who have given their all to fight this pandemic for the past 19 months.
"The impact of unvaccinated individuals is widespread and encouraging the continued spread of COVID-19. This includes the risk of breakthrough cases among already vaccinated community members who are at the most risk -- our elderly population, cancer patients, the transplant community, immunocompromised children, etc. I urge all Houstonians who are able to get a vaccine to do so. We must work together as a community to bring an end to this pandemic."
Delta variant spreading across Houston
He says because of how contagious the Delta variant is, it's just a matter of time before people who haven't been vaccinated are affected.
"This virus is so extremely contagious, your chances of getting by, getting through this without having become either vaccinated or infected is essentially zero," he said.
He also mentioned that hospitals are filling up and it's affecting not only COVID patients, but now heart attack, stroke, injury and other patients are having to wait for help, as well.
The solution, he says – get vaccinated.
"Over 2.5 billion people on this planet have been vaccinated. If there was a problem with the vaccine, we would know it by now," he said.
Super Saturday Vaccination Days
The idea is to make it easier to get students, ages 12 and up, and families vaccinated as school is starting. So every Saturday in August, there will be campuses open for free vaccinations.
The school districts taking part in Super Saturday Vaccination Days by having at least one school participating are the following: Aldine ISD, Alief ISD, Crosby ISD, Cypress-Fairbanks ISD, Galena Park ISD, Houston ISD, Huffman ISD, Katy ISD, Pasadena ISD, and Spring ISD.
The city has posted a complete list of school campuses, days and hours of Super Saturday Vaccination Days. You can see that list here.