WASHINGTON — Three people in Maryland are confirmed to have tested positive for the coronavirus.
Gov. Larry Hogan declared a state of emergency after three Montgomery County residents tested positive for the coronavirus after traveling together on an MS A'Sara Egyptian cruise on the Nile River. Hogan said it appeared to be the same cruise ship that the World Health Organization announced had 12 workers placed in quarantine for 14 days, and is also linked to eight confirmed cases in Texas.
Hogan also noted that the patients had at least two instances of public interactions that he felt warranted public notification.
"One of the Maryland patients attended a public event on Feb. 28 at the Village at Rockville, a retirement community, where they were in contact with approximately 70-100 individuals including outside visitors as well as residents and staff," Hogan said. "Due to the scale of that gathering, we are urging anyone who attended an event last Saturday at the Village at Rockville between noon and 6 p.m. to immediately contact your healthcare provider or the Maryland Emergency Management Agency Call Center at 410-517-3720."
According to Kyle Hreben, Executive Director of The Village at Rockville, the event held was a shiva for a family member, and only a few of the attendees were residents of The Village. Hreben said he was notified of the potential exposure today, and that all 350 residents are being screened for symptoms of the virus, but Hreben stressed that the risk "remains low for anyone living in or visiting The Village."
"This is what we do every day here-- protect our residents," Hreben said.
He also noted that all but one entrance has been closed, and that all visitors will be screened upon entry, with precautions taken like taking temperatures.
See memo sent to all residents of The Village at Rockville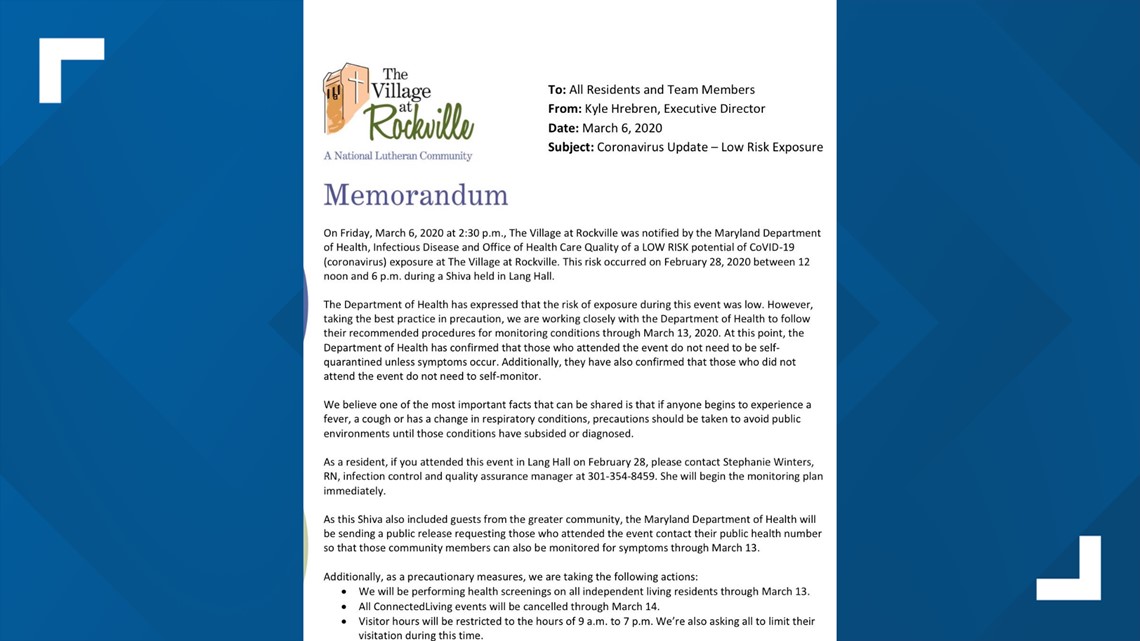 Hogan noted that one of the other infected Marylanders attended an event in Philadephia where they were in contact with a group of children and staff from a local school district. As a result, the Central Bucks School District closed five local schools until further notice.
Officials reiterated that they were providing updates not to raise alarm, but out of an abundance of caution.
Under State of Emergency, Maryland will move to "active" status to mobilize staff and funds to pay for different resources. This includes activating qualified staff to centers on a 24-hour basis to meet the needs of the community to make a more proactive move to prevent additional cases, officials said.
"The state's Public Health Laboratory in Baltimore has confirmed the first three positive cases of novel coronavirus in Maryland," Hogan said in a statement. "The patients, who contracted the virus while traveling overseas, are in good condition."
"The three cases in the county are all doing well clinically, and their symptoms have been abated," said Dr. Travis Gayles, who is Montgomery County Health Officer and Chief of Public Health Services.
The patients were identified as a married couple in their 70s and a woman in her 50s who traveled together on an Egyptian cruise on the Nile River. They are in good condition and remain in quarantine, Hogan said. Officials confirmed the patients had all traveled overseas on a cruise ship.
The three identified cases are travel-related and directly exposed to COVID-19, which is different from community transmission where a person is infected by another person with COVID-19.
"We don't have any evidence of community transmission of COVID-19," Gayles said but he added, "A number of folks being looked at from a contact perspective."
"A thorough investigation is underway to fully determine any of their potential recent interactions with the public," Hogan said.
Gayles explained that testing guidelines changed this week to expand to include people who travel to countries affected by the virus. There is testing capability at the local and state level, but Gayles said there are not enough tests locally.
Vice President Mike Pence later confirmed Gayles' statement, saying nationwide that "there are not enough tests."
If a patient seeks medical treatment, they are tested, where a specimen is collected, sent to a state lab in Baltimore for analysis, and if a presumptive positive is identified, the sample is sent to the Centers for Disease Control and Prevention to confirm the positive outcome.
Now, after a presumptive positive test, the state follows-up directly with the affected individual for treatment and self-quarantined, Gayles explained during a news conference Friday morning.
While officials said they could not share the facility where the patients are being treated, or how exactly they were exposed to the COVID-19, Gayles did say, "The individuals were not on a cruise affiliated with Baltimore."
Officials did not reveal which U.S. airports the patients traveled through but confirmed they arrived in the U.S. on Feb. 20. The patients did not meet the CDC guidelines for testing, thus they were not tested until March 4, when the CDC contacted them after further information developed from the cruise.
All three patients were cooperative and responded to the request for testing.
Also, the health care workers who came in contact with the patients have also taken the necessary precautions, officials said.
After the burst of cases at a Washington-state nursing home, Gayles said they are keeping a close eye on area nursing homes and long-term care facilities and coordinating the Department of Health and Human Services to aid with the county's homeless population to coordinate shelter and services.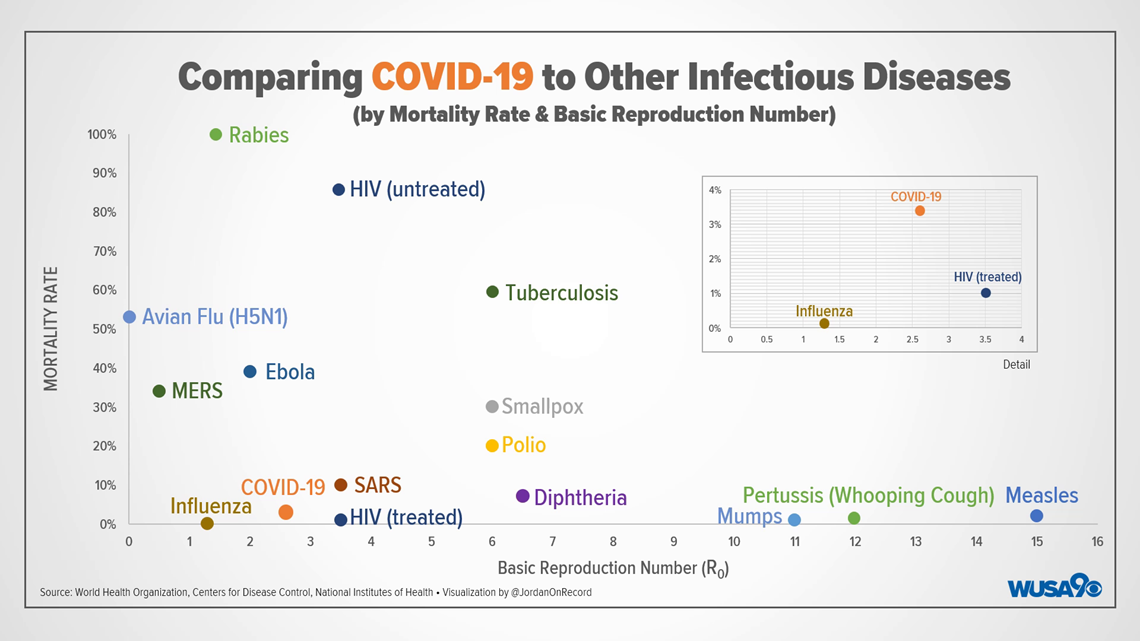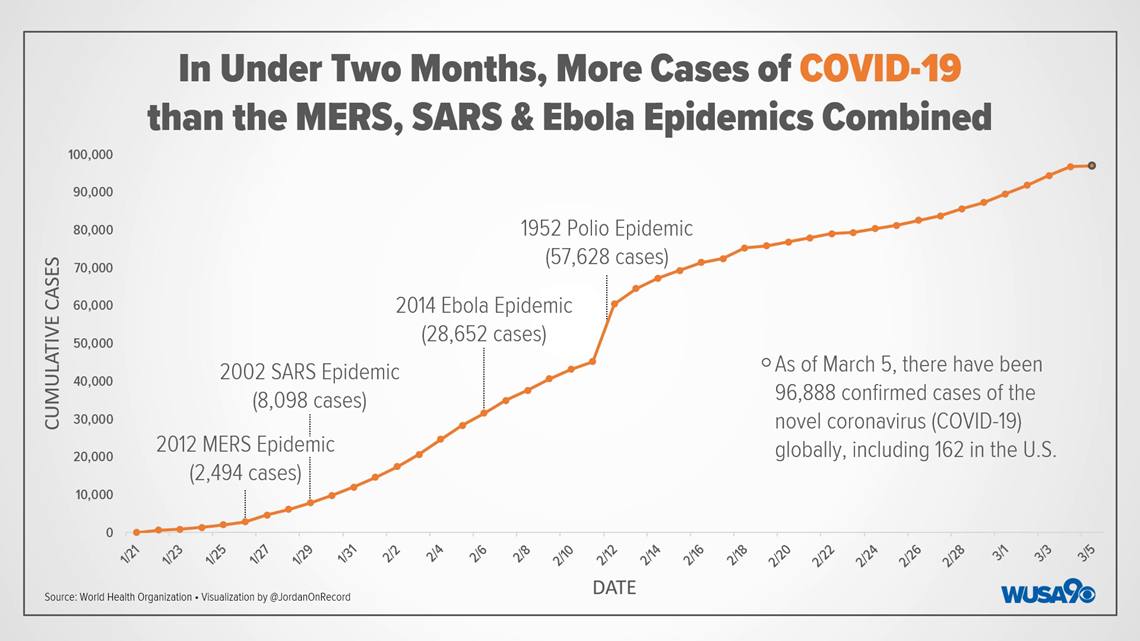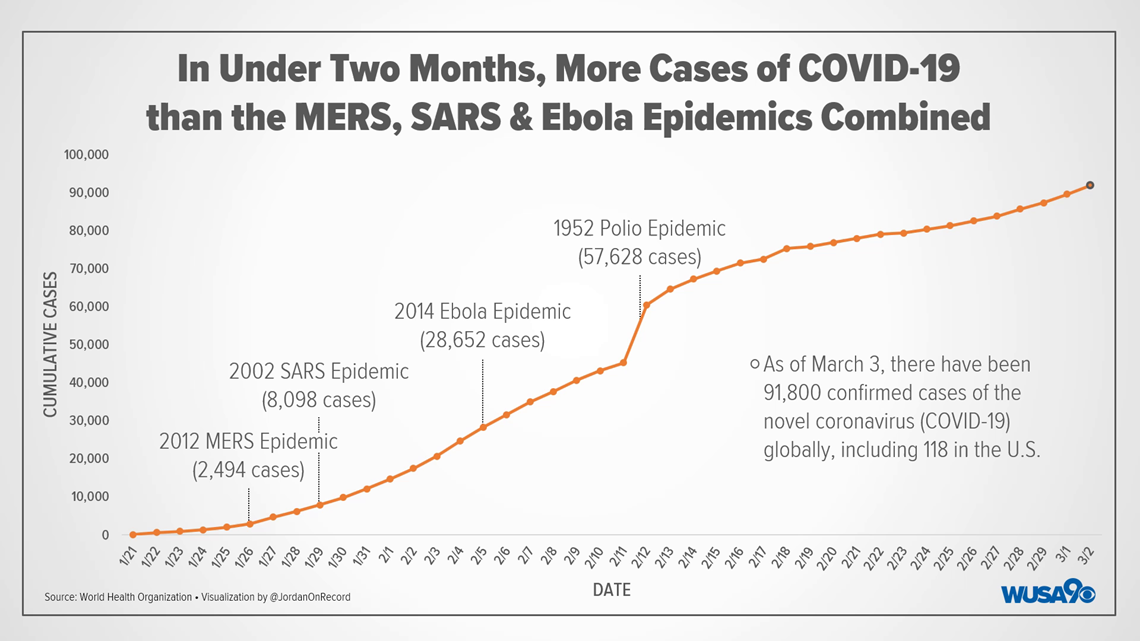 Officials said while they are not recommending any large-scale closures, like schools, businesses, etc., they do ask the public to take necessary precautions, like proper handwashing, avoiding people who are sick and for those who are sick to stay home.
Gayles was among officials who repeatedly stressed to the public not to panic. County Council Chairman Sidney Katz advised the public to prepare for the possibility of two weeks at home by having all prescriptions filled and having non-perishable foods on hand.
Check the status of the virus in your state with your state health department's websites by tapping below:
Stay with WUSA9.com for more on this developing story.