Key updates for Sunday, April 12, 2020:
Dr. Fauci: Parts of the U.S. could open back up in May.
A Chinese mask producer is rushing to meet demands from overseas amid stricter inspections.
Death toll in France nearly 14,400. But for the fourth day in a row, slightly fewer people were admitted into intensive care.
Italy has its lowest number of new deaths in three weeks, saying 431 people died in the past day to bring its total to 19,899.
British PM Boris Johnson leaves the hospital and is back at the Prime Minister's residence in London. He made a public statement after leaving the ICU.
The head of the European Union's executive branch suggests people hold off booking summer vacations.
South Korea reported 32 new cases of the virus over the past 24 hours.
Venezuela's president extended its nationwide quarantine.
The confirmed number of coronavirus cases in the United States was more than 555,000 on Sunday, it had been at 530,000 just after 8:15 a.m. EDT, according to the count by Johns Hopkins University. There have been over 22,000 deaths in the U.S. and 32,000 recoveries. The nation passed Italy on Saturday with the highest death toll in the world.
Globally, infections have been confirmed in more than 1.8 million people. There were more than 114,000 deaths and 431,000 recoveries worldwide.
Christians around the world celebrated Easter isolated in their homes by the coronavirus. In many cases, pastors preached to empty pews. St. Peter's Square was missing the crowds that usually gather to hear Pope Francis, who celebrated Mass in the largely vacant basilica.
Some U.S. churches proceeded with in-person services despite state or local bans on large gatherings. In Florida, Nevada and Arizona, churches held drive-in services. And in Britain there was hopeful news: Prime Minister Boris Johnson was released from the hospital after a week of treatment for the virus. He paid an emotional tribute to National Health Service workers for saving his life.
South Korea reports 25 new virus cases, 3 deaths
South Korea has reported 25 new cases of the coronavirus and three more virus-related deaths, bringing its totals to 10,537 infections and 217 fatalities.
South Korea's Centers for Disease Control and Prevention on Monday said at least 929 cases were linked to passengers arriving from abroad, with most of them detected over the past three weeks.
South Korea's caseload has slowed from early March, when it was reporting around 500 new cases a day, but officials have raised concerns over a broader "quiet spread," pointing to transmissions at bars and other leisure facilities that supposedly indicate eased attitudes toward social distancing.
South Korean Prime Minster Chung Sye-kyun during a meeting on anti-virus strategies on Monday said officials are discussing new public guidelines that would allow for people to engage in "certain levels of economic and social activity" while also maintaining distance to slow the spread of the virus.
Authorities working against discrimination on those of African descent, China's foreign ministry says
China's foreign ministry says it is working with authorities in the southern province of Guangdong to prevent discriminatory treatment toward people of African heritage amid the coronavirus outbreak.
The statement issued Sunday followed a letter of caution from the U.S. Embassy that police in the province have ordered bars and restaurants not to serve clients who appear to be of African origin and that some hotels and companies have refused to do business with them.
"Moreover, local officials launched a round of mandatory tests for COVID-19, followed by mandatory self-quarantine, for anyone with 'African contacts,' regardless of recent travel history or previous quarantine completion," the notice from the Embassy said. It urged those with African backgrounds to especially avoid the provincial capital of Guangzhou, which has a large African population of migrant traders.
In its statement, the foreign ministry said all foreigners were treated equally during the outbreak and the government had "zero tolerance for discrimination."
Authorities in Guangdong were "working promptly to improve their working method," the ministry said.
"African friends can count on getting fair, just, cordial and friendly reception in China. The foreign ministry will stay in close communication with the Guangdong authorities and continue responding to the African side's reasonable concerns and legitimate appeals," the statement said.
Chinese mask producer rushing to meet demands from overseas amid stricter inspections
One mask producer in China says it is rushing to fill orders from overseas while facing stricter quality inspections from Chinese regulators.
Wuhan Zonsen, which makes masks and disinfection wipes, says $50 million in orders from European countries and the United States will keep them at full production capacity until June.
"Now the major demand of masks comes from European countries and the US where the epidemic is severe ... their demand now has increased to 10 times than before because of the epidemic," said Cynthia Ye, global marketing manager of Zonsen.
Zonsen plans to add another five production lines to increase their daily production from 200,000 to 700,000 masks, Zonsen's production managers told reporters during a media tour organized by Wuhan government.
Chinese customs have announced that ventilators, masks and other supplies being exported to fight the coronavirus will be subject to quality inspections following complaints that substandard goods were being sold abroad. Regulators in Australia, the Netherlands and other countries have complained that masks, virus test kits and other products were faulty or failed to meet quality standards.
Ye denied there are any quality issues with the masks they had shipped to Netherlands.
Wuhan on Wednesday ended its 76-day lockdown, allowing residents to again travel in and out of the city. Wuhan and China are expected to suffer severe economic costs and tens of millions of job losses from the city closure.
Death toll in France nearly 14,400
The overall death toll in France from the coronavirus has risen to nearly 14,400, but for the fourth day in a row, slightly fewer people were admitted into intensive care — 35 fewer — giving health officials a reason to grasp for good news.
Sunday's statistics issued by the Health Ministry confirm the country is reaching a "very high plateau" and reflect initial signs that nearly four weeks of confinement and the "drastic reduction in contacts" are producing an effect, a statement said.
Strict confinement measures began March 17, were renewed once and are expected to be extended again, with a likely announcement to the nation Monday by President Emmanuel Macron.
Since March 1, hospitals and nursing homes have counted 14,393 deaths.
Of the 31,836 people currently hospitalized for COVID-19, more than 1,600 were admitted in the past 24 hours, the Health Ministry said.
Still, with more than 6,800 patients being treated in intensive care Sunday, that was 35 people fewer than a day earlier, a ray of hope for overworked health workers and authorities looking for small signs of change.
Since the start of the epidemic in France, more than 95,400 people have been infected.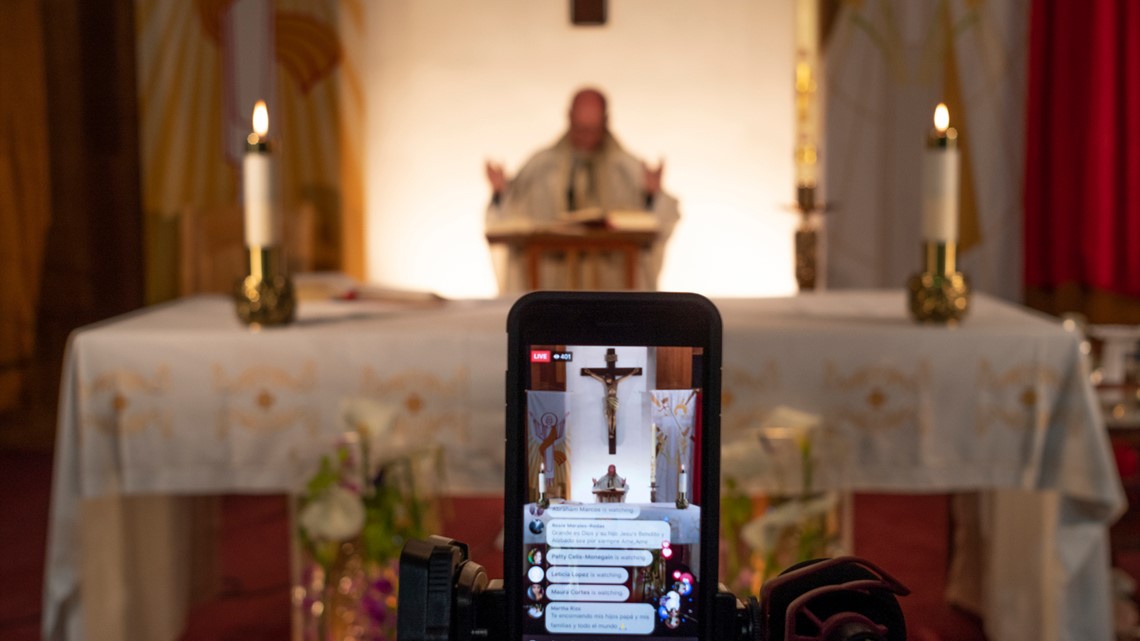 Italy records lowest number of new deaths in weeks
Italy has recorded the lowest number of new coronavirus deaths in three weeks, saying 431 people died in the past day to bring its total to 19,899. It was the lowest day-to-day toll since March 19.
For the ninth day running, intensive care admissions were down and hospitalizations overall were down, relieving pressure on Italy's over-stressed health care system.
More than 4,000 people tested positive as Italy began its fifth week under nationwide lockdown, continuing a general flattening in its infection curve.
But officials have noted that Italy has also increased its testing capacity in recent days, yielding more positive cases but allowing for more effective quarantine measures for people once they know they are infected.
Italy crossed the 1 million virus test mark on Sunday, doubling the number of tests since the end of March. Overall, 156,363 people have been confirmed as positive, though officials note that the true number of infected could be as much as 10 times that, particularly in hard-hit Lombardy.
Officials have also warned that the true number of dead from the virus pandemic is higher, given the hundreds of elderly who have died in nursing homes but were never tested.
Easter Mass live streamed in New Orleans, where Mardi Gras tourist boom may have been reason outbreak
Archbishop Gregory Aymond led a live streamed Easter Mass in St. Louis Cathedral in New Orleans on Sunday.
The pews were empty. Other than the concelebrants, the only other people in the Cathedral were those with official roles in the Mass, a sign language interpreter, a Cathedral maintenance employee, and seven photographers and reporters.
Aymond started the Mass noting "We are not in isolation. We are still one family coming together," Aymond said. He said the coronavirus pandemic "has brought great darkness over the earth. Our way of life has changed," and he later acknowledged fear, grief and uncertainty.
The Centers for Disease Control and Prevention says an influx of tourists for Mardi Gras may be a reason why Louisiana experienced a higher rate of COVID-19 cases than other Southern states.
In a report posted Friday, the CDC says population density might play "a significant role in the acceleration of transmission" of the coronavirus. It said Louisiana experienced a "temporarily high" population density because of Carnival season visitors.
It also noted the season ended Feb. 25 — well before federal calls to discourage mass gatherings in mid-March. Louisiana reported 34 newly recorded coronavirus-related deaths Sunday, bringing the death toll in the state to 840.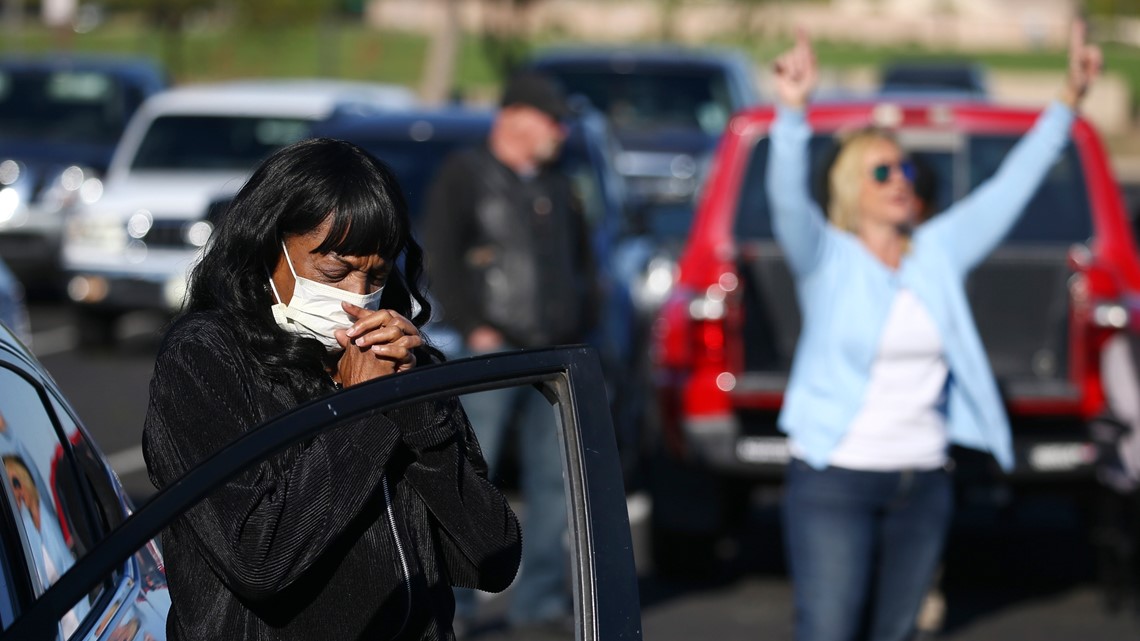 Fauci: Parts of the U.S. could reopen in May
The United States' top infectious disease expert says the economy in parts of the country could be allowed to reopen as early as next month.
Dr. Anthony Fauci says there's no light switch that will be clicked to turn everything back on. He says a "rolling re-entry" will be required based on the status of the new coronavirus pandemic in various parts of the country.
Fauci says those factors include the region of the country, the nature of the outbreak it already has experienced and the possible threat of an outbreak to come.
Social distancing guidelines imposed by President Donald Trump are set to expire April 30.
Trump is eager to restart the economy, which has stalled because most Americans are under orders to "stay at home" to help slow the virus' spread.
Pope celebrates joy of Easter amid sorrow of virus, alone
Catholics around the world are marking a solitary Easter, forced to celebrate the most joyful day in the Christian calendar largely alone amid the sorrowful reminders of the devastation wrought by the coronavirus pandemic.
Normally, St. Peter's Square would be awash in fresh flowers on Easter Sunday. There would be tulips and orchids in a riot of color to underscore Easter's message of life and rebirth following Christ's crucifixion.
This year, the cobblestoned piazza is bare with police barricades blocking those who would normally flock to hear the pope's blessing. Pope Francis was to instead celebrate Easter Mass inside the largely empty basilica and deliver his speech from in front of the tomb of St. Peter.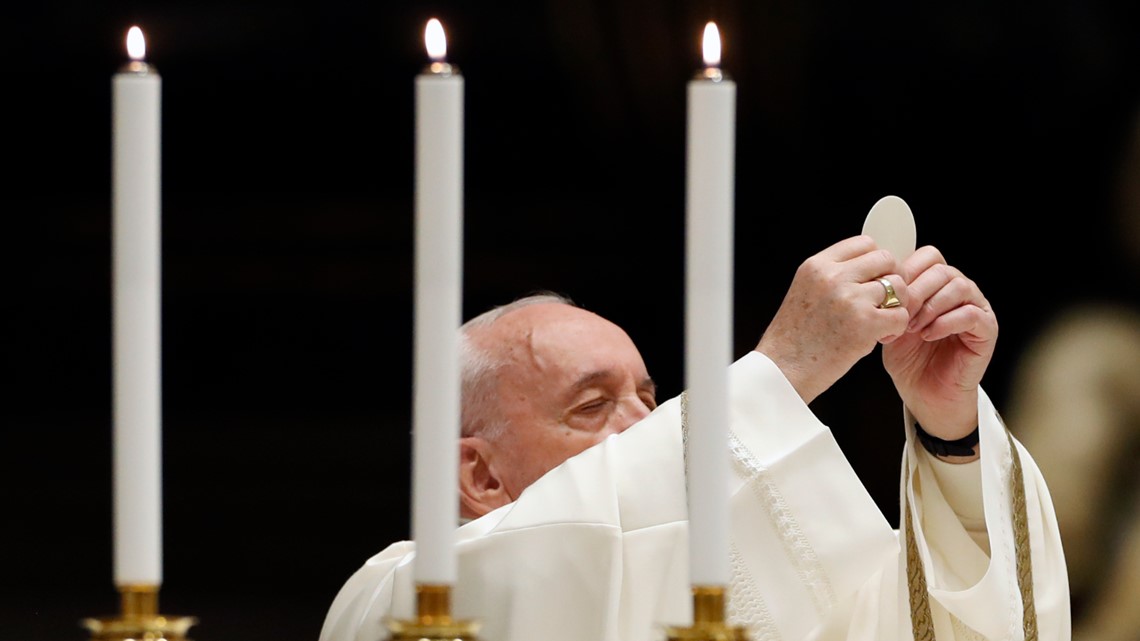 British Prime Minister says he owes life to health staff
British Prime Minister Boris Johnson says he owes his life to the staff at the National Health Service who treated him for COVID-19.
Johnson has made his first public statement since he was moved out of intensive care at St. Thomas' Hospital in London, saying he "can't thank them enough. I owe them my life." The Prime Minister has left the hospital and is back at the official residence in London, but will not immediately return to work.
The 55-year-old Johnson was diagnosed with COVID-19 more than two weeks ago, becoming the first world leader confirmed to have the illness.
His coronavirus symptoms at first were said to have been mild, including a cough and a fever.
He was admitted to St. Thomas' Hospital last Sunday after his condition worsened and was transferred to the intensive care unit the following day, where he received oxygen but was not put onto a ventilator.
He spent three nights there before moving back to a regular ward on Thursday.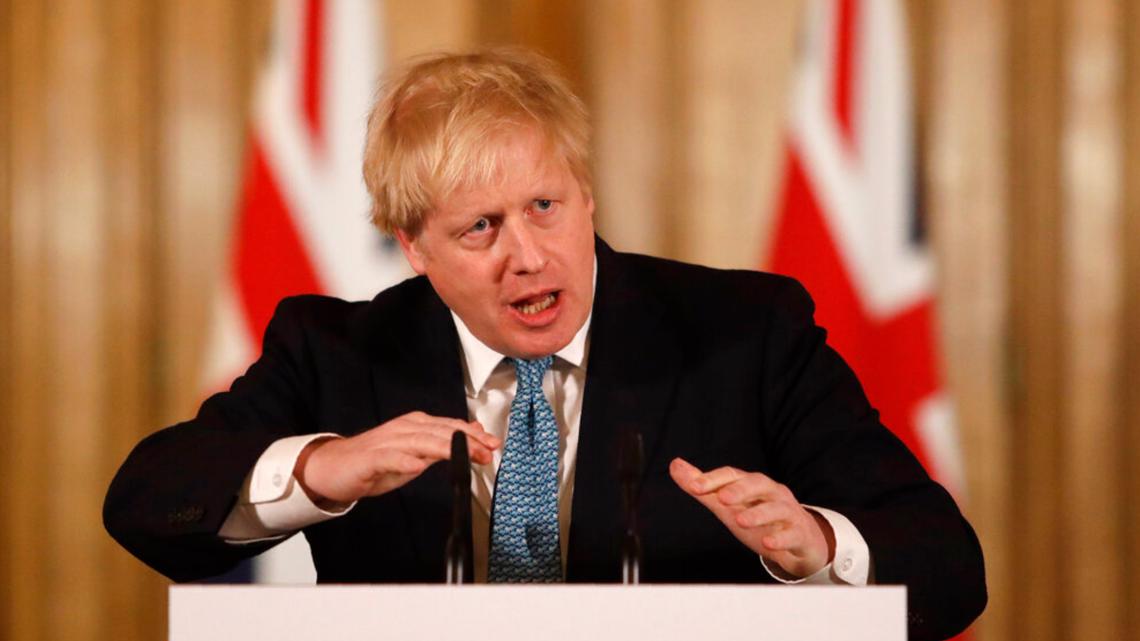 EU official suggests holding off on summer trips
The head of the European Union's executive branch is suggesting that people hold off on booking summer vacations for now, pointing to uncertainty surrounding the coronavirus pandemic.
Most planes are currently grounded and many countries have put wide-ranging travel restrictions and warnings in place. Some nations are considering first steps out of weeks-long shutdowns of public life but much of Europe is near a standstill.
European Commission President Ursula von der Leyen tells Germany's Bild am Sonntag newspaper she "would advise waiting with such plans."
She added in an interview published Sunday that "no one can make reliable forecasts for July and August at the moment."
Japanese health care facilities stretched thin
Japanese health care facilities are getting stretched thin amid a surge in coronavirus patients.
The Japanese Association for Acute Medicine and the Japanese Society for Emergency Medicine, representing such professionals, issued a joint statement recently warning about a "collapse of emergency medicine," which may lead to the collapse of medicine overall.
The statement said many hospitals were turning away people rushed by ambulance, including those suffering strokes, heart attacks and external injuries. Some people who were turned away later turned out to have the coronavirus.
Masks and surgical gowns were running short, the statement said.
Japan has nearly 7,000 coronavirus cases and about 100 deaths, but the numbers are growing. The government has declared a state of emergency, asking people to stay home.
South Korea continues downtrend in new cases
South Korea reported 32 additional cases of the coronavirus over the past 24 hours, a continued downward trend in new infections in the country.
The Korea Centers for Disease Control and Prevention said in a statement Sunday the additional cases increased the country's total to 10,512.
It says 7,368 of them have been recovered and released from quarantine and that 13,788 are under tests to determine whether they've contracted the virus.
The center says that South Korea's death toll from the coronavirus increased by three to 214.
Venezuela extends quarantine additional 30 days
Venezuela's President Nicolás Maduro has extended a nationwide quarantine for another 30 days to prevent the spread of the new coronavirus throughout the crisis-stricken South American nation.
Maduro announced the measure Saturday, the same day a fourth shipment of medical supplies arrived from China to fight the virus. So far officials say 175 people in Venezuela have fallen ill and nine have died from the virus.
Medical workers say Venezuela is vulnerable given the rampant malnutrition and poor condition of hospitals that lack basic supplies such as soap and water. Once it was first detected, officials quickly ordered its 30 million residents to stay home, also suspending schools and international flights.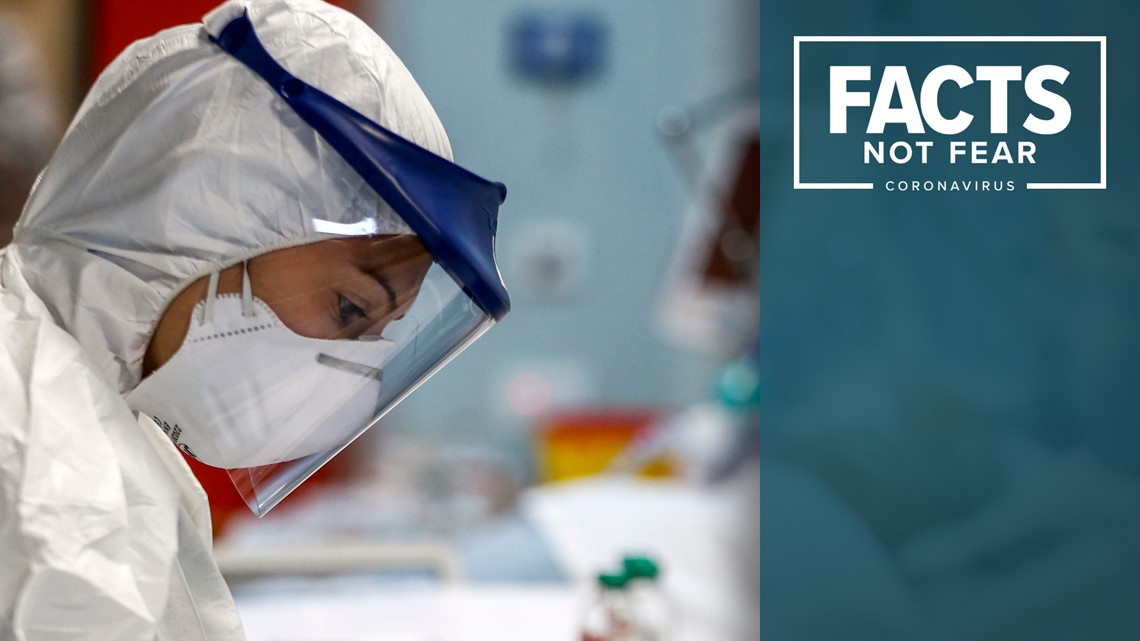 Uber says it has been trying to send disinfectant and masks to some drivers around the world
In a statement on April 9th, ride share service Uber said the company had begun shipping disinfectant spray and ear-loop masks "to active drivers and delivery people around the world."
The company said they've ordered "tens of millions more masks and expect them to arrive in other cities and regions around the world in the coming weeks." With limited supplies and priority being made for healthcare workers, Uber warned that shipments would take time.