AUSTIN, Texas — Editor's note: This blog is no longer active. For the latest updates, check out our new blog here.
KVUE is keeping you updated with the latest coronavirus and COVID-19 news in the Austin area.
Scroll down for the top headlines and latest updates in KVUE's Nov. 19 live blog.
Texas: More than 1 million cases have been reported in the state, and more than 19,800 people in Texas have died, according to the Texas Department of State Health Services.
Central Texas counties:

Travis County: At least 35,616 cases have been reported and at least 473 people have died. At least 32,927 people have recovered from the virus.
Hays County: At least 6,899 confirmed cases have been reported and at least 95 people have died. At least 6,156 people have recovered from the virus.
Williamson County: At least 11,310 cases have been reported in the county and at least 159 people have died. At least 10,556 people have recovered from the virus.
GRAPHS: Coronavirus data Nov. 19
6:35 p.m. – The positivity rate average for the Austin area is at 4.33%. The seven-day average new cases in the Austin metro area is up to 356 per day, up 42% from a week ago and up 132% from a month ago. The daily hospital admissions average is at 33.6 per day.
There have now been 880 deaths from COVID-19 in the Central Texas 12-county KVUE viewing area.
6:25 p.m. – Travis County reported four more deaths from COVID-19 on Thursday along with 290 new confirmed cases, bringing the total to 35,616 cases and 473 deaths since the start of the pandemic. At least 32,927 people have recovered from the virus.
Travis County currently has 213 people hospitalized with COVID-19, with 72 in the ICU and 37 on ventilators.
5:30 p.m. – Hays County reported two more deaths from COVID-19 on Thursday, a Kyle man in his 90s and an Austin man in his 80s. The health department also reported 66 new confirmed cases, four new hospitalizations, two hospital discharges and 32 additional people now considered recovered.
5:10 p.m. – There are 7,982 patients hospitalized with COVID-19 statewide as of Thursday, the most since Aug. 7, up 15% from a week ago and up 85% from a month ago. The state's positivity rate average is at 12.08% – the 13th straight day over 12% and above 10% since Oct. 22.
4:45 p.m. – Texas set a new record for COVID-19 cases on Thursday, with 12,293 new cases reported statewide, for a total of 1,060,883. The seven-day case average is now the highest since July 22, up 27% from a week ago and up 116% from a month ago.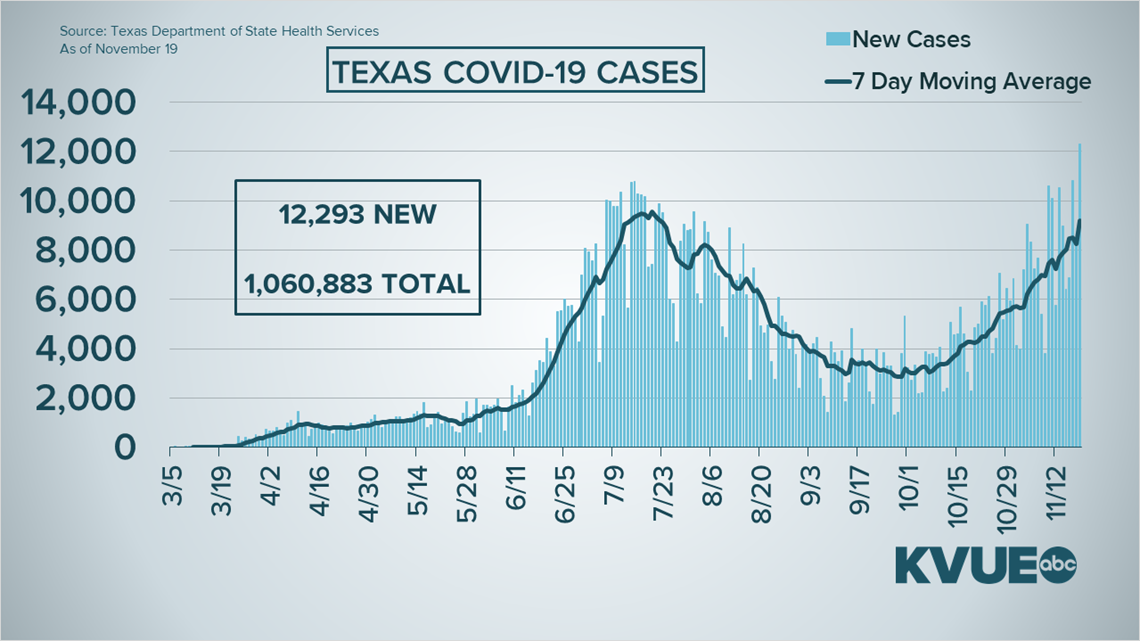 Texas has now surpassed 20,000 deaths from COVID-19, according to the State's data, with 230 new deaths reported on Thursday, bringing the total to 20,113.
4:40 p.m. – Within all three health care systems of Ascension Seton, Baylor Scott & White Health and St. David's HealthCare, currently the 2,473 staffed beds are 79% occupied, and the 483 ICU beds are 85% occupied.
4:15 p.m. – Williamson County has moved to the Red Stage in its coronavirus response, the highest level and one that represents uncontrolled community spread.
Under the Red Phase, residents are advised to stay home and stay safe, avoid or postpone large events, prohibit gatherings and always where a mask when around another person who is not a household contact.
"The increasing transmission rate and movement into the WCCHD Red Phase is a great opportunity to remind people during this Thanksgiving season to wear a mask, wash hands frequently and keep 6 feet of distance from others not in your household," said Williamson County Judge Bill Gravell on Thursday. "While the number of cases has increased, other indicators, such as the hospitalization rate for our region, are below Gov. Abbott's threshold for adopting more stringent guidelines under Executive Order GA-32. Personal protective measures are the best way to keep ourselves and those we care about safe."
3:15 p.m. – Travis County Parks has been operating alongside the risk-based guidelines and announced it would be limiting access to some amenities. All athletic fields, group shelters, picnic tables and barbecue grills are closed in the Travis County Park system. Camping by reservation, operational boat ramps, playgrounds, access to trails and some other amenities will remain open. For a list of open parks, click here.
1:30 p.m. – Thursday night's game between Hendrickson High School and Leander High School will be rescheduled to Monday, Nov. 30, at 7 p.m. because of a positive COVID-19 case among the Anderson High School football program, according to Pflugerville ISD. Hendrickson and Anderson last played each other on Friday, Nov. 13, at The Pfield, forcing the Hendrickson team to quarantine.
Hendrickson's season finale against Pflugerville High School will move to Saturday, Dec. 5, at noon at The Pfield because of UIL rules involving the number of days between games.
The game between Anderson High School and Weiss High School that was scheduled for Wednesday, Nov. 24, will be canceled and will not be rescheduled.
11 a.m. – Austin Public Health announced Austin-Travis County is moving back to Stage 4 of its risk-based guidelines.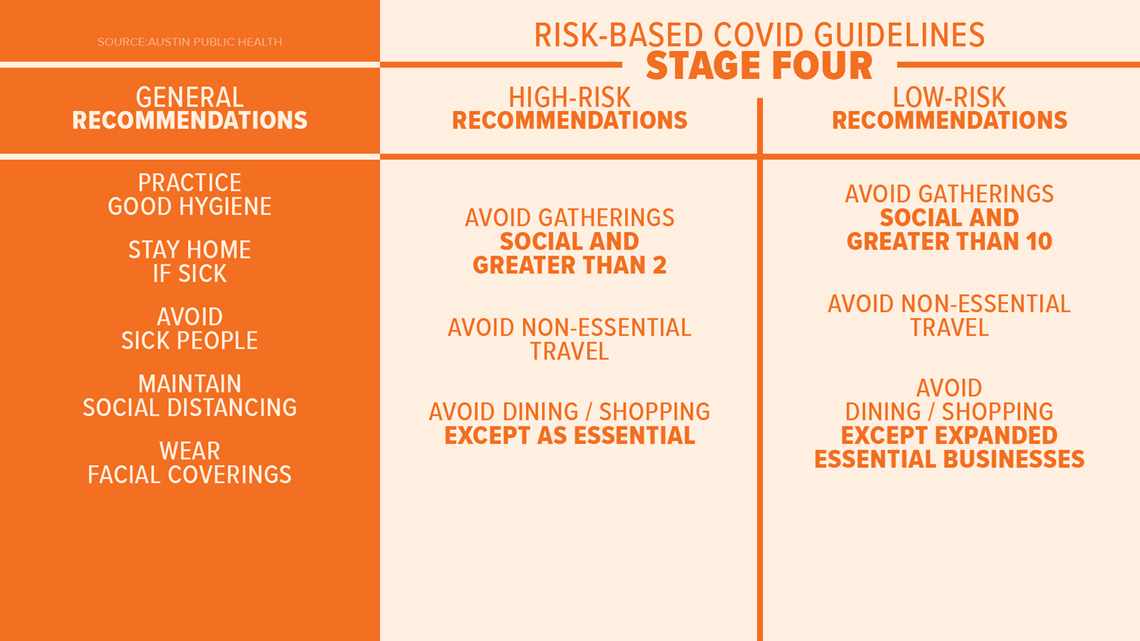 9 a.m. – Austin Mayor Steve Adler and the new Travis County judge will join Austin Public Health in its weekly coronavirus Q&A at 11 a.m.