HOUSTON — Houston Swifties, are you ready?
Initially, the "Bad Blood" singer had only one scheduled tour date in Houston, but her fan base is so strong here that she added two more concerts.
Swift kicked off the first concert of the 52-date Eras Tour on March 17 in Glendale, Arizona. Having not toured since 2018, this series is intended to play catch-up by providing the live debut of many of her songs from her previous three albums.
When Swift announced the tour in November she called it "a journey through the musical eras of my career (past and present!)."
The tour will conclude with two Los Angeles-area shows in August.
Photos: Taylor Swift Eras Tour
NRG Stadium clear bag policy
There is a clear bag policy in place for the NRG Stadium shows.
NRG Stadium parking
Parking rate is $40 per space at the gate. NRG Park does not accept cash.
*Parking rates are subject to change without notice. No in and out access. Electronic or card payment is required at parking gates. This includes credit cards, Apple and Google Pay options.
ADA parking will be available in all lots.
NRG Stadium seating chart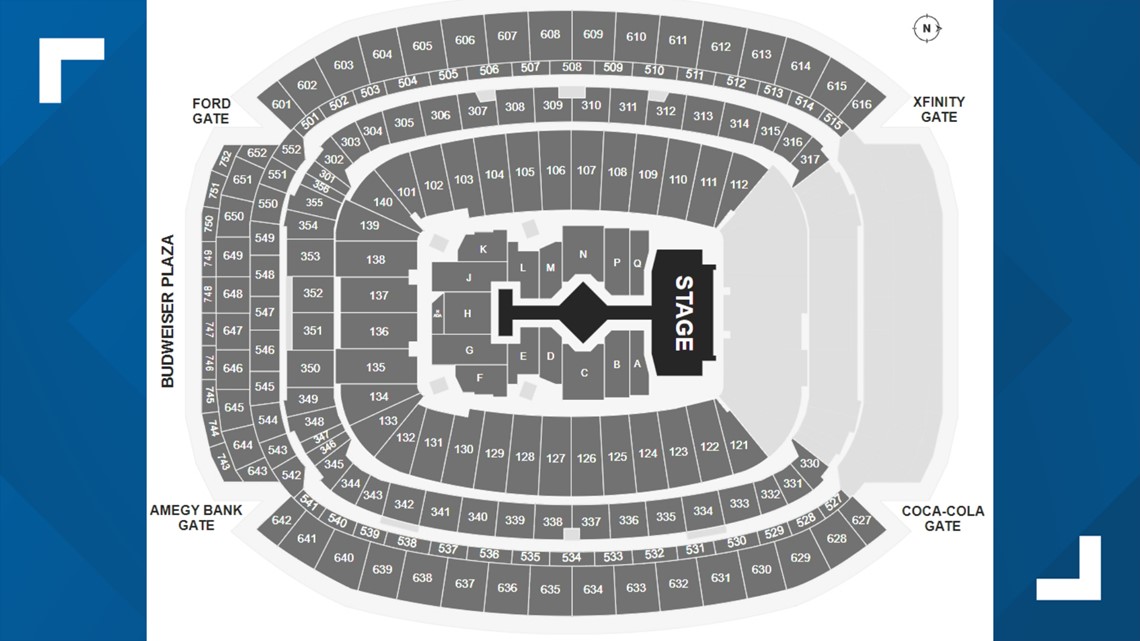 Taylor Swift Ticketmaster controversy
When tickets went on sale last year for Swift's Eras Tour, it caused Ticketmaster's site to crash and left many fans without tickets. Those who did happen to get tickets had to deal with long online queues and error messages along the way.
Then, Ticketmaster said it was canceling its planned general public sale because it didn't haven't enough inventory.
Fans started publicly sharing their outrage and heartache over the fruitless hours they spent trying to get concert tickets. It caught the attention of top legal chiefs in Nevada, Tennessee and Pennsylvania who launched investigations into the fiasco.
Swift vented anger and frustration in a lengthy statement, saying she had been assured by Ticketmaster that they could handle the demand.
"It's really difficult for me to trust an outside entity with these relationships and loyalties, and excruciating for me to just watch mistakes happen with no recourse," Swift said.
Ticketmaster said more than 2 million tickets were sold despite the troubles, setting a new single-day record for artists on the platform, and that only 15% of would-be buyers had issues with the process.
"We want to apologize to Taylor and all of her fans – especially those who had a terrible experience trying to purchase tickets," the company said.
Multiple lawmakers have accused Ticketmaster of abusing its power as the dominant ticket seller for consumers.