According to TEA Commissioner Mike Morath, there will be no immediate changes. However, the TEA will eventually replace Superintendent Millard House II and the current trustees of HISD's board with an appointed board of managers.
Morath said an application process is open now. He'll get the final say on who sits on the board of managers and who will be the next superintendent. It's unclear if any teachers will be let go.
Top related headlines:
Morath says the changes will happen sometime in June.
"It's important to frame this the way the law is structured. I'm not the one leading HISD," Morath told KHOU 11 anchor Len Cannon. "What we're doing under this intervention is we are choosing nine individuals who are Houstonians who will be the board of managers and they will assume all the powers and duties of the elected school board, so it's essentially a shift in local control from the current locally elected board to an appointed board of nine. They then have all of the duties and obligations to govern the school system like any governing body in the State of Texas, so they'll oversee the superintendent. They'll set strategic direction. They'll set a budget. Their job as a team is to be focused like a laser on the needs of students above all else."
House II released the following statement after the TEA's announcement:
"I stepped into my role understanding the obstacles we faced as a district including a looming TEA intervention. My team and I remained focused on building a framework that prioritized a high-quality educational experience supported by world-class talent for all students.
"I am proud to say, in the last 19 months, we have already seen vast improvements. Because of the hard work of our students, teachers, and staff, we have lifted 40 of 50 schools off the D or F TEA accountability ratings list. Together, with our parents, community members and leaders, we developed the district's first comprehensive five-year strategic plan to build a better HISD.
"Today's announcement does not discount the gains we have made district-wide. I am confident our educators and staff will continue to do the necessary work to ensure positive student outcomes at every level. For our students and families, it is education as usual, and the school year continues as normal. As we wrap up this school year, my focus will be on working with our board of trustees and the TEA to ensure a smooth transition without disruption to our core mission of providing an exceptional educational experience for all students."
The HISD Board of Education released the following statement Wednesday afternoon:
"HISD has received official notice that the Texas Education Agency intends to replace Houston ISD's superintendent and elected trustees of the board of education with an appointed superintendent and board of managers in the next few months. The board is reviewing this notice to determine next steps.
"In the meantime, our great schools remain open and committed to providing a meaningful educational experience for all students. The District's top priority is, and will continue to be, student outcomes. The board hopes that TEA has a clear and transparent process for this announced transition that is communicated to the community and the District.
"The Board, in partnership with District Administration, will work with the Commissioner of Education to create a smooth transition for the sake of all HISD students, staff, and families."
The charts below outline the application process for selecting the board of Managers.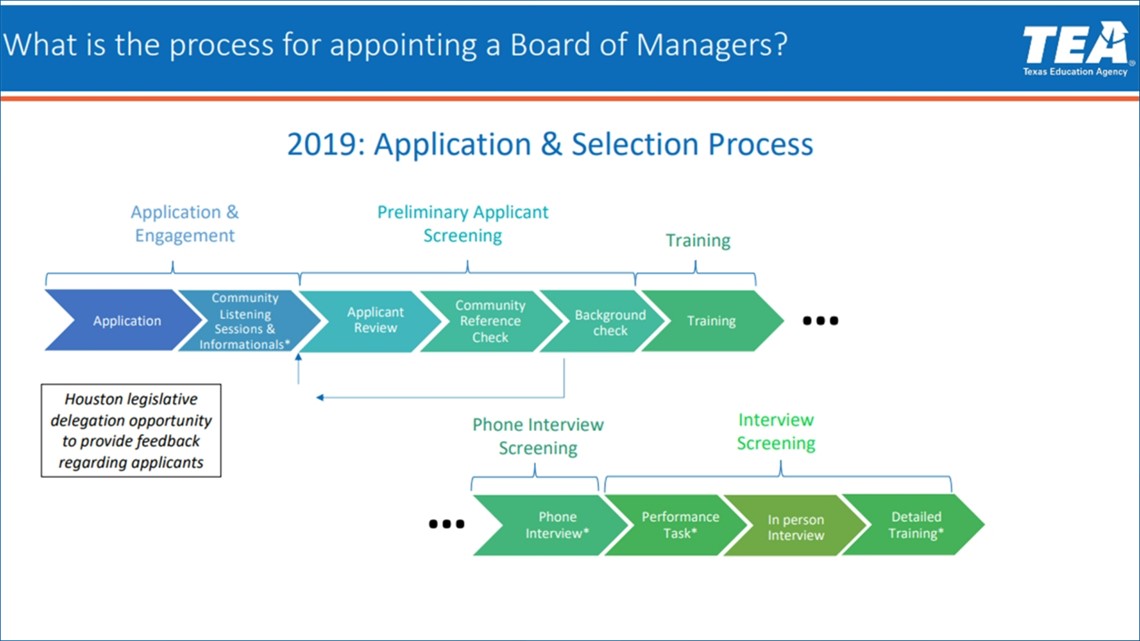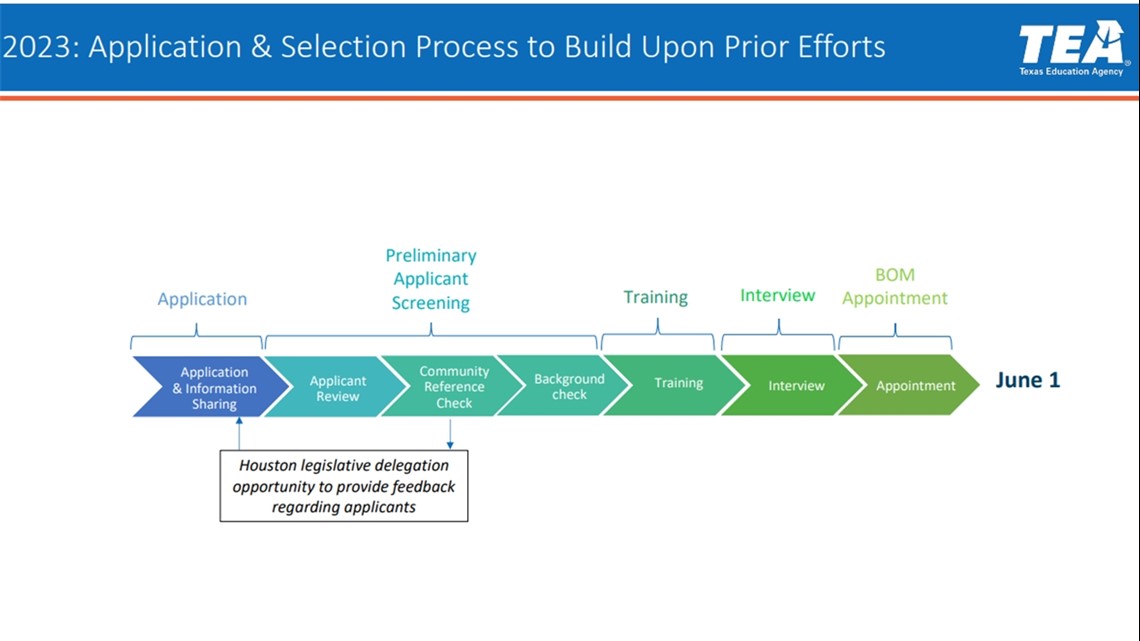 According to Morath, those who serve on the board of managers don't have to have a background in education. Morath said the TEA's goal is to find a diverse set of backgrounds.
"What we are most interested in is people who start with a core belief that our children can learn and achieve at high levels," he said.
Community meetings
The TEA will host a series of community meetings to provide information regarding the board of managers process. Each meeting will begin at 6:30 p.m.
March 21: Westbury High School
March 22: Chavez High School
March 29: Hattie Mae White Educational Support Center
March 30: Kashmere High School
The schools
No schools will close, according to the TEA. Previously, there were concerns that the consistently underperforming Worthing High School might be shut down.
The consistent academic failures at Wheatley High School, as well as alleged misconduct by previous board members, is what led to the takeover. Wheatley has since improved to a C and the current HISD board has new members.
The push for a takeover was interrupted by a court fight between HISD and the TEA until the Texas Supreme Court cleared the way for a takeover in January.
Cannon asked Morath about the concern some parents have about the takeover.
"The fear of the unknown makes people uncomfortable, but what we are doing today is to clarify what is happening," Morath said.
As far as the job of the new board, Morath said it's all about leadership and focus.
"What the governing body is there to do is to set a strategic direction, to create focus to make sure the tone at the top is one of innovation and service toward students above all else, to make sure they can make decisions related to resource allocation within the school system so kids at every school in Houston, not just some schools in Houston, have access to rigorous extracurricular activities, advance coursework, that we can help improve the lives of kids regardless of where they are geographically in Houston," Morath said. "It just takes focused leadership."
Morath said this is a temporary intervention and that, at some point, HISD will return to democratically-elected board members. It's unclear how long the takeover will last.
"It's hard to say with precision," Morath said. "One of the things the law sets up is there's a specific set of criteria that you go through before a return to electoral control. There's a specific timeline that's spelled out in law. A key condition is that whatever circumstances that led to the intervention, those circumstances have got to be remedied."
Morath said for the intervention to end, there should be no more multi-year instances of a campus receiving a D or F rating. He also said special education has to be in compliance and that the procedure of the board should be focused on student outcomes.
Houston Mayor Sylvester Turner has spoken out against the takeover.
"The state is overreaching on this issue," Turner said earlier this month during a council meeting.
HISD is now the 16th school district to be taken over by the TEA since 1991.
Takeover timeline
August 2019
On Aug. 15, 2019, Wheatley High School received its seventh failing grade, meaning it failed to meet the state's academic standards. Days later, lawyers for HISD's school board filed a lawsuit calling the TEA investigation one-sided.
November 2019
December 2019
January 2020
February 2021
The TEA took its appeal to the Texas Supreme Court.
January 2023
March 2023
In a board meeting on March 9, the HISD board voted to end its fight to stop the TEA from taking over the district.
The potential takeover upset many of the voters who elected the district's nine board members. Some of those voters said a takeover would invalidate their votes.