It happened early Saturday morning on the top floor of a parking garage at an apartment complex on East Mossy Oaks, which is near the North Freeway and the Grand Parkway.
Gonzalez said Reddick was trying to help her friend get out of an abusive relationship with Humphrey.
"Here, in this case, her friend basically gave her life trying to help trying to assist and save her own friend, and again, it's just very tragic," Gonzalez said.
Reddick graduated from Prairie View A&M in 2020. She earned a bachelor's degree in interdisciplinary studies. Gonzalez said she went on to become a teacher. Spring ISD said she was an employee at the time of her death.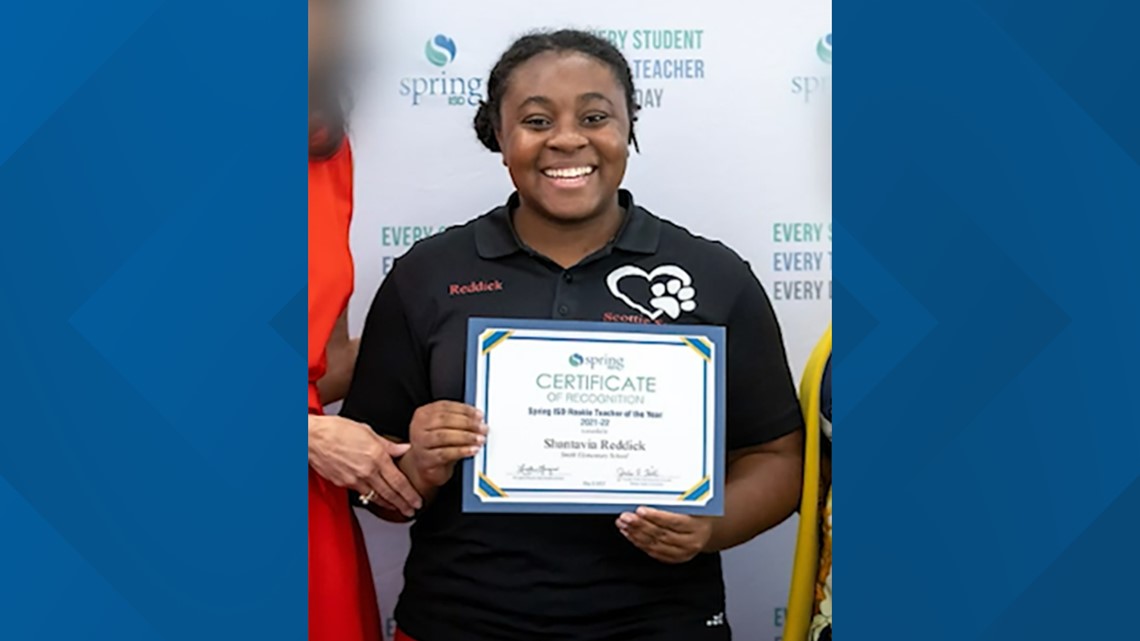 "Spring ISD is deeply saddened about the passing of one of our 3rd-grade teachers, Ms. Shantavia Reddick. Ms. Reddick, who had been with Spring ISD since 2020, was a beloved team member at Smith Elementary School. This is a deep loss for not only Spring ISD but to public education as a whole. Our hearts are with her family at this very difficult time," the district said in a statement.
"Obviously making a huge impact in our community and taken far too soon at only 26 years old," Gonzalez said.
As of Monday afternoon, Humphrey hadn't been caught. Authorities said he's also wanted on unrelated felony warrants.
"He fled in a white Jeep, so at this point, we're just asking the public to please take a look at the photo. If they know his whereabouts, please let us know. They can call Crime Stoppers and remain anonymous. I always like to remind folks not to try to assist or cover up for him in any way. If not, they too can potentially be charged," Gonzalez said.
Investigators said Humphrey left the scene in a white Jeep Wrangler with Texas license plates TFN-4278.
The incident is a tragic reminder that domestic violence situations can be dangerous for anyone involved.
"You know, we always encourage people to seek the help of others, and here, apparently, that was in the works, and this time it turned very tragic so it's just a heartbreaking situation," Gonzalez said.
If you have any information on Humphrey's whereabouts, you're asked to call the Harris County Sheriff's Office at 713-274-9100 or Crime Stoppers at 713-222-TIPS (8477).
Resources for victims of domestic or family violence
Domestic and family violence cases in the Houston area have increased at an alarming rate. Victims often suffer in silence because they feel scared, helpless or ashamed.
If you or someone you know is a victim of domestic violence, here are some discreet ways to reach out for help.