HOUSTON — There were some scary, close calls when police chased a driver who was going the wrong way on I-45, north of Houston, overnight.
The driver was arrested early Thursday in Conroe, and police said they believe he was intoxicated.
The suspect driver was identified by the Harris County District Attorney's Office Thursday afternoon as Danniel Alberto Chavez. He is charged with driving while intoxicated and evading arrest.
It's incredible he did not hit anyone because he was going northbound in the southbound lanes for more than 25 miles. Houston TranStar captured much of the chase on video, with officers on the northbound side of the freeway.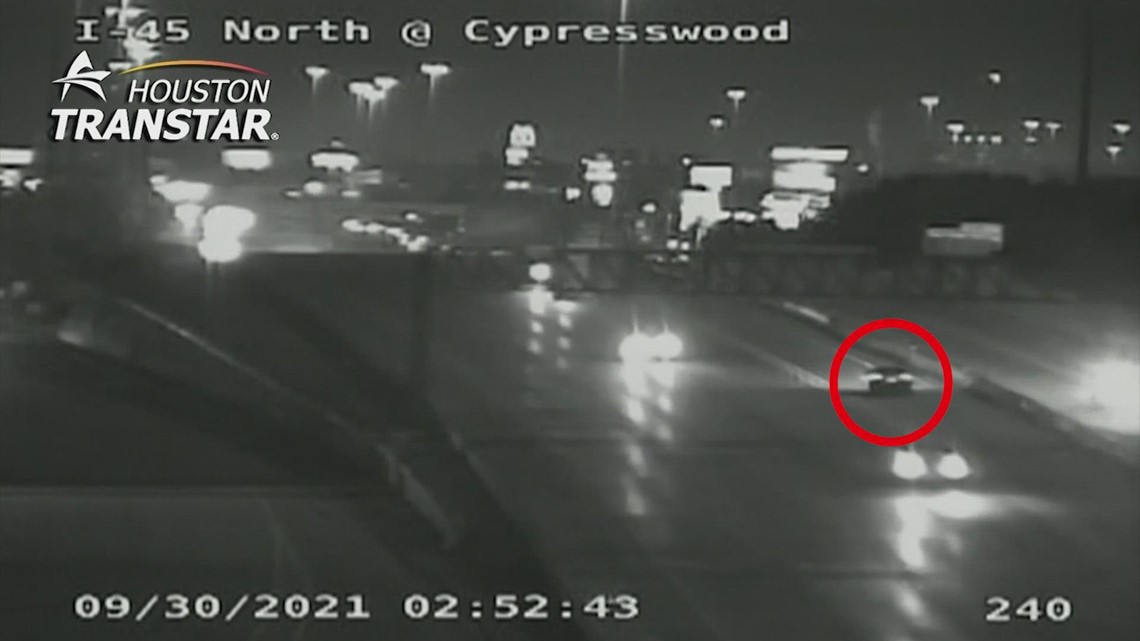 Police said calls about the wrong-way driver began coming in after 2 a.m. Thursday while he was still on the 610 North Loop. Police caught up with him on I-45 near Beltway 8, and that's when several close calls happened.
Officers made several attempts to stop the vehicle, including using roadblocks and spike strips.
Eventually, the man was driving only on rims, and he stopped and surrendered — still on the freeway — in Conroe. Police said he pulled to the shoulder and then fell out of the driver's side window.
He was seen stumbling during a sobriety test before he was arrested.
It's believed he first got onto the freeway after leaving a restaurant in the Galleria area.
Police later said the man appeared to be very confused and did not know where he was. He told them he thought he was on 290, and he also claimed he did not know police were chasing after him.
"He thinks that where was are right now – which is 45 north of Houston, almost in Conroe – he thought he was on 290," HPD Lt. Mark Contreras said.
Multiple agencies assisted in the chase.
Assistant DA Sean Teare, who heads up the Vehicular Crimes Division, considers it extremely fortunate no one in Chavez's path ended up hurt or killed.
"We've all seen the horrific outcomes of wrong way drivers on our freeways," Teare said.
He says part of the investigation will be figuring out if a business over-served Chavez before he entered the freeway.
Similar to other cases where bartenders or businesses have ended up being charged.
"He didn't kill anyone – but, at the end of the day, someone allowed that person to get that intoxicated and get behind the wheel," Teare said.
Mothers Against Drunk Drivers says mostof the responsibility lies with the person doing the drinking.
"We say it again and again and again – if you're going to drink or do drugs, do not get behind the wheel – a designated driver, alternative transportation, or just stay home and do it at home, safely," Julio Zaghi, with MADD Texas, said.
If you see a wrong-way driver on the road
We thought it was important to let you know some things you can do if you encounter a wrong-way driver.
Keep your eye on the horizon in order to see someone coming
Move over to the right as far as you can
Pull over, if possible
Call 911 and report the wrong-way driver
Avoid driving between midnight and 6 a.m. when there's more likely to be drunk drivers on the road.