HOUSTON -- A 3-year-old boy is out of surgery and on the road to recovery after he was shot in the chest at an apartment complex in Sunnyside.
Houston police officers were already at the apartment complex in the 4100 block of Barberry for an unrelated incident Tuesday night when they heard multiple gunshots.
Witnesses say two large groups of men were having a shootout in the courtyard that involved pistols and rifles.
In a nearby apartment, the young boy was watching TV with his grandmother when the gunfire rang out.
Photos: Child shot in Sunnyside apartment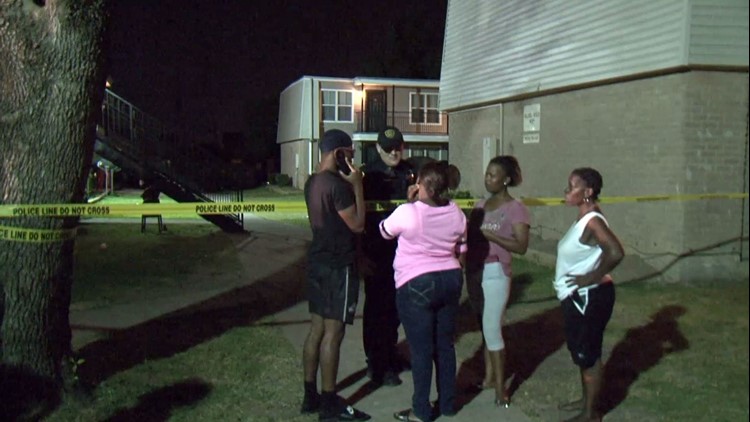 The boy's grandmother tells KHOU 11 News she told her grandson to get down, but he was shot in the stomach when a bullet came into the apartment. She says there was an entry and exit wound on her grandchild.
She said she moved into the second-floor apartment to start a new life after being displaced by Hurricane Harvey.
The grandmother also made a plea for Houston Mayor Sylvester Turner to step in and do something about the crime in her community.
"How many more little kids are going to get shot," she asked. "What do they have to blow their heads completely off their body before anybody pays attention? This is not right. Kids should be able to be in their own home and be comfortable and not jumping on the ground like they're in Beirut."
Mayor Turner, Houston Police Chief Art Acevedo and other city leaders met with the toddler's family Wednesday afternoon.
"If you allow people to come in and out freely at any time of the day and night, I don't care what type of background checks you're doing, you're not gonna make the premises safe." said Turner.
Chief Acevedo praised his gang and tactical units for the quick response to the child.
"The doctors have said if it wasn't for those officers' quick thinking to put pressure on the wound and transport him immediately, he might not have made it." said Acevedo.
Police were able to respond quickly to the shooting, and the child was rushed to the hospital.
Some renters at the complex say violence has been a permanent fixture there for years.
"They call the back over here, 'The Death Zone.'" said one resident. "The lights are shot out, it's dark out there. You don't want to see your child out there, get anything out of the car. We shouldn't feel like that. It's wrong."
There has been no word on possible suspects from police.
Chief Acevedo is urging anyone who knows anything at all about the shooting to call the Houston Police Department. He said callers can stay anonymous and will be protected.