Editor's note: The FBI changed the spelling of the suspect's last name from Oropeza, saying on Twitter, "Going forward, the subject's last name will be spelled "Oropesa" to better reflect his identity in law enforcement systems." We will continue to spell it as Oropeza for the sake of consistency.
On Sunday, the FBI and the San Jacinto County Sheriff's Office admitted that they had zero leads on where Oropeza is. They hoped an $80,000 reward would lead to his capture.
While classes in the area resumed on Monday, roughly 250 law enforcement officers were searching through the area to help find Oropeza.
The Montgomery County Sheriff's Office asked that people remain indoors and avoid the area.
Later Monday, MCSO tweeted saying they got another tip and several campuses were secured while they searched for Oropeza in the area of Crockett Martin and FM 2090.
Around 4:35 p.m., MCSO tweeted saying that they searched the area and didn't find Oropeza.
They said they got a tip about a man who matched the accused killer's description. They said they have no confirmation that it was actually him and said that out of "an abundance of caution," several schools secured their campuses.
Authorities said Caney Creek High School, Moorhead Junior High, Grangerland Intermediate, Milam Elementary, Hope Elementary and Creighton Elementary "secured their campuses and brought everyone indoors." All students and staff members were safe, officials said.
People were asked to avoid the area while crews searched.
New images were released on Sunday of the 38-year-old gunman after the FBI mistakenly sent out the wrong image of Oropeza. They also said he has a prominent tattoo on his forearm and he's considered to be armed and dangerous.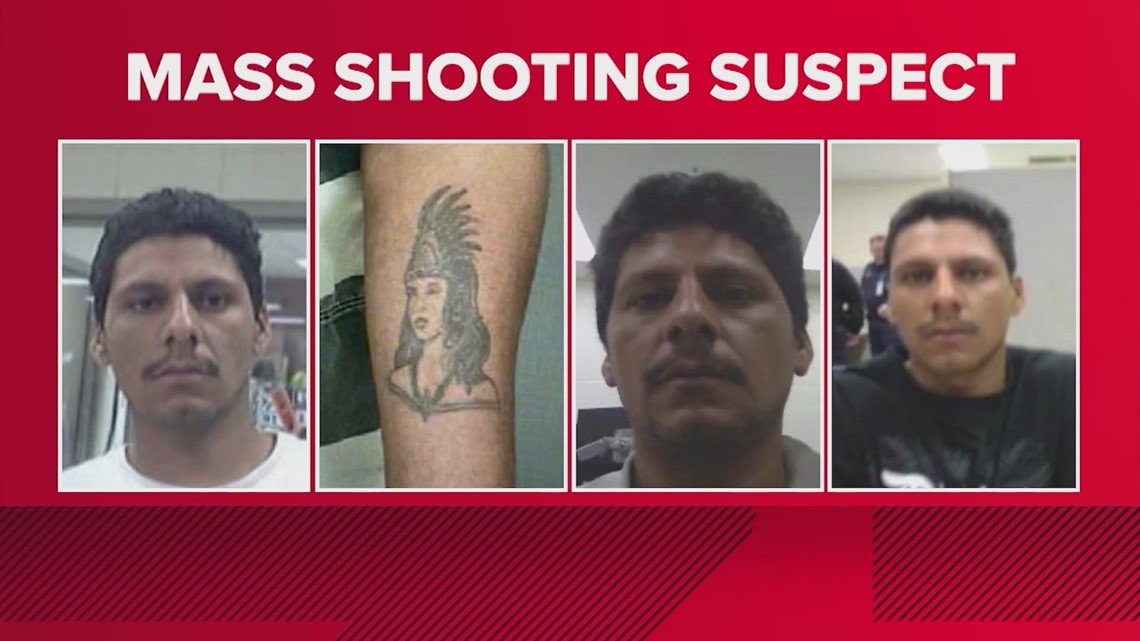 They also said for law enforcement purposes, they would spell his name as "Oropesa" because he has a criminal history under that name.
Who is Francisco Oropeza?
"There's a lot of people here that like to shoot guns," Eric Calderon said. "It was just a matter of time before something like this happens, I guess."
"I can't believe it. It's hard," another neighbor said. "To think about those people dead and their families. More than anything, their families...their babies."
Police recovered the AR-15-style rifle that they said Oropeza used in the shootings. Authorities were not sure if Oropeza was carrying another weapon after others were found in his home.
Who are the victims?
Officials identified the victims Saturday afternoon as the following:
Sonia Guzmán, 28
Diana Velásquez, 21
Obdulia Molina, 31
Jonathan Cáceres, 18
Daniel Enrique Lazo, 9
Editor's note: Officials initially said Daniel was 8. There have been discrepancies in the spelling and ages of the victims. We are using names and ages supplied to us by the Honduran government on Monday, May 1. Previous reporting used spelling and ages supplied earlier in the investigation by the Houston office of the FBI.
Daniel's father, Wilson Garcia, lost his son and wife in the shooting.
"My wife died and so did my 9-year-old son. What can I say, I am trying to stay strong for my children. My daughter kind of understands things. It's hard when she comes to me and starts asking for her mom and her brother," Garcia said.
He was in the house at the time of the shootings but was able to get out when a woman warned him and told him to save himself.
"She told me to throw myself out of the window because my children were already without a mother," Garcia said.
Garcia described the terrifying efforts inside his home by friends and family that night to escape, hide and shield themselves and children after Oropeza walked up to the home and began firing, killing his wife first at the front door.
Cleveland ISD said crisis counseling will be offered as needed.