Francisco Oropeza, 38, did not say much during his magistrate hearing Wednesday. Ellisor said Oropeza spoke through a translator and only said, "I see, I see," after hearing the charges.
"This is an unspeakable murder, unspeakable tragedy, but Mr. Oropeza will be held accountable," Dillon said. "I want to be able to look that family in the eye and say that justice has been done."
San Jacinto County Chief Deputy Tim Kean said Oropeza has been placed in a certain part of the jail that requires him to wear a protective vest to prevent suicide, but he is not suicidal.
Kean said he has been cooperating with their investigation, but doesn't seem to care at all about his arrest.
The arrest of Francisco Oropeza
Authorities said the FBI got a tip about Oropeza's location around 5:15 p.m. Tuesday. They said he was arrested around 6:30 p.m.
Oropeza was being held on a $5 million bond on one count of first-degree felony murder, but that was increased after he went before a magistrate judge and four additional murder charges were added. His bond now totals $7.5 million.
While Oropeza faces five counts of murder, those charges are expected to be upgraded to capital murder following an investigation.
The district attorney's office said they did not have a timeline yet for when Oropeza arrived in Montgomery County or how they got there.
According to authorities, they're exploring charges for those who helped Oropeza hide. It's unclear how many people actually helped him but officials said several people were being questioned.
The unidentified person who called in the tip will receive the $80,000 in reward money.
The DA's Office gave an update on the investigation and those who were arrested:
Wife of Francisco Oropeza charged in his arrest
The wife of Oropeza was one of the people taken into custody in connection with his arrest Tuesday night near Cut and Shoot, Texas, according to the San Jacinto County District Attorney's Office.
She is being held in the Montgomery County jail on a felony charge of hindering the apprehension or prosecution of a known felon, according to online jail records. She is being held on a $250,000 bond.
Nava had previously denied knowledge of Oropeza's whereabouts, Henderson said, but authorities believe she hid him at the relative's home where he was arrested Tuesday night.
Before Oropeza's arrest, the DA's office said they believed Nava was cooperating.
They aren't sure if they are married or if they were common law, but they were living together as husband and wife.
Neighbors relieved Oropeza has been captured
Families in the area tell KHOU 11 News that they are relieved that Oropeza is in custody. Tensions had been running high in San Jacinto County as families were scared he could have come back and hurt more people.
One neighbor even said she had been carrying a gun just in case and wouldn't hesitate to shoot him if he threatened her family.
Authorities said the home where Oropeza had been hiding out is just 20 minutes away from the shooting scene.
Residents there were shocked to learn he'd been in their neighborhood.
"I mean, this is crazy. How he was like so close to me and I had no idea he was a really dangerous guy so it's kind of scary when I found out," Evelyn Echeverria, a neighbor, said.
Meanwhile, the families of the five victims are now in the process of making funeral arrangements for their loved ones.
The community is rallying behind them. KHOU 11 News has learned that there will be a vigil held in the neighborhood on Wednesday.
What we know about the arrest of Francisco Oropeza
"Everybody played a very intricate part in the arrest of this coward," Sheriff Greg Capers said.
He said tips came in from across the country during the search for Oropeza. Capers said the person who reported Oropeza's whereabouts would receive the tip money, which had ballooned to $100,000 earlier in the day.
Officials said Oropeza was arrested without incident at his aunt's home on Summer Hollow Drive, which appears to be in a neighborhood just north of SH 105 and east of Cut and Shoot, Texas.
"He was caught hiding in a closet underneath some laundry. They effectively made the arrest. He is uninjured," Capers said.
Authorities said they had previously searched at the location. They said they're not sure how Oropeza got there.
Capers also had a message for the survivors and families of the victims.
"They can rest easy now, and he will live out his life behind bars," Capers said.
You can watch the full news conference below.
Oropeza had been on the run since the shooting and state and federal law enforcement officials assisted in the search and capture.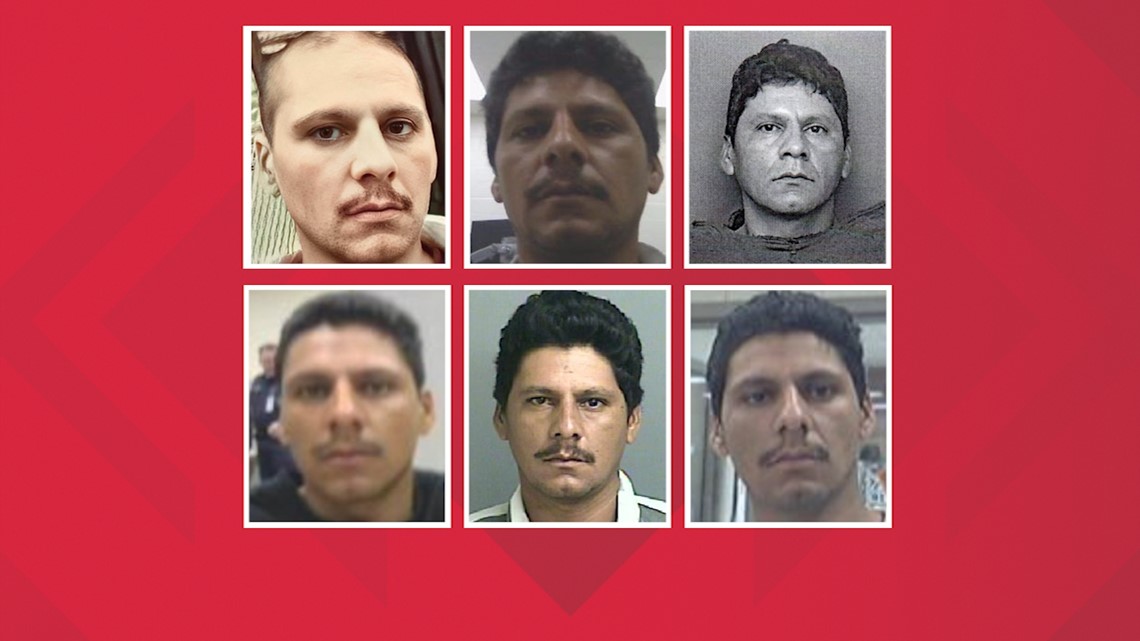 What we know about the victims
Daniel Enrique Lazo, 9
Jonathan Cáceres, 18
Diana Velásquez, 21
Sonia Guzmán, 28
Obdulia Molina, 31
Editor's note: There have been discrepancies in the spelling of the names and the ages of the victims. We are using names and ages supplied by the Honduran government on May 1. Previous reporting used spelling and ages supplied earlier in the investigation by the Houston office of the FBI.
According to investigators, four of the victims were pronounced dead at the scene and 9-year-old Daniel died at an area hospital. Others were found covered in blood inside the home, but none of them were injured, according to authorities.
Oropeza is also accused of killing Cáceres and his girlfriend, Molina. Molina leaves behind two children in the U.S. and two others in Honduras, according to sources. Her family in Honduras said she was a fighter -- a woman with goals.
Oropeza also shot and killed 21-year-old Diana Velásquez, according to officials. She leaves behind her partner and their two kids.
The bodies of the victims will be flown back to Honduras to be buried.