Recie Tisdale still struggles to speak about his mom—the pain and heartache still too much to bear.
But his wife, Jennifer, says what his words can't.
"Grammy lived and breathed helping people," Jennifer said. "If you called her … 'I need something in five minutes,' she was at your house with no strings attached. No gripe. She was going to show up. That's just how she was."
Cynthia Tisdale, known as Grammy to her family, was one of the 10 people killed at Santa Fe High School on May 18, 2018. A gunman entered the school carrying a shotgun and pistol and entered the art class that she was substituting.
On warm April evening at Recie's home, his family gathered around an island in his kitchen with a golden sunset filling the living room. On the island sat a picture of his two daughters smiling next to Grammy's white cross, her name written in black letters.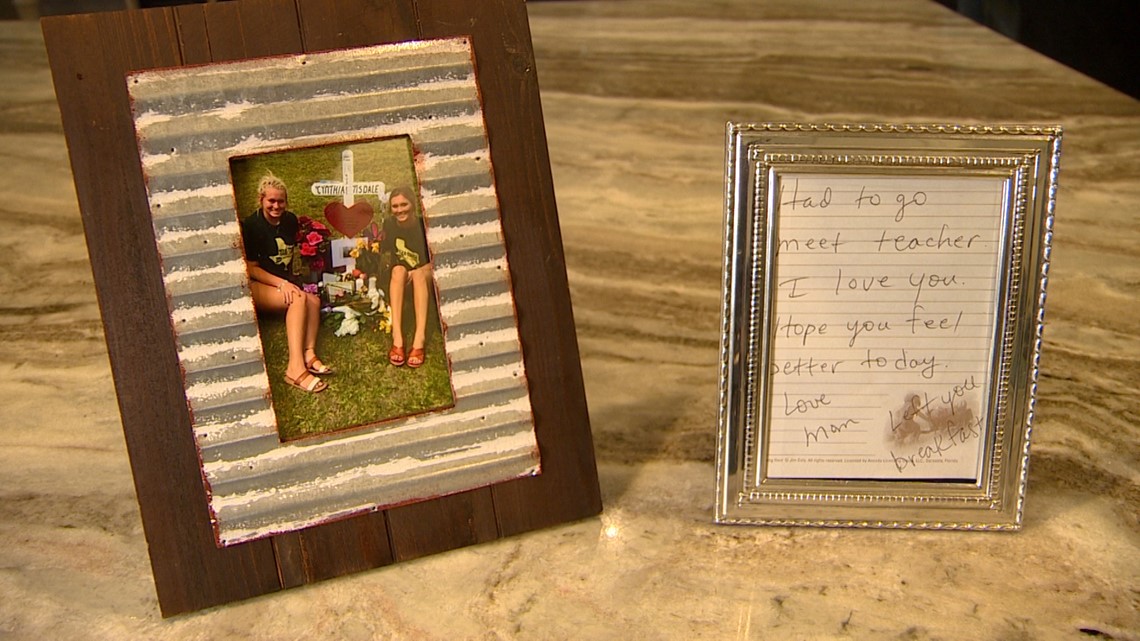 Next to the picture was a framed handwritten note Grammy left for her husband the morning of the shooting. It read, "Had to go meet a teacher. I love you. Hope you feel better today. Left you breakfast. Love mom."
It's been a year since the shooting, and the Tisdale family is still learning to live without their Grammy.
"We have days that are horrible. We have days that are good," said Jennifer, Recie's wife. "There's not a day that goes by that we all don't think about that day."
Recie was off work the day of the shooting. He's a detective with the League City Police Department, and on his off days he builds custom homes. That's likely what he would have done that Friday had it not been for a friend who called him and asked where his daughter was. Bailey was a junior who went to the high school and Recie told him probably at school. But Recie found her in her bedroom that morning.
Dad, she told him, there was a shooting at the school.
Recie grabbed his police gear and made the three-mile drive to the school. At the time, he didn't give any thought that his mom was teaching that day. Recie secured a back door with another officer.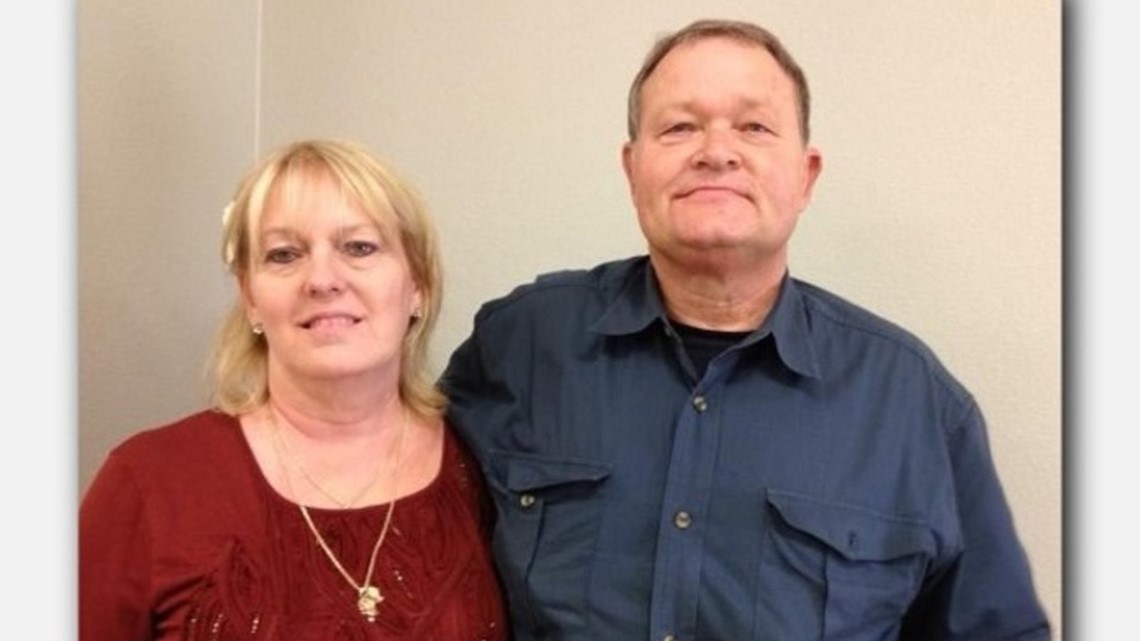 As word of the shooting spread, the Tisdales found it odd they hadn't heard from Grammy. She was typically so responsive and would be the first to let them know she was OK. But their text messages and phone calls went unanswered.
Autumn, Recie's sister, was working with their dad that day. As the hours passed, she grew more concerned, but her dad wouldn't give any thought that his wife might be dead. He wanted to continue working—to keep his mind off it all—but Autumn decided to call it a day.
Dad, she told him, we're going home.
"My dad didn't want to admit that she was gone," Autumn said. "I just knew. She wasn't responding and she always made sure that we knew. … And so to have not heard from her 30 minutes in, I knew—deep down."
William Recie Tisdale, Sr., known as Poppy to his family, and Grammy were married for nearly 47 years. For much of their marriage, he worked as a minister while she stayed home and raised their three kids. A year before the shooting, Poppy was diagnosed with an incurable lung disease and given 12-18 months to live.
Grammy became his full-time caretaker. But despite his diagnosis, he continued to work. So she accepted a substitute teaching job at Santa Fe High School.
Bailey has a picture of Grammy on her phone weeks before the shooting. Grammy was substituting Bailey's English class and was dressed infamous scrub pants and glasses—an outfit that Bailey said made her her.
Grammy was buried on May 25—a week after the shooting—on her 64th birthday.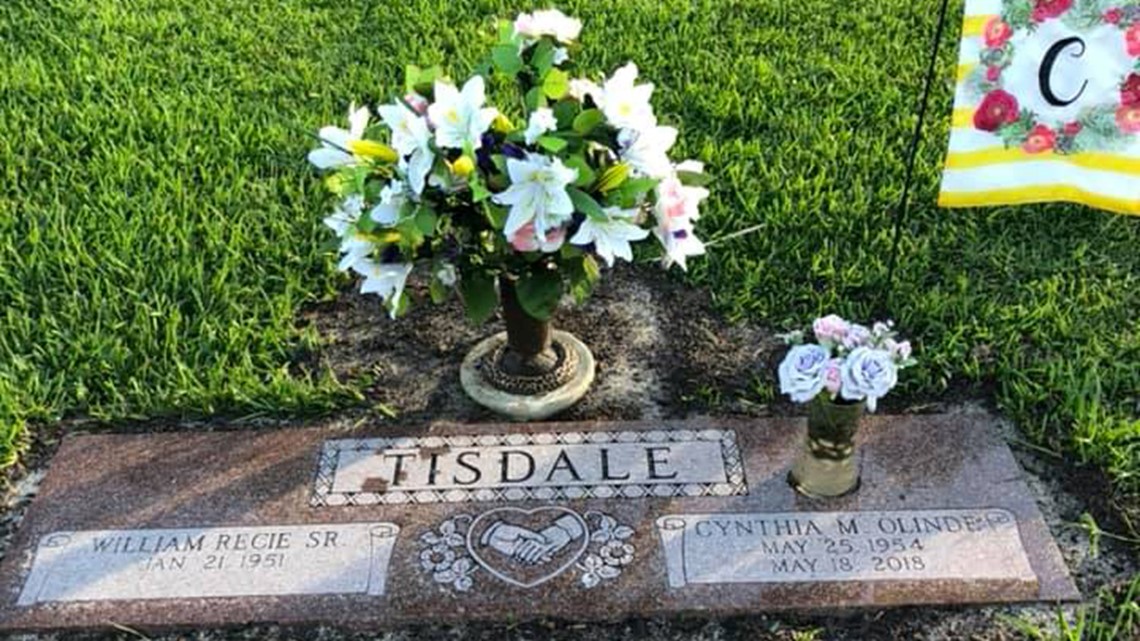 The family didn't get time to mourn her death. They immediately focused on taking care of Poppy: who's making his meals, who's cleaning the house, who's taking him to doctor appointments?
His condition quickly worsened. Although doctors gave him 12-18 months to live, he died five months after the shooting. Recie said his dad lost the will to live.
"So that day killed him, as well," Recie said. "It was pretty much a death sentence for him."
They're all coping in their own way.
Autumn still has conversations with her dad while she's driving for work, or she'll play out conversations with her mom when she needs advice.
Jennifer still looks for Grammy's car that once sat parked out from of the high school every morning.
Bailey, now a senior, walks past the classrooms where Grammy once taught.
"The world needs more Grammys," she said. "You can never have enough Grammys."
Podcast: 'Santa Fe: Life After the Shooting'
A student gunman entered Santa Fe High School on May 18, 2018. He killed 10 people and wounded 13 others, casting this small Texas town into the national spotlight for all the wrong reasons.
Officers John Barnes and Gary Forward were the first two officers to confront the shooter. John nearly died trying to protect hundreds of students.
So little do we hear about the long-lasting effects on the victims' families after a school shooting. This is the window into one family's grief who is still learning to live without the woman they knew as Grammy.
For some students who have had to return to Santa Fe High School, going back hasn't been easy. Walking through the doors of the school serves as a constant reminder of the lives lost, their friends and classmates no longer there.
Unfortunately, there are people out there who know what these Santa Fe families are going through. The principal of Columbine, two moms from Sandy Hook and the father who lost his daughter in a school shooting in Colorado share their experiences of how they continue to remember their loved ones.
For some of these Santa Fe families, they're frustrated and angry. They want more transparency into the shooting investigation, more accountability from politicians. And they've had to fight in hopes of keeping the shooter in prison for the rest of his life.