It's been a whirlwind of a year for Rhonda Hart.
Her daughter, Kimberly Vaughan, was killed in the shooting at Santa Fe High School on May 18, 2018. Rhonda has since moved from Santa Fe—wanting to get away from the posters and t-shirts that carried her daughter's name and the hashtag the community has rallied around: #SantaFeStrong.
She quit her job as a bus driver for the district—frustrated by the fact she was trusted to protect students while, she feels, district leaders couldn't protect her daughter.
She's angry at politicians who flooded the town the day of the shooting and promised changes were coming. Those changes and promises, she said, haven't been kept, and she believes little has been done to protect students and make schools safer.
"I think at the federal level we've made baby steps; at the state level, not so much," she said. "It just feels like nobody cares. I mean, you can't really keep a school shooting in the news cycle in Texas for more than 24-48 hours."
Hart has made it a point to memorize local politicians phone numbers and call them to voice her opinion or there's an important vote. She made national headlines in September 2018 when she confronted Ted Cruz at a campaign rally.
Video from that night shows Hart standing on a chair and shouting at Cruz: "Mr. Cruz, you will not meet with any of those families, but one, the Stone family, as the larger part of the collective group that was there that day. You ignore my phone calls. … And you still have not introduced common sense reform that would save kids' lives."
Cruz responded, saying, "I will point out that I have called you and my office has called you at least four times. I'm more than happy to meet with you at any time."
Hart is the most outspoken of the families, but she's not the only one who's seeking changes.
Flo Rice was a substitute teacher in the gym the day of the shooting. She was shot in both legs, breaking her femur in one and suffering nerve damage in the other. She's undergone multiple surgeries and months of physical therapy since the shooting.
Rice always worried about a school shooting. She said every time she subbed she would look throughout the classroom for furniture to barricade the door and students to help move that furniture.
Rice has taken her fight to Austin. She and her husband have testified before lawmakers and worked with them to craft bills they believe would make a difference, especially those that would protect substitutes.
Those include House bill 17 and Senate bill 11 that would require schools to give substitutes access to classroom phones so they can reach school leaders or police during an emergency.
"You've only got a small window of opportunity where people are listening after this event," Rice said. "We just need to take this opportunity and talk to as many people as we can who will listen and hopefully something will get done."
Photos: Victims of the Santa Fe High School shooting
The day of the shooting, Texas Gov. Greg Abbott said at a news conference, "We need to do more than just pray for the victims and their families. It's time in Texas that we take action, to step up and make sure this tragedy is never repeated ever again in the history of the state."
U.S. Sen. Ted Cruz (R-Texas) said, "There have been too damn many of these."
When asked what could be done to make schools safer, Lt. Gov. Dan Patrick said, "We're going to have to get creative, we're going have to think outside the box."
So, what's been done in the year since the shooting to make schools safer?
Abbott held a series of roundtable discussions with victims' families, survivors, law enforcement and school officials across the state. He released a 40-page report that addresses adding more mental health professionals in schools, as well as training and arming teachers to identify potentially dangerous students. (KHOU 11 Investigates requested an interview with Abbott, but he declined, citing a busy schedule with the Legislature.)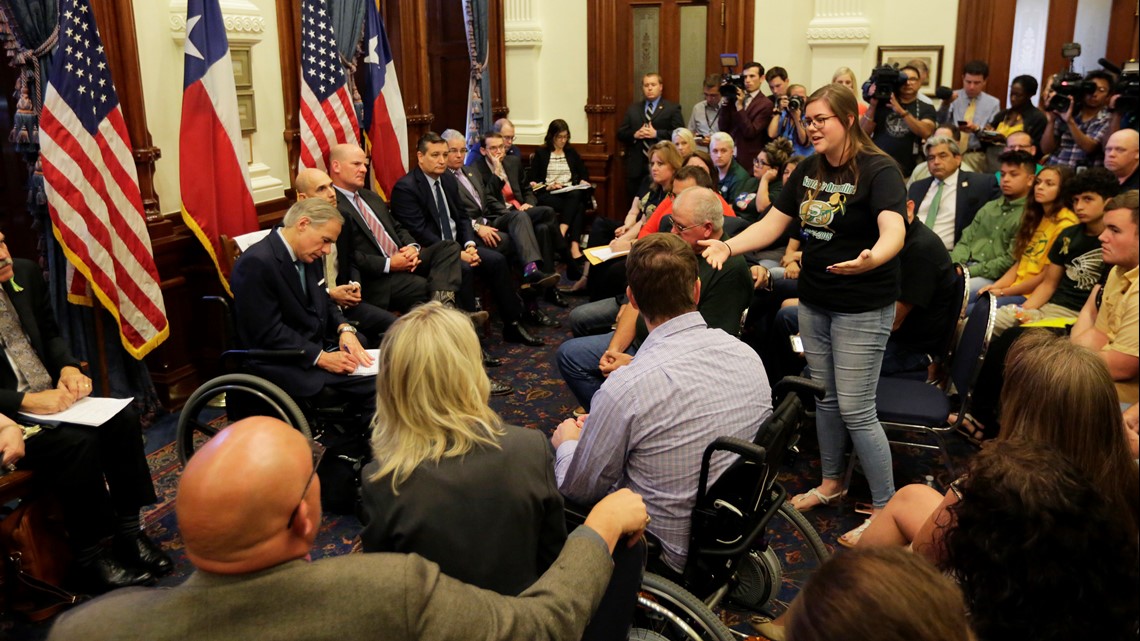 Texas lawmakers are considering bills focused on school safety. Senate bill 10 would designate $100 million towards creating more training in mental health services. Senate bill 11, known as the School Safety bill, covers many of the proposals in Abbott's report.
Patrick said there's money available for schools to improve safety—whether it be retrofitting entrances and exits or adding metal detectors—but the districts have to request the money.
"The money can flow pretty quickly," Patrick said. "It's really up to the school boards and the parents."
Congress has authorized nearly $1 billion for school safety—money that includes adding metal detectors and more police officers. That money will be dispersed in $100 million increments over the next 10 years. Cruz admits it, though, could take years before improvements are made.
"That is going to happen district by district as they apply for these funds," Cruz said. "There is simply a reality that the giant machinery that is government does not move as fast as we would like."
How long could it take: five years, 10 years?
"It should be much faster than that," Cruz said.
The waiting can feel like an eternity for some parents who feel it's only a matter of time before the next shooting.
For the families in Santa Fe, there fights will continue. They don't want to feel their loved ones died for nothing.
For Rhonda Hart, that means continuing to pester politicians and make her voice heard—all in the name of her daughter and keeping her memory alive.
Hart still relishes in the memories she has with Kimberly—her years as a Girl Scout and her love for Harry Potter. Hart often thinks back to a trip they took a month before the shooting. She pulled her son and Kimberly out of school for a week to go to Orlando.
"We did Magic Kingdom, Harry Potter, took a day off, Harry Potter, Animal Kingdom. So four park in five days," Hart said. "I was so tired."
But it's a trip she doesn't regret for a minute.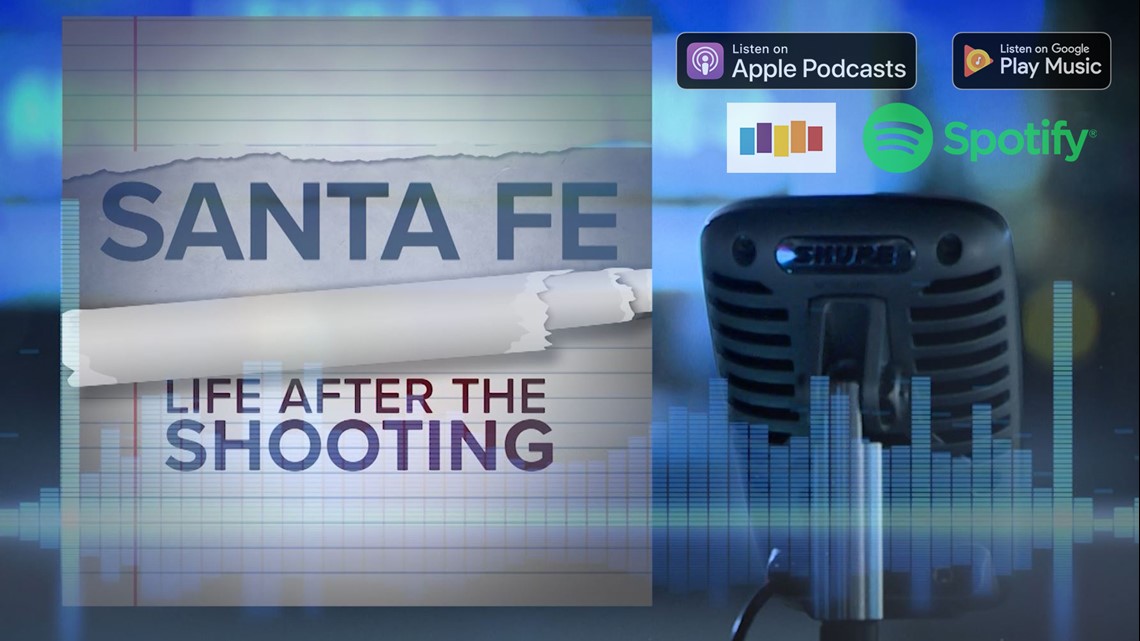 Podcast: 'Santa Fe: Life After the Shooting'
A student gunman entered Santa Fe High School on May 18, 2018. He killed 10 people and wounded 13 others, casting this small Texas town into the national spotlight for all the wrong reasons.
Officers John Barnes and Gary Forward were the first two officers to confront the shooter. John nearly died trying to protect hundreds of students.
So little do we hear about the long-lasting effects on the victims' families after a school shooting. This is the window into one family's grief who is still learning to live without the woman they knew as Grammy.
For some students who have had to return to Santa Fe High School, going back hasn't been easy. Walking through the doors of the school serves as a constant reminder of the lives lost, their friends and classmates no longer there.
Unfortunately, there are people out there who know what these Santa Fe families are going through. The principal of Columbine, two moms from Sandy Hook and the father who lost his daughter in a school shooting in Colorado share their experiences of how they continue to remember their loved ones.
For some of these Santa Fe families, they're frustrated and angry. They want more transparency into the shooting investigation, more accountability from politicians. And they've had to fight in hopes of keeping the shooter in prison for the rest of his life.