That proposed legislation also comes the same week as the one-year mark of the Santa Fe High School shooting. Ten people were killed and 13 others injured when a student gunman walked into the campus on May 18, 2018.
"There have been too many instances of lunatics coming in and targeting our kids," Cruz (R-Texas) said. "We need to invest whatever is necessary to keep our students safe."
During a speech on the Senate floor Wednesday, Cruz said the "unspeakable act of evil" not only shook the Santa Fe community, but Texas and the entire country.
Photos: Victims of the Santa Fe High School shooting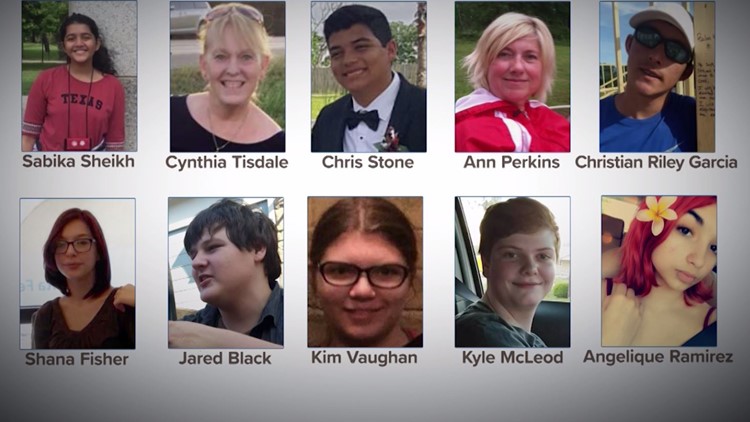 Cruz read the names of the 10 victims—Jared Conard Black, Christian Riley Garcia, Shana Fisher, Aaron Kyle McLeod, Glenda Ann Perkins, Angelique Ramirez, Sabika Sheikh, Christopher Stone, Cynthia Tisdale, and Kimberly Vaughan—before announcing his two bills.
The School Security Enhancement Act would allow school districts to apply for grants that would provide funding for things like metal detectors, bulletproofing doors and windows, and provide more training to school police officers. It also calls for creating a system for sharing information between schools, law enforcement and parents.
"I hope we can join together and pass these bills so that our students are safer and we can do more to prevent future mass shootings," Cruz said.
Cruz also introduced the Protecting Communities and Preserving the Second Amendment Act, which aims to strengthen the nation's criminal background system and provide stronger laws to prosecute felons who try to buy guns.
During his interview with KHOU 11 Investigates, Cruz said that any felon who attempts to buy a gun should be prosecuted and sentenced to federal jail. It's a call he echoed on the Senate floor Wednesday.
"We need to unite together to make our schools safer, to prosecute felons and fugitives before they commit acts of murder, and to do everything to stop this horrific mass shooting epidemic," Cruz said.
Both bills are co-sponsored by Sen. Doug Jones (D-Alabama). Both need to be passed by Congress before becoming law, or before any money is made available.
After the Santa Fe shooting, Congress authorized nearly $1 billion in funding to improving school safety. Almost $100 million will be made available over 10 years to help schools reduce the number of entrances and exits, installing metal detectors and hiring more police officers.
"That was an important first step, but we need to do more," Cruz said.
Podcast: 'Santa Fe: Life After the Shooting'
Reporters Grace White and Matt Keyser returned to Santa Fe a year later. What they found were heartbroken families who are still frustrated by the lack of transparency into the shooting investigation and at politicians, who some say, aren't following through on making schools safer.
In the six-part podcast Santa Fe: Life After the Shooting, White and Keyser share these families' stories of heartache and how those 30 minutes on May 18, 2018 have changed their lives forever.
A student gunman entered Santa Fe High School on May 18, 2018. He killed 10 people and wounded 13 others, casting this small Texas town into the national spotlight for all the wrong reasons.
Officers John Barnes and Gary Forward were the first two officers to confront the shooter. John nearly died trying to protect hundreds of students.
So little do we hear about the long-lasting effects on the victims' families after a school shooting. This is the window into one family's grief who is still learning to live without the woman they knew as Grammy.
For some students who have had to return to Santa Fe High School, going back hasn't been easy. Walking through the doors of the school serves as a constant reminder of the lives lost, their friends and classmates no longer there.
Unfortunately, there are people out there who know what these Santa Fe families are going through. The principal of Columbine, two moms from Sandy Hook and the father who lost his daughter in a school shooting in Colorado share their experiences of how they continue to remember their loved ones.
For some of these Santa Fe families, they're frustrated and angry. They want more transparency into the shooting investigation, more accountability from politicians. And they've had to fight in hopes of keeping the shooter in prison for the rest of his life.