A mistrial was declared after the jury deadlocked in deliberations over Terry Thompson's murder case Saturday.
Harris County prosecutors say they are unsure of how they will proceed with the case. But Assistant District Attorney Jules Johnson said he does not get the impression state's witnesses would be unwilling to testify again in a retrial.
Jurors resumed deliberations Saturday morning at 10 a.m. after being dismissed by Judge Kelli Johnson just before 10 p.m. Friday.
They deliberated for more than 29 hours but could not reach a decision.
Thompson is accused of strangling 24-year-old John Hernandez outside of the restaurant after 11 p.m. on May 28, 2017 after Thompson witnessed him urinating behind his truck.
Thompson faced up to life in prison if he was convicted of murder.
The judge ordered the jury to consider the charges of murder, manslaughter and criminally negligent homicide when deciding the fate of Thompson.
Thompson and Hernandez were painted very differently by the state and defense during closing arguments on Thursday.
The state called Thompson a man filled with violent rage who disregarded all care for Hernandez's life, while the defense said Hernandez was an intoxicated man who resorted to anger when he was drunk.
Hernandez's toxicology results showed he had a .204 blood-alcohol content, nearly three times the legal limit.
During closing arguments, prosecutor Jules Johnson—no relation to Judge Kelli Johnson—said Hernandez, while drunk, wanted a peaceful dinner with his wife and then 3-year-old daughter. Instead, Jules Johnson said, an angry man attacked Hernandez before he could walk inside the restaurant.
Jules Johnson cited Thompson's statement to police that night in which he told the officer, "I put (Hernandez) in a chokehold."
"What do you think he intends when you put him in a chokehold?" Jules Johnson asked the jury. "That he was going to come out OK?"
He told jurors that Thompson didn't tell police that night that he feared for his life or thought he was going to die. Instead, the prosecutor said the night was a tale of two fights: the fight of Terry Thompson against John Hernandez and Hernandez's fight for his life.
The state showed photos of Hernandez and Thompson taken that night side by side for the jury. Hernandez was shown unconscious in the hospital with a neck brace and connected to various tubes, while Thompson was shown with two black eyes.
WATCH: Closing arguments begin in Terry Thompson trial
Through six days of testimony, the state has said that Hernandez wasn't fighting or resisting against Thompson as the defense has claimed; rather, he was fighting to breath, fighting Thompson's chokehold to survive.
The state has pointed to witness testimony to validate their claim.
Prosecutor Patrick Stayton played 911 audio from Mercedes Romero, the Denny's manager working that night, who told dispatch that if officers didn't hurry, Hernandez was going to die.
Melissa Trammell, the waitress who served Hernandez and his family that evening, earlier testified she told Thompson to get off Hernandez, but instead Thompson looked at her and said, "He hit me first. Look at my eye. He hit me first"
Stayton asked why Thompson didn't react the way Brian Wise did to Hernandez. Wise testified that Hernandez threatened a fight and that he had a gun as Wise got in his truck. Stayton said rather than resorting to anger like Thompson, Wise drove away and called 911.
Stayton asked the jury to return one verdict: guilty.
"The punishment for urinating in a parking lot or punching someone in the face one time is not public execution," Stayton told the jury.
Defense attorney Scot Courtney said the case against Thompson is clear: not guilty.
Courtney presented his closing arguments Thursday after resting for the defense without calling any witnesses. Courtney said Thompson was defending himself from Hernandez, who was the aggressor because Hernandez initially got in Thompson's face and hit him in his left eye.
Courtney said Thompson pulled into the Denny's parking lot with his teenage daughter and her two friends when he saw Hernandez urinating behind his truck in the parking lot. Courtney said Thompson shouted at him, causing Hernandez to confront him at the entrance of the Denny's.
Those next approximate 15 minutes have been the heart of the state's case. Prosecutors have said that Thompson was in a fit of violent rage as he pinned Hernandez to the ground, placing him in a chokehold and cutting off his oxygen supply as he fought for his life.
The defense has said that Hernandez was fighting Thompson the entire time—resisting and ignoring Thompson's demands that if he stopped fighting, Thompson would let him go.
Courtney pointed to Hernandez's violent history when he was drunk. He referred to a 2017 domestic dispute between Hernandez and his common-law wife, Maria Toral, where Toral called police one evening because Hernandez head-butted and choked her.
"When John drank, he wasn't himself," Toral testified during trial. "I did have moments when I wanted to walk away. I just wanted this report because there were times that I wanted to walk away."
Courtney used a PowerPoint slideshow during his closing arguments that included running through a list of the state's witnesses who either testified they didn't think Thompson was attempting to hurt Hernandez or that he wasn't in a fit of violent rage that prosecutors said he was.
Courtney showed a picture of Thompson's face taken from cellphone video that captured the fight.
Courtney said Thompson didn't look like a man filled with rage looking to kill a man, but instead a man who looked scared and someone looking for help. Stayton said the photo only showed a fraction of the fight and not when Thompson tightened his arm across Hernandez's neck.
Courtney also posed the question to the jury: What happens if Thompson had let Hernandez up?
"Does he continue to fight Terry Thompson?" Courtney said. "Maybe we're here for Mr. Hernandez's trial."
During closing arguments, Thompson—dressed in a gray suit and shirt with a blue tie—sat solemnly next to Courtney, hardly moving in his black leather chair.
Family and friends of Hernandez, including Toral and his mother and father, filled the right side of the courtroom behind the prosecutors Thursday to show their support for their fallen loved one.
Courtney, appearing to see the support for Hernandez, addressed the family in his closing remarks.
"I feel for the family," Courtney told the jury. "When you lose somebody, it's tragic. But it's not an eye-for-an-eye world."
On Wednesday, prosecutors finished presenting their case and Thompson's defense team rested without calling any witnesses.
During Wednesday's testimony, jurors heard from Romero, who was working the night of the fight and more testimony from an expert in strangulation.
Romero told jurors that she noticed Hernandez was intoxicated when he walked inside the restaurant with his family, but he wasn't disruptive. She said Hernandez was sweating and swaying. Minutes later, Romero said, she saw Hernandez walk outside and that she followed his wife out the front doors.
That's when, she told the jury, she saw Thompson sitting on top of Hernandez's stomach and hitting Hernandez repeatedly in the face. She told jurors that's when she got scared.
"It got very ugly and I've never seen something like that," she testified. "I had a feeling one was going to get killed."
Romero said she told Thompson to let Hernandez go, but he said, "No, (Hernandez) punched me first." She said Thompson was red with "anger in his eyes."
Romero told the jury she asked two employees who were sitting inside to try and pull Thompson off, though they were unable.
She called 911.
When she went back outside, Romero told jurors that she saw Hernandez on his stomach with Thompson on his back and that Thompson had him in a chokehold. She testified that Hernandez was making choking noises and he was kicking his feet and attempting to pull Thompson's arm away from his throat.
As he's done with all the prosecution's witnesses, Courtney worked to poke holes in Romero's testimony. He cited statements she gave police that night that she only saw Hernandez on his belly and that Thompson kept "hitting, hitting, hitting and never stopped."
Courtney read Romero's statement back to her in which she told police, "I remember him hitting him until he turned purple."
Romero later testified, "That is not correct."
Photos: Terry, Chauna Thompson indicted for murder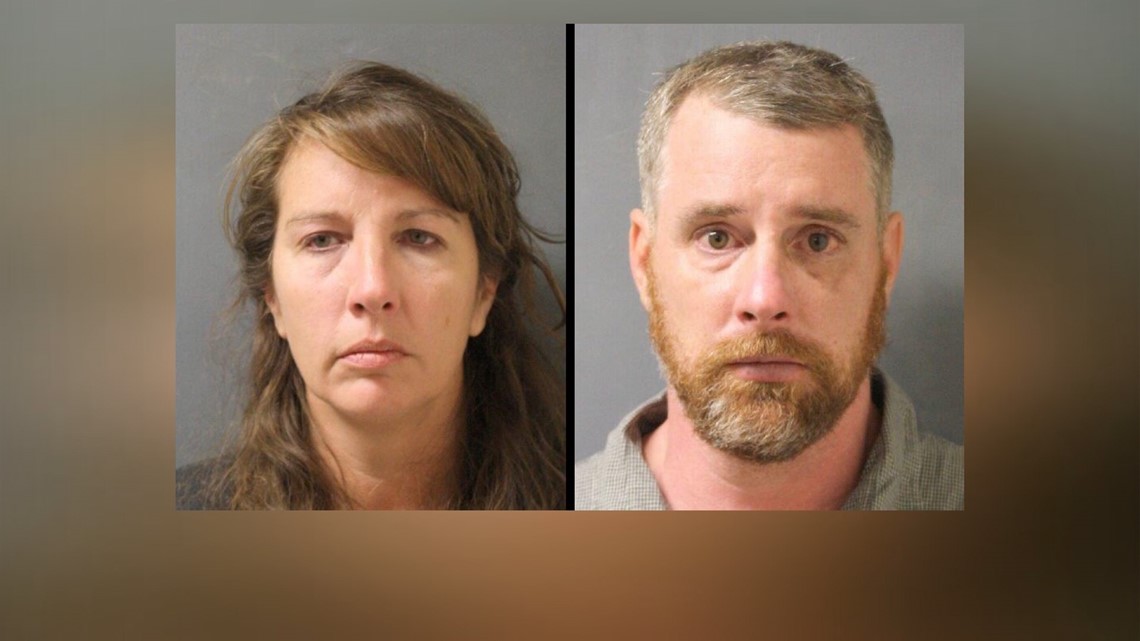 Photos: Terry, Chauna Thompson indicted for murder
Courtney took Romero through surveillance video from Denny's that showed her initially walking outside and her subsequent visits outside. Courtney wanted to know when Hernandez ended up on his stomach, when did Thompson stop hitting him, when did she know that Hernandez was no longer breathing?
Romero said she didn't know because she was in and out of the restaurant because it was too noisy outside and she couldn't hear the 911 operator. She testified that others were yelling for Thompson to stop.
Did the event seem like it lasted a long time when it happened? Courtney asked.
Yes, it felt like it was a long time, Romero said.
And now? Courtney said.
Right now it doesn't look like it took that long. But at the moment it felt like the cops took forever to get there, Romero said.
And it makes it difficult to remember what's going on? Courtney asked.
Yes, Romero said.
READ: Servers testify, Thompson interview played during Denny's murder trial
READ: Eyewitness testifies in trial for choking death outside Denny's
READ: Trial begins for man accused in choking death outside Denny's
On Wednesday, prosecutors also played the 911 tape from Chauna Thompson, Terry's wife and former Harris County Sheriff's deputy.
In the call, Chauna Thompson told dispatch that two men were injured and fighting.
"Can you tell them to step it up," she told dispatch referring to law enforcement.
She later told dispatch, "Now one of them is unresponsive."
The jury heard more testimony from Dr. William Smock, who testified for hours Tuesday and, at one point, demonstrated martial arts moves on a life-size dummy.
The forensic medical expert identified the physical hold Terry Thompson had on John Hernandez on May 28, 2017 as a "lateral vascular neck restriction" (LVNR). Smock also said the restriction is known as the "sleeper hold" or "chokehold."
The medical expert testified serious bodily injury could result in "as little as six seconds" from this action.
Courtney, Thompson's attorney, questioned Smock on his knowledge of Texas strangulation laws.
Courtney asked Smock if he was aware restricting the normal flow of air to an individual (other than a family member) is only considered a Class C misdemeanor in Texas.
The witness was shown out-of-state video clips that showed LVNR training for law enforcement officers.
Smock maintained the technique causes serious bodily injury and carries with it a "substantial risk of death."
Smock testified he lives Louisville, Kentucky, and is the police surgeon for the Louisville Police Department. He said he is a strangulation expert and teaches courses throughout the country for the Strangulation Institute, which he says teaches law enforcement, prosecutors and defense attorneys about strangulation.
The medical expert said he was first contacted by Harris County prosecutors to consult on the case last month.
Smock said he is paid $300 per hour ($2,400 per day) by Harris County plus travel expenses for his expert consultation and testimony on the case.
Follow Matt Doughtery and Matt Keyser on Twitter