HOUSTON – Police sources have identified the suspect in Sunday's deadly west Houston shooting as Dionisio Garza III.
According to police sources, the suspect previously served in the military and served several tours of duty overseas. Sources also said he had recently expressed anti-government sentiments.
A second man identified as Byron Wilson is no longer a suspect and was in fact a Good Samaritan trying to help in the shooting.
The Good Samaritan was shot by the suspect as he tried to help and fight back. Wilson was critically injured, but he is expected to survive.
In total, two people were killed, including the suspect, and six others were injured.
The medical examiner on Monday identified the second deceased victim in the shooting as Eugene Linscomb.
One of the survivors was saved in part by a 17-year-old Boy Scout.
Nick Latiolais was driving with his mom to a doctor's appointment when he saw a group of people surrounding a man lying on the road.
"He was in like, a lot of pain," Latiolais said. "He was screaming a lot."
Latiolais pulled his car over and ran to help.
"He was just saying, 'Help me! Help me!' and he was grabbing his leg and I saw some blood around one of his legs." he explained.
The man was one of the seven innocent gunshot victims. Latiolais rendered aid as the shooting rampage was underway.
"I never heard any gunshots but I had a lot of adrenaline going to my body, I guess. It was pretty scary when I realized that there was still some guy running around with a gun." he said.
The teen used the victim's vest to help stop the bleeding and tried to keep him calm.
"I just made sure I told him you know, 'you're doing great. Help is on the way. It looks like you're going to be all right.'"
Latiolais described the victim as a man in his mid 20s who had moved to the United States from South America last year.
Latiolais credits his quick thinking to his six years as a Boy Scout.
Houston Police were back on the scene Monday morning to check out a bag found nearby. They believe it was detonated by SWAT Sunday night and left behind right next to this gas station that erupted in flames during the gunfire.
Officers said the bag, which contained ammo and documents, may belong the suspect.
HPD back at Memorial shooting scene to check out bag detonated by SWAT & left behind w/ ammo, birth cert. #khou11 pic.twitter.com/5pZMShIToZ

— Drew Karedes (@DrewKaredesKHOU) May 30, 2016
As to why it was left there? It is not yet known, and is still one of the many questions still looming.
Many neighbors passing through the area to pay their respects on Monday are baffled as to why this happened.
One neighbor called the act of violence "sickening." They left flowers and a balloon near the spot where Linscomb was killed while getting his car washed.
Neighbor leaves balloon, flowers near spot where man killed waiting for carwash. Calls violence "sickening" #khou11 pic.twitter.com/Uqi6CQIQKF

— Drew Karedes (@DrewKaredesKHOU) May 30, 2016
"This man was here getting his car detailed and somebody decided that wasn't good enough and his life wasn't worth what it is," said Adam Binder.
The man who owns Memorial Auto and Tire where the victim was killed, assessed the damage on Monday.
His business is riddled with bullet holes.
He said the victim comes through the car wash regularly.
"Couldn't believe it…just coming to get his car washed and get his head blown off," said William McDaniel, owner of Memorial Auto and Tire.
There were more than 185 shots fired, including five at HPD's chopper and a number of shots at the vehicles of responding officers.
Photos: 2 dead after active shooting situation in west Houston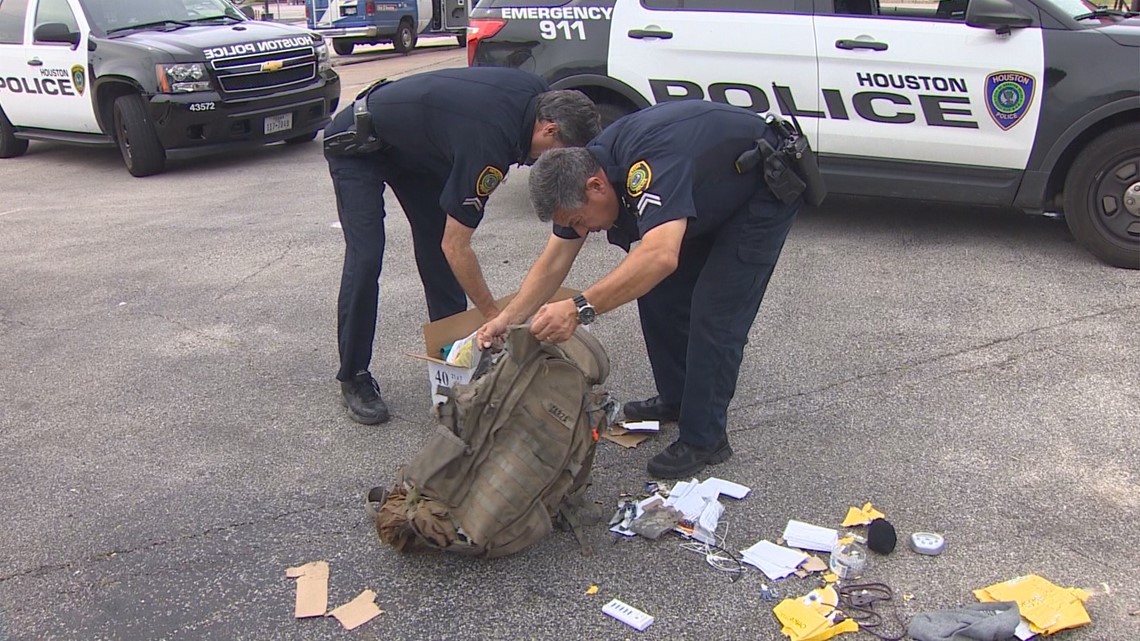 It all allegedly started when Garza, armed with an AR-15 and a pistol, began spraying shots at random around 10:15 a.m. Sunday.
He was eventually killed by a SWAT officer, but not before harming others.
KHOU 11 News spoke with a man, who said stray bullets missed his head by inches after piercing his truck.
"They (HPD) came by and said the bullet missed my head 4 to 6 inches," said Johnny Hunnicutt. "The police officer came down and drove right into the gunfire can you imagine how brave those guys are."
We also spoke with a family who hunkered down in the bathroom of their home with their two young children for nearly an hour.
"I was feeding them pancakes…I heard three shots. I said those are gunshots," said Stephen Dittoe who lives in the neighborhood.
Two deputy constables who were wounded have been treated and released from local hospitals.
The three innocent bystanders who were wounded remain in the hospital, including a woman by the name Denise Slaughter who was hit multiple times while driving to brunch with her partner.
A family friend said Slaughter is in stable condition.