Father Manuel La Rosa-Lopez, 60, is charged with four counts of indecency with a child.
The priest was silent as he was escorted from the Montgomery County Jail to a vehicle. He was not seen returning to his living quarters on the property of Saint John Fisher Church in Richmond.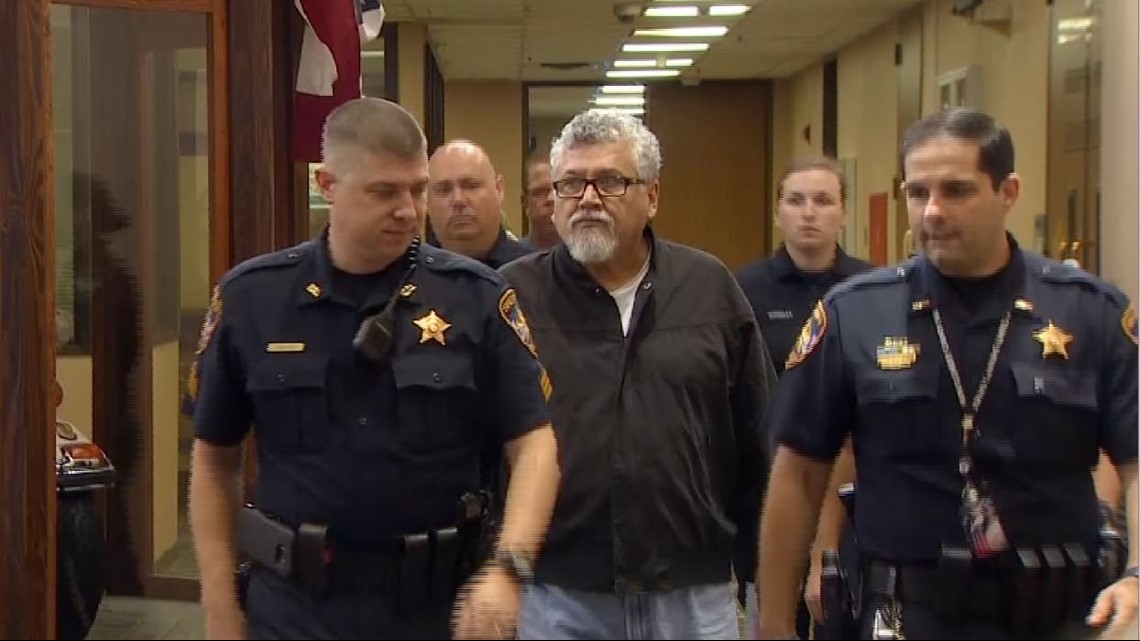 Leaders from the Archdiocese of Galveston-Houston met at the church Thursday afternoon to discuss its next steps, according to a member.
One alleged victim claims she was abused by the priest in 2000 when she was a young teenager.
She says she believed she was in a relationship with La Rosa-Lopez, who allegedly told her after confession one day, "I'm waiting until you are 16 so I can [expletive] you."
The woman told Conroe Police the priest fondled her bare breasts and kissed her.
The alleged victim's father learned about the incidents with La Rosa-Lopez after reading the accounts written in his daughter's diary, according to police.
Police say the woman claims her father reported the alleged abuse to the church but moved out of the country soon after that.
Police say she was told at the meeting La Rosa-Lopez was sent to a mental institution and then put on administrative duty, away from children.
She filed an official report with Conroe Police in August after seeing the alleged "duplicity" expressed by Cardinal Dinardo in response to the massive sexual abuse allegations reported in Pennsylvania this summer.
The second alleged victim told police he met with Cardinal Dinardo in August after he reported sexual abuse allegations to the archdiocese for the first time.
The alleged victim, now 36, claims he was abused by La Rosa-Lopez from 1998 to 2001.
Police say the man claimed he was a young teenager when La Rosa-Lopez allegedly abused him, making him look at nude photos of other men from the priest's seminary, while fondling and penetrating the boy.
He claims he was flown in from his east-coast home to Houston by the archdiocese to meet with Cardinal Dinardo in August, before he made a report with police.
The archdiocese maintained in a statement released Wednesday that both accusations were reported to child protective services, but did not indicate why the allegations were never taken to law enforcement agencies.
Conroe Police say they have not been able to find any record these reports were made to CPS.
The archdiocese did not mention any meetings took place between Cardinal Dinardo and the alleged victims.
The archdiocese did not respond to KHOU 11's request for an interview Thursday.
La Rosa-Lopez has been removed as a priest of St. John Fisher Church, according to the archdiocese's Wednesday press release.