HOUSTON — Houston police have named a suspect in the shocking murder of a prominent Houston cardiologist.
Joseph James Pappas II, 62, is the son of a woman who was treated by the victim, Dr. Mark Hausknecht. She died during surgery more than two decades ago.
"So it appears that this may be a 20-year-old grudge," said Houston Police Chief Art Acevedo.
Carter, Lisa
Homicide detectives went to the suspect's house in the Westbury area of southwest Houston Tuesday night after receiving several tips that led them to Pappas.
Pappas wasn't home but detectives found other evidence linking him to the crime, according to the chief.
RELATED: Pappas is former law enforcement officer
Pappas is wanted for murder and is considered armed and dangerous," Acevedo said.
Police believe he has more than one weapon.
He believes Pappas had been planning the murder for quite some time.
"There was a lot of planning and, sadly, some skill," the chief said. "The shots that he took, took some skill."
KHOU 11 News investigative reporter Jeremy Rogalski has learned Pappas once worked for a deputy constable in Harris County and recently tried to sell several guns and ammo online.
RELATED: Pappas recently tried to sell guns, ammo online
Acevedo said Pappas texted someone he knows on Tuesday and threatened to commit suicide.
"We know he's suicidal, so if he's committed suicide, we need to find his body," said Acevedo. "If he's alive, we need to find him."
Unlike other evidence, police say Pappas's bicycle has not been recovered. They believe he may still be using it to get around.
The chief credited the community for helping them solve the case. A tip from someone who saw surveillance video released Monday led police to Pappas.
WATCH: Chief Acevedo names suspect in doctor's murder
The video showed the suspect riding his bike down Southgate minutes after Hausknecht was shot on Main Street near Holcombe.
The doctor was riding his bike to his job at Methodist Hospital when he was shot.
The latest video came from a home security camera.
"It's disturbing that the guy is just nonchalantly riding down the street," said a neighbor.
The suspect was carrying a green backpack that investigators believe he used to conceal the gun.
"People bike in this neighborhood, it wouldn't have looked out of the ordinary," said another neighbor.
Video released last week was taken from a Metro Lift bus. It showed the cardiologist riding a yellow bicycle on North Main Street just before he was shot and killed.
The suspect was riding behind Hausknecht in the video. Investigators believe he then rode ahead of the victim before shooting him three times. They think he was hiding the gun in a green olive backpack.
The brazen shooting happened during the morning rush hour.
"You do not escape from the Med Center in a car, it's extremely congested you know, so a bike was like the ultimate way to really go very quickly out of the neighborhood," said another neighbor, who also asked not to be identified.
Photos: Surveillance videos lead to suspect in doctor's murder
Photos: Man suspected of killing Houston doctor commits suicide after police encounter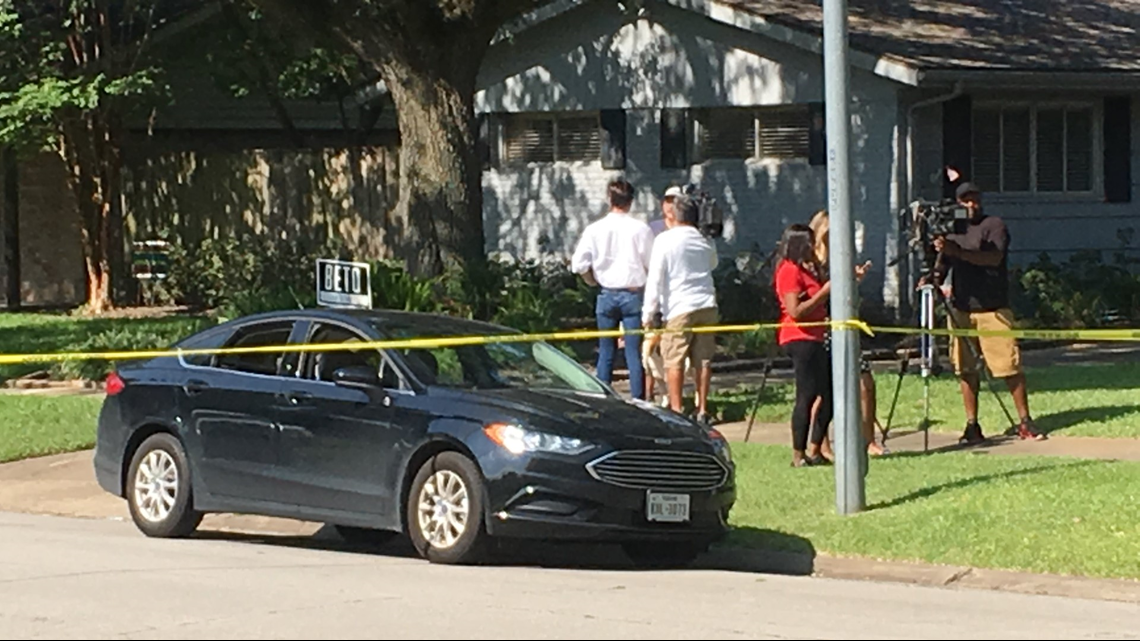 Dr. Hausknecht, who once treated President George H.W. Bush, was a compassionate physician with a phenomenal bedside manner, according to colleagues at Houston Methodist Hospital.
"The Houston Methodist family is still in shock about the senseless killing of one of our longtime physicians, Dr. Mark Hausknecht," said Marc Boom, president and CEO of Houston Methodist. "We are relieved that the Houston Police Department has identified the suspect and are confident he will be apprehended soon. We hope that identifying this suspect is the beginning of the long road to healing for Mark's family and friends. We continue to support his family and pray for them during this difficult time."
Several members of the Boy Scouts attended the funeral service for Hausknecht at Houston's First Presbyterian Church on Main Street. Some of Hausknecht's happiest memories were spent while he was scoutmaster of BSA Troop 11 for his two boys, according to his obituary.
If you know anything about the case or the whereabouts of Pappas, please call 911 or Crime Stoppers at 713-222-TIPS (8477).