Shaping: Houston
Telling the stories of the bold individuals who are shaping and influencing the culture of Houston.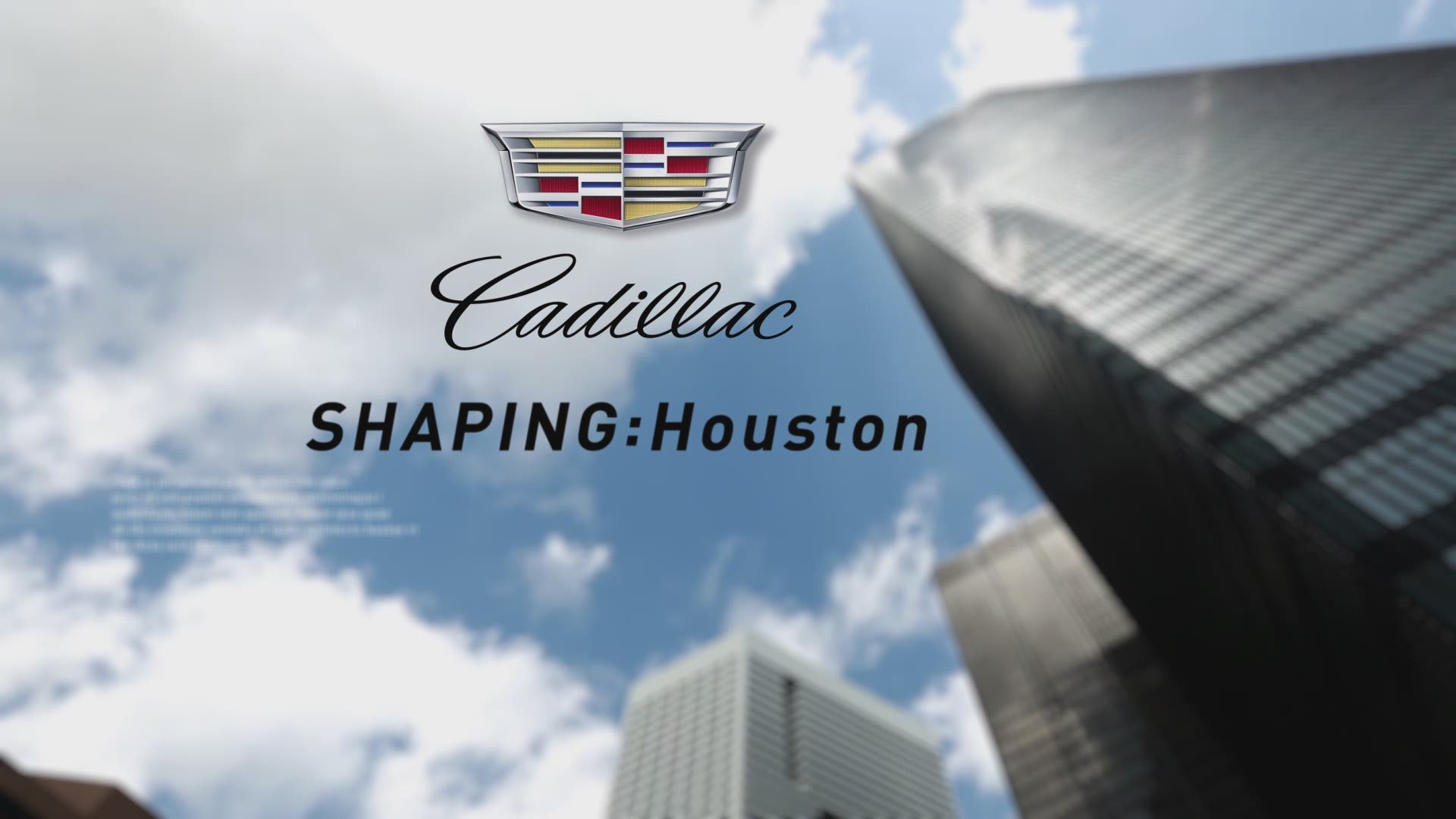 Lizbeth Ortiz
:
For Lizbeth Ortiz art is a language, and she speaks it fluently. Lizbeth's art is a reflection of her Mexican American culture, and truly represents who she is. With influences from her Mexican Catholic upbringing and Indigenous expressions, Lizbeth's art is full of color and life. As an artist and an oldest child, Lizbeth has a strong spirit. That spirit led Lizbeth to apply to, and attend, Houston's Kinder High School for the Performing and Visual Arts (HSPVA) and later New York's Pratt Institute. After societal discouragement spurred an artistic hiatus in Lizbeth's life, she was brought back to Houston where she rented a space in the Warehouse district. Moving back to Houston has been fruitful for Lizbeth both locally and nationally. In 2005, Lizbeth and a community of Houston artists created the Frida Festival, an art show that invites artists from all walks of life to express what Frida Kahlo has inspired them to do. In 2008, Lizbeth was honored as the official artist of the Latin Grammys with her Houston-inspired work of art. Lizbeth believes in the freedom of expression, and she's doing her part to provide a safe space here in Houston for as many artists as possible to access that freedom.
Cadillac Shaping: Houston – Lizbeth Ortiz
Dr. Tameka Maiden
:
Dr. Tameka Maiden is striving to build a foundation for children to go out into the world and conquer anything. Dr. Maiden is a schoolteacher turned pharmacist who founded the educational teddy bear company Cubby Love Bears. The goal of the company is to bridge the gap in language development in children, all the while teaching them new languages. The inspiration for the company started at home, with Dr. Maiden's daughter Tori. Tori made Dr. Maiden a believer out of the old adage: "Children will make you into a better person." In Dr. Maiden's case, her desire to help her child learn her colors made her an innovator. With her teaching background, Dr. Maiden knew learning is best served through repetition. This coupled with the feel and interaction of a teddy bear was the key to helping Tori not only learn her colors in English, but in Spanish too! After sharing this invention, which gave her daughter the foundation of learning a second language at the age of 1, with her friends and colleagues…Cubby Love Bears was born. Now. Dr. Maiden has her hands full designing the newest Cubby Love Bears, being a full-time pharmacist while running her growing educational toy company, and raising her daughter as a single mom. However, her passion has fueled her success. Dr. Maiden is living her purpose here in Houston with Cubby Love Bears, and if she can change the life of just one or two kids, she feels like she's done her job.
Cadillac Shaping: Houston - Dr. Tameka Maiden
Franky Cardona
:
To Franky Cardona, Art is Life. Ever since he was a kid, the accomplishment of creating something out of nothing breathed life to Franky's passion for the arts. As a child of a father in the military, Franky moved around a lot growing up. However, his family eventually settled in Houston, where a city full of building-side murals and notorious graffiti art fostered Franky's love of art. Even with the endgame goal of becoming an artist, Franky didn't know he could turn his dream into a full-time reality; the advent of Instagram showed him that it was a real possibility. After showcasing his art on social media, Franky's work was commissioned by former Houston Texan Andre Johnson…and the rest was history. Now with a new studio in Houston's East Downtown "EaDo" neighborhood, Franky is reveling in the result of all of his hard work: "I guess I am living the dream…my dream."
Cadillac Shaping: Houston - Franky Cardona
Kristin Banks
:
"I'd like for people to remember Josh Paul as a light…He was positive, he always believed in you, even when he was fighting the toughest battle."
Through her own grief and healing, and on the anniversary of her brother Josh Paul's passing, Kristin Banks founded the Josh Paul Foundation. Kristin is committed to continuing her brother's legacy of helping others feel seen, heard, valued…and worthy. The Josh Paul Foundation is a 501(c)(3) non-profit organization that's focused on the advancement of continuing education for students who have faced adversity. The foundation helps local students further their education through an annual scholarship fund and in-school activities in Houston-area school districts. The opportunity to connect with Houston, a city her brother loved so much, is a passion of Kristin's: "Josh loved the community and the community loved him back and they still do."
Cadillac Shaping: Houston - Kristin Banks
Vincent Gardner
:
For Vincent Gardner, music is in his blood. Growing up a child of music educators and becoming a trombonist at the young age of 13, Vincent was born to play. After playing "every type of music that you could put a trombone part in," and touring with the likes of Lauryn Hill, Vincent and his wife Belinda were ready to leave New York. After searching different cities, nothing had the feeling of Houston. So, Vincent and Melinda moved down South and started Jazz Houston. Jazz Houston is an organization dedicated to jazz music through performance, education, and community outreach. Through this organization, Vincent's goal is to help bring a little light to all of the great Texans and Houstonians that have contributed to jazz music throughout the years.
Cadillac Shaping: Houston - Vincent Gardner
Safir Ali
:
For Safir Ali, dry cleaning is in his blood. Growing up, Safir spent a lot of his time at his family's dry cleaning business. It might have not been his favorite place as a kid, but his time there laid the foundation for his business venture. In 2016, Safir and his brother Mubeen created Hamper, an on-demand dry cleaning company that touts they are "dry cleaning and laundry reinvented." Hamper aims to give Houstonians an easier and more affordable way to get their dry cleaning. Safir hopes to answer the laundry industry's somewhat outdated service problem, with Hamper's convenient kiosks that enable customers to get clean clothes during their regular work commute. At first, Safir had doubts about starting a tech company in Houston. However, he's found Houston to be the perfect home for Hamper. Whether it was through partnerships like Hamper's kiosk manufacturing and the offices they're located in, or being a member at Station Houston, the Houston community has welcomed Hamper with open arms.
Cadillac: Shaping Houston - Safir Ali
Edgar Medina
:
Ever since Edgar Median was a child, he was a creative person in love with color. Due to Edgar's young health conditions, his parents had to keep him indoors. However, they fostered his creativity with coloring books and watercolor paints…and an artist was born. After moving to the States from his hometown in Tamaulipas, Mexico, Edgar was able to really develop his skills. Edgar's art teacher took him under her wing and fueled his passion for creating art. Now Edgar has transformed as an artist, and his work reflects his journey. Edgar describes his artwork as a fusion of his two cultures: It's colorful, bold, and reflects his lively Latin American heritage. Yet, the contemporary influences of American artistry are reflected in his work. To Edgar, Houston is a city full of opportunities, because it has given him a platform as an immigrant, a person of color and a member of the LGBTQ+ community. It's very important to Edgar for kids to have someone to look up to that looks like them, and he hopes he can be that role model.
Cadillac Shaping: Houston – Edgar Medina
Scotty Sheridan
:
When Scotty Sheridan isn't shredding it down at the local skate park, he's at the Scotty's Fermented Foods headquarters making, as you can guess, fermented foods. Scotty knows that there is sort of a notion that fermented means "rotten." However, he's out to prove it's actually far from it. Scotty's Fermented Foods cultivates live anaerobic bacteria that processes the foods, and essentially preserves them. According to Scotty, this creates a living culture that is extremely healthy and beneficial for gut bacteria. Scotty was born and raised in Houston, and he regularly finds ways to be active in the community. One of those ways is by keeping a constant presence at the local farmer's markets. They are where Scotty's Fermented Foods started, and Scotty considers them essential to his business. Scotty also likes to give back to the community by educating people on how to ferment food in their own kitchens. By showing people how to ferment and explaining its benefits, Scotty aims to break the stigma around fermentation. When reflecting on the city that he and his business calls home, Scotty takes pride in his Houstonian status: "Houston is such a wonderful town. There's so much going on in Houston that it's exciting to be a part of it. So many business opportunities, but so many cultural opportunities."
Cadillac Shaping: Houston - Scotty Sheridan
:
With his company Goodfair, Topper Luciani is leading a counterculture movement…and his rally cry is "Think secondhand first." Due to the creation of fast fashion, clothing consumption has increased tremendously. However, the re-emergence of thrifting has shown to be a worthy adversary. Topper himself has a long relationship with thrifting. Born to a fashion-loving family, Topper always loved the treasure hunt aspect of thrift shopping. Later, that love of thrifting, coupled with his environmentalist nature and entrepreneurial spirit, led to Goodfair. Being fundamentally a thrift brand, Goodfair is based on helping the environmental crisis that is unfolding in the apparel industry. That help starts with Goodfair's mission: To make thrifting more accessible and seamless. With an online store and conveniently shipping out of the port city of Houston, Texas, Goodfair is doing just that. Topper has a message to other entrepreneurs trying to make the world a better place: "If you're not in Houston right now and you're an entrepreneur, this is the place to be."
Cadillac Shaping: Houston – Topper Luciani
Marlana Doyle
:
Ever since she was three years old, Marlana Doyle had a passion for dance. After graduating college, with a B.A. in dance no less, Marlana was faced with a decision on where to continue her career in the arts. After a suggestion from her artistic director about an "unknown dance gem" of a city, Marlana looked to Houston…and she's still here 20 years later. Upon getting to know the city and dancing professionally, Marlana felt like it was time to make the next step. Marlana believed Houston needed a new centrally located space that encompassed all things dance, and that space was the Institute of Contemporary Dance. Created with acceptance and accessibility in mind, the Institute for Contemporary Dance not only serves as a hub for the contemporary form, but it features classes for other dance forms like ballet and jazz for young and mature dancers alike. Marlana also, along with 5 other founding members, created the Houston Contemporary Dance Company: A small nonprofit dance organization that has collaborated with music organizations such as Apollo Chamber Players and Loop38. As Marlana reflects on her choice to move to Houston, she knows she wouldn't change a thing. According to Marlana, "it's a young city. It's a fun city, and it's a place maybe you could start your career."
Cadillac Shaping: Houston – Marlana Doyle