HOUSTON — One in five southeast Texas children is considered food insecure, which means they don't have consistent access to enough nutritious food. Food insecurity often means families have to make difficult decisions between paying for groceries and paying for other necessities. The Houston Food Bank's Backpack Buddy program works to fill that gap for chronically hungry children by providing nutritious, child-friendly food for school children to take home over the weekend. Many of these children rely on school meals to provide breakfast and lunch during the school year. Therefore, during breaks such as weekends and holidays, many of these children go home to little or no meals.
How You Can Donate
As Your Education Station, KHOU 11 has partnered with the Houston Food Bank to help fill that weekend food gap for students. We know that children from families who are not sure where their next meal may come from are more likely to have lower math scores and repeat a grade, among other challenges.
Children need nutrients so they can grow, develop and focus on learning instead of thinking about the food they need. Ultimately, they need to be able to concentrate in the classroom so they can succeed in school. Our research also shows that inflation is one of the top concerns for Texas parents. As high inflation increases the cost of foods like meats, fresh produce, and dairy this heightens trade-offs families make between food and other rising costs.
That's why KHOU 11 and the Houston Food Bank are teaming up with Reliant, American Furniture Warehouse, and One Hour Air Conditioning and Heating to provide weekend meals for Houston-area students. As the Houston Food Bank celebrates 40 years of serving the Greater Houston community, our goal is to raise $40,000, which could provide weekend meals for more than 13,000 Houston-area students. Together we can continue their mission to provide food for better lives.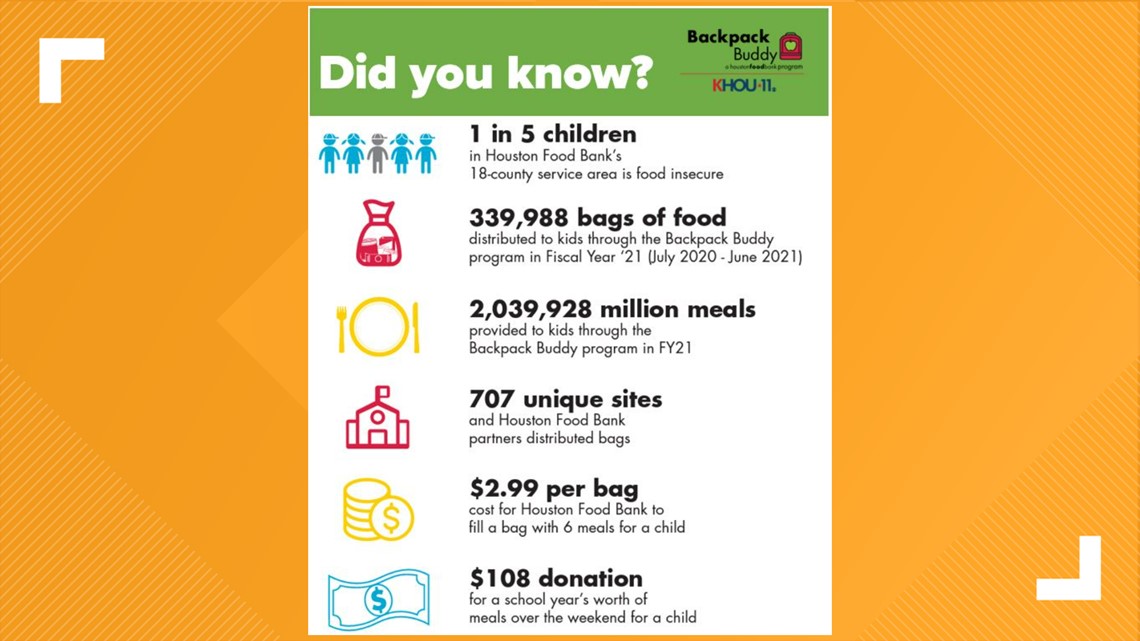 How Your Donation Will Be Used
$12 = fills 4 bags with meals for the weekend for 1 child
$36 = helps feed 1 child for 3 months
$108 = provides a school year's worth of meals over the weekend for 1 child
$540 = provides 5 children with a school year's worth of meals over the weekend
Virtual Telethon
On Thursday, Aug. 18 from 3 p.m. to 7 p.m. we will host a virtual telethon to help us reach out donation goal of $40,000! You can donate by calling 713-654-1111 only on the day of our telethon.