If you're looking for a way to celebrate Independence Day, there are several options in the Greater Houston area, and they aren't just on Tuesday.
HOUSTON
Freedom Over Texas: Houston's official July 4th celebration is featuring food, fireworks, festival activities and performances by DNCE and Hunter Hayes. The signature patriotic event will kick-off with a tribute by the United States Air Force Band of the West and conclude with a fireworks show.
July 4th: 4 p.m. - 10 p.m.
Eleanor Tinsley Park (Along Allen Parkway)
$8 per person June 1 – July 3, $10 per person day of show
To buy tickets, click here.
Related: Parking & road closures for Freedom Over Texas
Photos: Fireworks at 2016 Freedom Over Texas
Photos: 2016 Freedom Over Texas fireworks
4th of July Celebration at Bayou Bend: The annual event is offering crafts, performers, refreshments and a chance to sign a giant Declaration of Independence.
July 4th: Noon - 5 p.m.
Bayou Bend Collection and Gardens
Free admission
ExxonMobil Summer Symphony Nights - A Star Spangled Salute: Ring in Independence Day with some patriotic tunes and a post-concert fireworks display.
July 4th: 8:30 p.m.
Miller Outdoor Theatre
Free admission

Independence Day Fireworks Spectacular: The July 4th celebration isn't limited to only on Tuesday. Celebrate Independence Day with a four night concert event at City Centre with live music and a firework spectacular.
July 1-3rd: 7 -10 p.m.
July 4th: 7 - 11 p.m. *with a 15 minute firework spectacular at 9:30
City Centre
Free admission - parking is $10 in all City Centre garages. Use code Uber code CCJuly417 for a first ride free up to $20.
Kidpendence Day: Spend the patriotic day with the the Scouts as they present the American flag and say the Pledge of Allegiance followed by singing the National Anthem. Wear your red, white and blue and have some good American fun.
July 4th: 10 a.m. - 6 p.m.
Children's Museum of Houston
Museum admission: $12
BAYTOWN
Baytown July 4th Celebration: The annual celebration features a five-mile run, a parade, live music by Josh Turner and a firework extravaganza.
July 4th: 7 a.m. - 10 p.m. (Parade starts at 5:30 p.m.; Fireworks at 10 p.m.)
Bicentennial Park
Free admission
BELLAIRE
July 4th Parade and Festival: Bellaire's annual parade will begin at 9:30 followed by a community festival from 10:00 a.m. until 1:00 p.m. This year's theme is "American Superheroes."
July 4th: 9:30 a.m. - 1 p.m.
Free admission
CONROE
Fireworks over Lake Conroe: Kick back on the lake and watch the fireworks. Lake Conroe's firework show is set to begin at 9:15. Prime viewing spots are on the lake, Fajita Jacks and locations near the Waterpoint Shopping Center on HWY 105.
July 4th: 7 - 10 p.m.
Free admission
FRIENDSWOOD
122nd July 4th Celebration: The annual parade runs through the center of town, ending with a carnival at Stevenson Park. The carnival includes a train, a rock wall, a giant water slide and an inflatable obstacle course. The celebration continues later with a night program that features live music and entertainment and fireworks scheduled to begin at 9:20.
July 4th: (Parade and day program: 10 am - 3:30 p.m.; Night program: 7:30 p.m.)
Free admission (Carnival has wristbands for sale for amusement rides)
GALVESTON
178th City of Galveston Celebration of Independence Day: A parade down Seawall Boulevard featuring floats, decorated military vehicles and performers will start at 7:30 p.m. After the parade, there will be a 20-minute firework show over the Gulf.
July 4th: 7:30 p.m.
37th Street and Seawall Blvd
Free admission
KATY
LaCenterra at Cinco Ranch - July 4th Celebration: A kids patriotic bike parade will kick off the event, followed by live music in the courtyard, an interactive Kids Zone in Central Green Park, and food for purchase. The event concludes with a firework display.
July 4th: 4:30 - 9:30 p.m.
Free admission
Katy Freedom Celebration: The annual Freedom Celebration begins in the morning in the downtown historic district with activities hosted by the Katy Parks & Recreation Department and Katy Fire Department. The event continues in the evening with music and a firework display near Typhoon Texas and Katy Mills Mall starting at 8 p.m.
July 1st: 9 a.m - 1 p.m; 8pm
Free admission
KEMAH
Kemah Boardwalk 4th of July Celebration: Enjoy live music and fireworks over Galveston Bay. Enjoy the attractions of the Boardwalk with some late night specials the holiday has to offer. Fireworks set to begin at 9:30 p.m.
July 4th: 9:30 p.m.
Kemah Boardwalk
Free admission
KINGWOOD
July 4th Festival and Fireworks: The festival in Kingwood features live music, craft and food booths, kid zones and fireworks. The festival begins at 2 p.m. and is set to end with fireworks at 9 p.m.
July 4th: 2 p.m. - 9 p.m.
Kingwood Town Center
Free admission
LEAGUE CITY
Light up the Sky Fireworks Spectacular: This independence celebration features a colorful light show, food trucks, live music, entertainment and inflatables. A fireworks show will highlight the night at sundown.
July 3rd: 6 - 10 p.m.
Chester L. Davis Sportsplex
Free admission
Citizen Appreciation Day: Celebrate your independence by showing appreciation for those who help make League City home. Activities include a petting zoo, live entertainment, moonwalks, cotton candy, face-painting and sno-cones. The West Bay Common School Children's museum will also host its annual Teddy Bear parade at 10:30 a.m.
July 4th: 11 a.m - 3 p.m.
League Park
Free admission
MEMORIAL CITY
Snow and Ice Celebration at Memorial City: Play in the snow and stay cool this 4th of July with 20,000 pounds of snow, ice sculpture demonstrations and frozen treats on The Square at Memorial City. There will also be live music, face painting and balloon art.
July 4th: 5 - 8 p.m.
The Square at Memorial City'
Free admission
MISSOURI CITY
4th of July Celebration: This patriotic tradition offers free fun and excitement. At Buffalo Run Park enjoy family fun activities and food and beverages available for purchase. Fireworks will conclude the evening at 9:15. Stadium seating will be available at Thurgood Marshall High School.
July 4th: 6 - 9 p.m.
Buffalo Run Park
Free admission

NASSAU BAY
July 4th Celebration: Start the Independence Day by soaking your neighbor in a water war. Then, decorate your bike, float, car or even yourself and participate in the annual Nassau Bay parade. Afterwards, the pie contest is set to begin at 6:15. Awards will be given to Best Overall, Best Taste and Best Presentation. Fireworks are set to begin at 9 p.m.
July 4th: Noon - 9 p.m. (Parade starts at 6 p.m.)
Free admission (registration required for water wars and pie contest)
PASADENA
Pasadena's Annual 4th Fest Event: Celebrate the 4th of July with live music, a BBQ cook-off, kidzones and games. The 4th Fest Car and Motorcycle Show is from 4 - 6 p.m. Tickets for the car show are $15 in advance and $20 on the day of the event.
July 4th: 4 - 10 p.m.
Pasadena Convention Center
Free admission (Car show requires tickets)
PEARLAND
Celebration of Freedom: The night begins with a military salute followed by an evening of entertainment and activities. Food and craft vendors will also be selling treats and beverages. A firework display will conclude the night.
July 4th: 6 - 10 p.m.
Pearland High School
Free admission
RICHMOND
July 4th: An American Tradition: Spend the country's birthday with old-fashioned game play and discovering intriguing trivia about this American holiday. Enjoy hot dogs, games, a scavenger hunt and a reading of the Declaration of Independence. There will also be the 4th annual cobbler eating contest.
July 4th: 9 a.m.
George Ranch Historical Park
Free admission for event (Hot dog feast is $15 for ages 13 and older, $12 for ages 5-12 and $4 for ages 4 and under - make lunch reservations online)
ROSENBERG
Family 4th Celebration: The annual event features horse-drawn wagon rides through the park, carnival areas, live music entertainment, food vendors and a firework display at the end of the night.
July 4th: 6 - 10 p.m.
Seabourne Creek Nature Park
Free admission
SEABROOK
4th of July Kids' Parade: Kids in the Seabrook community are invited to march in the parade. Children may decorate their bicycles or tricycles in the parade and after, they can enjoy activities such as face painting and moon walk. Hot dogs and refreshments are also provided.
July 4th: 10 a.m. - Noon
Rex Meador Park
Free admission
SPRING
Wet 'n' Wild Splashtown: Fireworks Show: Along with the park's main attractions, Splashtown will also be featuring music, games prizes and a fireworks show.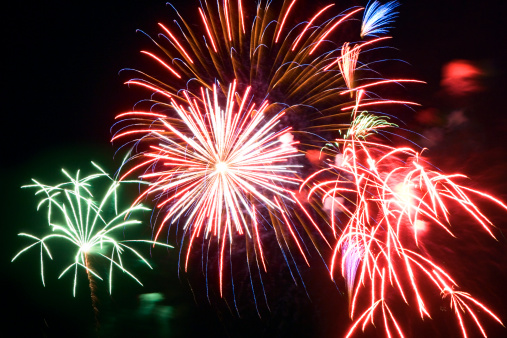 STAFFORD
Freedom Rings Concert: Celebrate with music from the Fort Bend Symphony Orchestra, followed by a fireworks show.
July 4th: 7 p.m. (fireworks at 9 p.m.)
Stafford Centre
Free admission
SUGAR LAND
Star Spangled Spectacular: Grab some blankets, spread out and enjoy live music, entertainment, activity booths and fireworks after sunset. Food and beverages will be available for purchase. Parking passes are required. Shuttle services are available.
July 4th: 5- 10 p.m.
Sugar Land Festival Site
Free admission
THE WOODLANDS
Star-Spangled Salute at The Pavilion: The Houston Symphony is kicking off the holiday festival with a concert featuring a selection of patriotic favorites. The concert begins at 8 p.m.
July 3rd: 8 p.m. (Gates open at 6:30 p.m.)
Cynthia Woods Mitchell Pavilion
Free admission
South County 4th of July Parade: The 1.3 mile parade begins and ends at the Woodlands United Methodist Church. It features marching bands, clowns, horses and floats. There will be a tent set up in front of the Cynthia Woods Mitchell Pavilion for those who need relief from the heat.
July 4th: 9 a.m.
Woodlands United Methodist Church
Free admission

Red, Hot and Blue Festival and Fireworks Extravaganza: This community-wide celebration offers live entertainment, food, children's activities and one of the largest fireworks display in the Greater Houston Area. The 18+ minute fireworks show will begin at 9:30 p.m.
July 4th: 6 - 10 p.m.
Multiple locations: Lake Woodlands (primary display), Town Green Park, Waterway Square, Village of Creekside Park
Free admission
TOMBALL
July 4th Celebration and Street Festival: Spend your Independence at the second largest July 4th celebration in Harris County. This celebration features live music, kids zones, food, a special tribute to veterans and a fireworks display at dusk. American flags will be available while supplies last.
July 4th: 5 - 10 p.m.
Business Highway 249 north of FM 2920/Four Corners
Free admission
WEBSTER
July 4th Celebration: Webster's annual 4th of July celebration includes games, entertainment, a salute to veterans and a firework display.
July 4th: 5 p.m.
Texas Avenue Park
Free admission